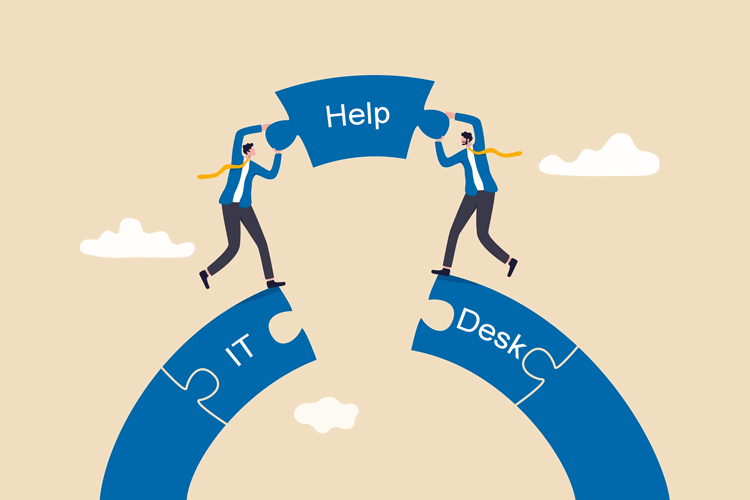 Photo Attribution: eamesBot/Shutterstock.com
Setting up a Help Desk for IT, also known as an IT help desk, or overhauling your current help desk and implementing best help desk practices, is the best way to overcome current operational and technology challenges within an organization.
What does an IT help desk do? IT help desks are the first contact point to resolve any technical, network, communications, and hardware difficulties in any company.
IT help desks are also the guardians of operational IT service management (ITSM) and IT Infrastructure Library (ITIL®) processes, procedures, and ensure the smooth running of a company's tech stack.
IT Help Desk Basics: Why Do We Exist?
On a fundamental level, technology can't exist without a layer of support to keep it operating. IT help desks are that crucial layer of support. Otherwise, every company and organization, from the smallest startup to the largest enterprise, would stop functioning.
If IT tech stacks, networks and systems went down, organizations and teams would not be able to continue functioning efficiently, if at all. Productivity would collapse. Customer relations would crumble. Payments would stop coming in. Think about how we work in this digital age: is there anything most people do in the majority of workplaces that could be achieved without technology?
What happens if that technology were to stop working?
IT help desks exist to prevent system failures. They are operational so that everyone can work, from the CEO down to every front-line team member.
IT help desks and IT systems provide the foundation for numerous other operational areas, such as cloud vendor relations, asset, knowledge, and IT change management.
In this article, we will walk you through the 4 main steps you need to take to establish an IT help desk.
4 Steps to Establish an Operational and Efficient IT Support Help Desk
Identify Help Desk Goals & Key Performance Indicators (KPIs)

First, every IT help desk needs goals and Key Performance Indicators (KPIs), and in most cases, a Service Level Agreement (SLA) between the help desk and rest of the organization.

Goals, objectives, KPIs, and SLAs need to be agreed upon between the senior leadership of an organization and IT leaders, such as the CIO, Head of IT, or other relevant person responsible for the IT help desk.

Without these goals and KPIs, how will senior business or IT leaders know whether an IT team and help desk are performing effectively?

In the first year, goals and objectives should be subject to a certain amount of change. Operational parameters can and do change. Goals and objectives should be reviewed on an annual and quarterly basis.

Alongside these operational reviews, IT leaders should have access to a real-time performance dashboard; an integral part of any IT help desk's toolkit, and we explain more about that in the tools section of this article.

Next, IT leaders need to define the various roles and responsibilities that an IT team needs to run an effective, efficient, customer-centric help desk.

Define Help Desk Roles and Responsibilities

Different IT roles can have a significant impact on workflows. How you staff a help desk depends on a number of factors, such as the size of the organization you serve and number of support tickets your IT team expects to receive.

An organization's tech stack, complexity, and vendor relationships also have an impact on an IT help desk's staffing levels and requirements.

In most cases, IT help desks have three staffing layers, roles, and responsibilities:

Level 1: Direct customer/user support. The first contact point between internal customers and the IT help desk. It should be integral to SLAs and KPIs that the vast majority of customer support tickets and queries are resolved within a fixed time scale without needing to go up to the next level.
Level 2: For more complex support tickets and problems, the second layer of the IT support help desk is activated, with the aim of resolving any issues that could not be resolved by tier 1 IT help desk agents. Tier 2 agents require more skills, training, and knowledge than tier 1 team members.
Level 3: Agents at this level are highly-skilled professionals who are recruited and equipped to handle the most complex IT, software, and hardware challenges. Naturally, support tickets or company-wide changes or problems at this level usually take more time to remedy. Alongside resolving complex support tickets, tier 3 agents are often responsible for implementing IT asset, knowledge, and change management projects.

Remember, when assigning roles and recruiting IT help desk team members, you need the right people for the job. Don't hire a network engineer to run tier 3 support. Professionals with higher levels of IT skills are paid a lot more than help desk team members, in most cases, and specialists might find they are bored with help desk work.

Alongside the various IT team members, IT help desks need a manager to oversee operations, ensuring a team is meeting KPIs and adhering to SLAs, and managers to interact with other technology teams within an organization.

Next, you need to identify the right IT help desk tools for the work an IT help desk team will undertake.

Identify Help Desk Tools

IT help desk tools should, at a minimum, include the following:

Customer/user support ticket software: A communication tool for internal customers/users to contact the help desk when they have a problem that needs resolving
IT help desk dashboard: A data-rich and visual management and operational dashboard for IT leaders and managers
Ticket assignments and back-end functions to coordinate responses among team members
Staff performance reports, to monitor performance of IT team members against KPIs and SLAs
A customer self-serve portal and other tools to help customers/users solve problems themselves
Integrations with other internal tools and software, either through plugins and APIs (e.g. HR software, CRMs, CMS, and other SaaS tools)

The good news is, there are numerous off-the-shelf Software as a Service (SaaS), cloud-based solutions that will give you a ready-made IT help desk, with all of the modules any organization should need.

Giva is one of those IT SaaS providers, with one of the world's leading IT cloud-based Help Desk software solutions.

And finally, the next stage is mapping out IT help desk processes and workflows, with the aim of making a new service desk as efficient and user-friendly as possible.

Map Help Desk Processes, Workflows

Now that you have the operational goals, objectives, KPIs, SLAs, staffing requirements and roles, and tools, putting in place processes and workflows makes an IT help desk operational.

Without clear processes and workflows it's too easy for an IT help desk department to become reactive and an IT team can soon collapse into dysfunction. Reactive help desks are chaotic and immature within ITIL and ITSM frameworks, and unable to effectively implement any organizational change.  IT leaders need to establish clear, proactive, process-driven workflows.

When these workflows are being established, there are a number of things IT leaders can do to ensure processes are working:

Put in test support tickets to see what workflow automations these trigger, and whether there are self-serve solutions that could be added to reduce the number of tickets.
Review a wide range of potential tickets that could come in, so that resolutions are aligned with customer/user demand.
Review the number of customer categories and the sorts of issues they might have, so an IT team is prepared to handle the different tickets that will come in.
Ensure everything is documented so that as IT teams scale, you can recruit and train new staff on the same processes and systems, and that there are built-in interactive feedback loops within the documentation process.
Key Takeaways: IT Help Desk Setup Checklist
Make goals, objectives, KPIs, and SLAs clear before creating an IT Help Desk
Define the various roles required within an IT help desk, depending on the size of the organization you serve
Select the best possible software to run an IT help desk, such as Giva's cloud-based IT Help Desk software solutions
IT leaders need to establish clear, proactive, process-driven workflows, including documentation, self-serve tools, and the types of volumes of tickets your IT team will receive
IT Help Desk Software from Giva: Find out why Giva is among the top IT cloud-based Help Desk software solutions.
Speak to one of our relationship managers today, or take a self-guided tour. Giva offers a 30-day free help desk software trial, so you can get hands-on experience.