How Your Customer Support Help Desk Feeds Your Knowledge Base
In a competitive business environment, it's more important than ever to keep customers happy. You need a proactive, customer-centric help desk and an in-depth and helpful knowledge base sitting alongside that.
Not only does this help customers when things go wrong, but it also makes it easier for them to use a product. Customers are happier when they can access everything they need without requiring assistance from a help desk.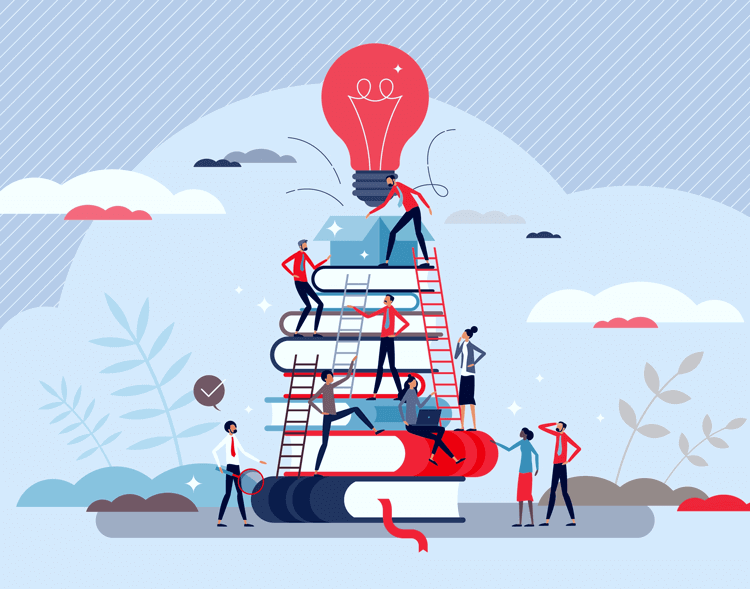 Photo Attribution: VectorMine/Shutterstock.com
A knowledge base saves your customers time. However, it's important to remember that it saves businesses time and therefore, money.
Every customer who can find a solution to a problem through a Knowledge Base doesn't need to contact customer support. There is massive cost savings when a company invests in creating high-quality and useful articles and videos, including step-by-step how-to guides, for a knowledge base.
In this article, we show you how a Help Desk can support the creation of Knowledge Base articles and content. With the two working together, you can design a powerful customer support center, saving you time and money, and making sure customers have everything they need to confidently use a product.
Building Your Knowledge Base from Customer Support
Customer support is an incredibly valuable asset for any business.
According to various studies, 64% of customers will pick a product that offers higher-value and more responsive customer service over price, showing service is more important than price, for most customers. When you increase customer retention 5%, profits can increase as much as 95%. It's cheaper to retain customers than win new ones.
When it comes to providing best-in-class customer support, you need a help desk and a knowledge base. Although a knowledge base plays a role in marketing (because articles are published online, they can be useful for organic SEO/content marketing efforts), its primary function is to help customers.
For most companies, knowledge base articles are simple, clear, how-to guides that solve problems. Knowledge base articles could also be videos, screenshots, and infographics. Anything that easily explains either how to use a product, or how to solve problems customers are having.
Depending on the number of products your company sells, the number of features, or simply the number of problems customers experience, you might need to create dozens or hundreds of knowledge base articles.
Most companies create knowledge base articles in a silo, separate from customer services. However, this is a mistake. As they're both in the business of serving and supporting customers, it makes strategic and operational sense that the help desk plays a direct role in the creation of knowledge base articles.
According to our own research, Giva has found that when companies have 5000 help desk queries every month, there's a massive saving if 10% of those find answers to questions they have using a knowledge base. When each case costs $40 to resolve, if 10% of them go the self-serve (knowledge base) resolution route, that's a $20,000 saving every month; $240,000 annually.
If this isn't currently best practice for help desk article writers to source information from the customer support team, then the cost savings alone should make it worthwhile. This isn't a one-off project. If you're wondering about how to keep this alive, and ensure the knowledge base stays fresh and up-to-date, follow these steps.
Best Sources for Knowledge Base Articles
Some of the best examples of knowledge management systems, and knowledge bases, are when companies share knowledge between help desk and knowledge base teams. In some cases, non-customer facing help desk staff write the articles. In others, one or more of the marketing team is tasked with this function. And in others, knowledge base articles are tasked to a third-party provider, such as a freelance writer, marketing, SEO, or content marketing agency.
Regardless of how it's implemented, there should be a clear and constant pipeline of information between the help desk and knowledge base teams. Front-line customer support staff are the most valuable resource for the creation of knowledge base articles.
Customer support can tell you which questions keep coming up. They can tell which features customers are struggling with most. Or, if something unexpected happens -- such as a cyberattack, major outage, or fault -- customer support can tell you exactly what customers need to know. This way, in the event of something damaging and unexpected, a quickly published knowledge base article (or series of articles, screenshots, and a video) can take some of the strain off customer support.
Here's how you can establish this information sharing pipeline between customer support and the knowledge base:
Assign knowledge sharing to a help desk team leader and whoever is responsible for creating knowledge base articles
Make this a KPI for both people/job functions, with weekly/monthly updates to their managers
Ensure those responsible are assigning tasks to their direct reports/teams, with regular updates, KPIs, and other measurable outputs for this ongoing project
Set-up a way to measure the impact, such as month-on-month and quarterly reductions in help desk tickets/support calls (assigning a monetary value to the savings being made)
Establish easy-to-use processes, knowledge management software, and project management systems for the sharing of information, so that help desk and customer support team members can send questions they are being asked to those writing knowledge base articles.
Ensure within this system are collation tools, and ways to monitor the questions coming through (with supporting information), to prevent multiple versions of the same article being produced
At the same time, it's worth going beyond the help desk for information. Have those writing knowledge base articles regularly review social media for semantic and tagged mentions of your brand/product, to see what customers are saying. Not everyone is going to search for an answer to a problem in a knowledge base, or contact customer support. Some unhappy customers are simply going to say what they feel online; so it's important you capture this information, and turn it into knowledge base articles that solve these problems.
It's also worth going back over at least 12-months worth of help desk/customer support tickets and call transcripts/recordings to see what else has been missed. It could be there's a wealth of data that can be tapped into, turning customer questions and problems into knowledge base articles.
Remember, as useful as all of this is for knowledge base articles, there are several upsides to implementing these actions:
Reduced strain on the help desk/customer support teams (producing a growing cost-saving as more customers find value and answers they need within the self-serve function).
Customer feedback can provide ongoing iterative insights for engineering teams, and those responsible for delivering the product/service. As you make service delivery/product improvements that will reduce customer churn, and directly support sales/marketing goals as more customers.
All of this will directly impact customer retention, reduce the cost of acquisition, increase customer lifetime value (CLTV), and ultimately, increase profits.
A growing database of knowledge base articles will be useful for organic SEO, steadily growing web traffic, and therefore clicks and conversion rates (supporting sales and marketing efforts).
Best Formats for Knowledge Base Articles
Knowledge base articles can be produced in a number of ways, including videos, a series of screenshots, and infographics.
However, the most widely used approach is simply to write short-form, helpful, and question-orientated articles. Here are a few key best-practice approaches to writing knowledge base articles:
Make sure the titles are questions or instructions, such as "How do I choose what I get notifications about?", and "Create a landing page" (from Facebook and MailChimp)
Keep them short, informative, and helpful
Write in a friendly, conversational (like you are talking to a customer), and professional style
Stick with your brands' tone of voice (if you have clear guidelines on this)
At all times, aim to answer the question, or solve the problem, in the clearest possible way. If your grandmother can understand it, then chances are, so will 95%+ of customers.
Examples of Great Knowledge Base Articles
Every company needs to set its own tone, style, and approach to knowledge base articles. However, it's always helpful to see some great examples of knowledge base articles in the wild. Here are a few that have caught our attention:
MailChimp: Combine Lists to a Master List That Uses Groups
LastPass: Recover Your Lost Master Password for LastPass
Google Analytics: Create, edit, and share goals
OptinMonster: How to Connect OptinMonster with Campaign Monitor
Toggl: Setting up a workspace
We hope this information and inspiration is useful for customer service leaders who want to reduce the impact of customer queries on their help desk teams, with a little help from expanding a knowledge base. As we always recommend, you need the most powerful knowledge management systems to support this process, such as Giva, one of the best knowledge management software products on the market.