6 Solutions to Challenging Customer Service Issues
Customer service, or customer support, is often seen as a cost center. Keeping your current customers happy costs money. But the cost of poor customer service impacts churn rates and reduces revenue.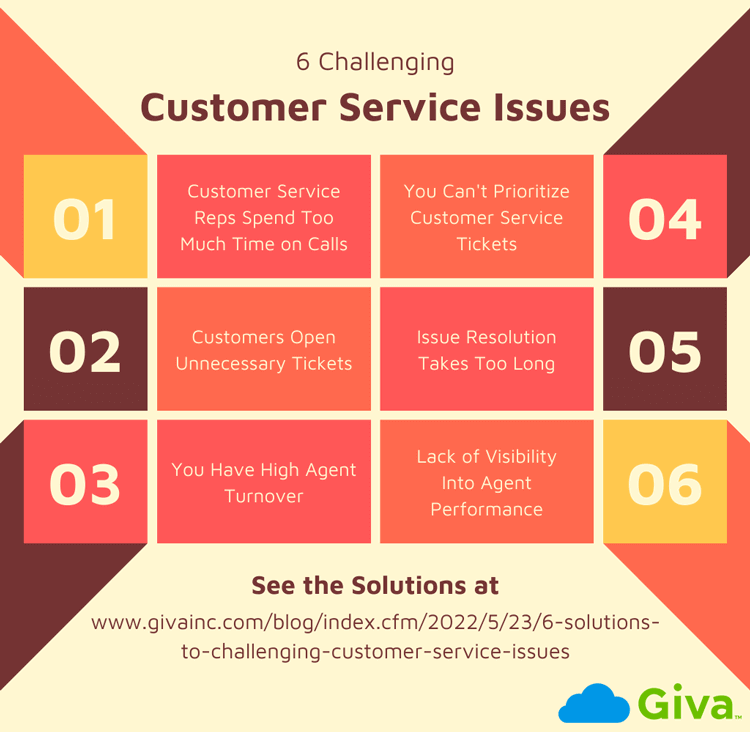 Businesses lose $62 billion every year when customers go to other providers, according to NewVoiceMedia. Naturally, this makes customer service problem solving a mission-critical function. You can't afford to lose customers because your customer service or support reps/agents aren't performing. 
A customer service platform can have a big positive or negative impact on the overall customer experience. Picking the right one can create a synergistic customer experience, and at the same time, save your company money. On the flip side, the wrong customer service platform will have the opposite effect, as well as cost you money.
At Giva, we have seen this time and again, whenever contact center operational leaders and managers come to us after using other platforms. Many of them are struggling with the same challenges of customer service, such as: 
Agents "reinventing the wheel" with each new call or support ticket 
Customers opening unnecessary tickets
Agents feeling disorganized and overwhelmed
Too many tickets with no priority
Long resolution times (a failure to adhere to first call resolution KPIs) 
No way to measure customer satisfaction and how agents are performing
In this article, we take a closer look at the 6 ways customer service platforms cost businesses money, and how Giva solves these problems. 
6 Challenging Customer Service Problems and Solutions
Customer Service Reps Spend Too Much Time on Calls

Customer support, or contact centers need to be hyper-focused on metrics and Key Performance Indicators (KPIs). 

Right from training, customer service reps, or agents, need to know the importance of average handle time (AHT). It should be an integral KPI, monitored daily, weekly, and monthly, and checked against the company's KPIs and Standard Operating Procedures (SOPs). It should be visible on scoreboards within teams, so that every manager knows who's performing, and who isn't. 

When agents are failing to meet AHT, which could be for any number of reasons, such as hold or wrap-up (when they take notes after a call or live support ticket with a customer), there should be steps in place to support performance improvements. These steps could include extra training and support from managers, training teams, and other resources. 

Whether your customer service reps are on phones (telephony agents), or handling Live Chat contacts, or Support Tickets (usually not in real-time with customers), the call center average handle time needs to align with KPIs. With the wrong customer service platform, this can cost you time and money. Agents can spend too long handling customer service issues and queries, resulting in a negative cost impact on the business. 

Giva helps companies reduce the amount of time agents spend handling customer queries in a number of ways. For example, when agents can find information more easily and they are sticking to the same script for every call, that reduces the AHT, and therefore, costs. 

Customers Open Unnecessary Tickets

An effective customer service department is the backbone of every business. 

And yet, so many customer support agents spend far too much time responding to the same, or completely unnecessary, tickets, chasing customer problems. All of this costs your company time and money. 

It's not your customers' fault if they don't know how something works; or are having a problem they need to ask you how to resolve. Even when agents feel tickets are unnecessary, it's how customers feel that really counts. 

Hence the importance, as customer support operational leaders know, of self-serve resources for customers. You need to make it easy for customers to find answers to problems themselves, to reduce the number of calls and support tickets logged. 

When agents are answering the same tickets over and over, this impacts companies several ways: 

A higher volume of support tickets, making it difficult to see which are a higher-priority (often leaving customers feeling undervalued and frustrated) 
Employee satisfaction diminishes, increasing agent turnover (and therefore, costs)
Too much time spent on repeat tickets, increasing costs 
Overall, the cost of dealing with repeat and unnecessary tickets and calls from customers 

With the right customer service platform, such as Giva, you can fix this problem. Giva comes with a richly detailed cloud-based customer service dashboard, so you can see in real-time what tickets/calls are coming in. 

When your agents and managers notice tickets/calls responding to the same customer problems again and again, it's time to take action:

Create self-serve resources around these questions
Publish them online
Use a multi-channel approach to promote them

Over time, customers will start to see and rely on these resources instead of submitting support tickets and calling; thereby reducing the cost/time impact on the business. 

You Have High Agent Turnover

Customer support centers worldwide have high-levels of agent turnover. 

IT and software-based companies have some of the highest rates of turnover, as much as 40%. This has a massive impact on a business. As we covered in another article, some of the main reasons for this include: "high stress, lack of experience, and feeling ineffective." 

If call/support ticket volumes haven't decreased, you need to recruit and train new agents. Recruiting and training new agents costs more than retaining current team members.

All of this increases the overall cost of running a customer service team. Unhappy agents have a negative impact on the customer experience. However, when these agents leave, you lose the operational knowledge and skills of those team members. 

With a more effective and efficient customer service platform, such as Giva, you can fix this problem. Stop agents from feeling disorganized and overwhelmed. Make it easier for agents, so they aren't "reinventing the wheel", and give them the support they need to improve performance and satisfaction at work. 

You Can't Prioritize Customer Service Tickets

When you have way too many tickets and no way to prioritize them, agents feel overwhelmed. Customers, especially when they've been waiting for over 24-hours for an answer, can feel neglected, undervalued, and frustrated with absolutely unacceptable response times. 

Not every ticket is a priority, of course. Agents and managers need an effective way to handle them within Service Level Agreements (SLAs), and other KPIs, such as first-contact (or call) resolution. 

Do you pick the first-in, first-out approach? Or can you prioritize them more efficiently to avoid agent customer service burnout while maintaining high levels of customer satisfaction? 

When your business is equipped with a rich data-driven, real-time customer service dashboard and ticket management system, your customer support teams can prioritize tickets more effectively. 

Ensuring that urgent tickets are handled quickly, less urgent tickets can be handled according to a first-in, first-out model. More complex tickets can be escalated to the relevant managers or teams.Taking this approach will help agents handle tickets more easily, while maintaining the level of service customers expect. 

Issue Resolution Takes Too Long

Issue resolution is similar to the AHT. It's the average time it takes from a ticket coming in for a resolution to be achieved successfully. Unfortunately, there are a number of factors when companies don't have the right customer service dashboard and ticket management system that can delay response times and cause agents to take longer to resolve tickets. 

Fortunately, there are a number of customer service solutions to this problem: 

Improve your internal and customer-facing self-serve knowledge bases. When agents can access information more easily, ticket resolution time reduces. 
When customers can find this information themselves there are fewer tickets to deal with, further reducing the time and cost it takes to resolve them.
Implement a powerful, time-saving customer service dashboard and ticket management system, such as Giva.

Lack of Visibility Into Agent Performance

Performance visibility is so important within customer service teams. Managers need to know agents are performing well against KPIs, such as the average handle time, ticket resolution times, and customer satisfaction scores. 

All of these metrics impact the customer experience and the cost of operating a customer support team. Consequently, these metrics have a direct impact on customer churn, satisfaction, revenue, upsell opportunities, and therefore, profits. 

Making these mission-critical metrics that managers need to know in real-time, at the end of the day, that's the value of having dashboard analytics and concrete ways of measuring their teams' performance. How well, or not, agents perform, directly impacts revenue and profits. 
Key Takeaways: 6 Ways Your Customer Service Platform Isn't Cost-Effective 
Customer Service Reps Spend Too Much Time on Calls
Customers Open Unnecessary Tickets
You Have High Agent Turnover
You Can't Prioritize Customer Service Tickets
Response Times and Resolution of Issues Takes Too Long
There is Lack of Visibility Into Agent Performance
If all of these problems sound familiar, then you need a more cost-effective customer service platform. 
As one of our many clients has said: "Giva is easy to learn, quickly creates cases and it's very affordable. The reporting and dashboards are better than any other product. Giva is an extraordinary value and our customers are very happy!" Chris Jerry, Customer Support Center Manager, EDIMS 
Access Giva Customer Service SaaS Platform Anywhere -- Mobile, Tablet, & Desktop. You get an intuitive experience with little training required. 
Reduce Customer Service Platform Costs: Start a 30-Day Free Trial Today.