Before You Choose Behavioral or Mental Health Apps For Your Practice
More people than ever before are seeking treatment for mental health conditions.
One of the ways patients are doing this is through mental health apps. Some of the most popular on the market include Calm, Headspace, and Talkspace Online Therapy. Other apps are focusing on specific problems, such as Quit That! to help people break unhealthy habits and addictions.
eMoods is designed to help those with bipolar disorder track their moods. notOK is an app designed to prevent suicide.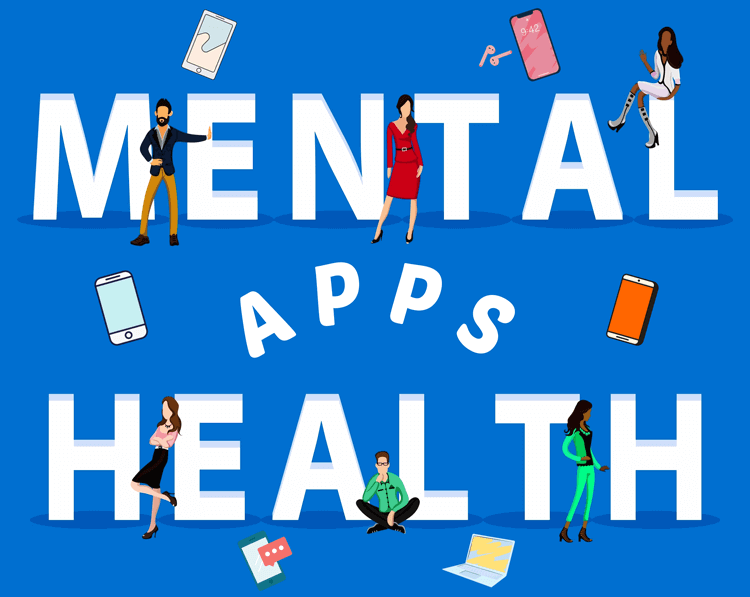 Photo Attribution: Stscheb/Shutterstock.com
Beyond this wide range of mental health support apps, there are dozens of platforms that help patients connect directly and receive online treatment from psychiatrists, psychologists, and other practitioners who specialize in mental health, therapy, behavioral health and other areas.
As many mental health practitioners would agree, although mental health apps are useful, there's nothing comparable to the work a specialist can do with a patient. If this needs to be through an app rather than in-person, it's important that the platform supports the process and empowers both the patient and practitioner.
Why Are Mental Health Apps So Popular in the Profession?
Mental health apps, including psychological apps, psychiatry apps, behavioral health apps and emotional health apps, and platforms that help patients receive online treatment from therapists and other practitioners, can only be good for the profession. And good news for patients, too.
As we saw in the pandemic, healthcare professionals across the sector -- including mental health -- had to adapt, and quickly. In person appointments dried up almost overnight, as it was not considered safe for patients and practitioners to meet in close proximity.
Anyone who, before March 2020, was considering implementing mHealth and eHealth systems suddenly had to scramble to get an online system up-and-running. Otherwise, patients would miss treatments and practitioners would stop earning revenue.
However, even though life is going back to normal, in many ways, this trend is continuing. Patients still want to receive online (mobile health, or mHealth) treatment from therapists. Some are returning to in-person sessions, but not all. Plus, it vastly increases the number of patients a therapist's office can treat.
For those wanting to expand their practice, mHeath, e-health apps and platforms are the perfect addition to their patient treatment toolkit.
Before evaluating what practitioners need to consider when choosing a mental health app, we need to assess the pros and cons of the apps on the market.
Advantages and Disadvantages of Mental Health Apps
Pros of Mental Health Apps
The National Institute of Mental Health has found that mental health apps are beneficial for patients for the following reasons:
Convenience: Receive treatment anywhere, at any time. Managing one's mental health can be difficult and, for some, in-person appointments are difficult to remember. Giving people the ability to engage with a therapist in real-time, or using an app's self-help features, empowers those who struggle with this to get the help they need.
Anonymity: Clients don't need to worry about other people knowing they're receiving any kind of mental health treatment.
An introduction to [mental health] care: App-based therapy is a good first step for those who have avoided, or not wanted to seek treatment for mental health issues in the past, or who are simply curious about it and want to make a start looking after their mental health.
Lower cost: Some apps, usually those with extensive self-care features, are a lower cost than traditional therapy, and some are free.
Serve a wider range of customers: Those in remote areas or many people in times of sudden need (e.g., following a natural disaster, bereavement, or terror attack) can receive treatment. Telehealth solutions became a necessity during the pandemic, and even in a post-pandemic world, it remains a popular option for many. 
Higher engagement rates: App-based therapy is incredibly popular with over 20,000 mental health apps to choose from; a market currently worth $269 million, and year-on-year growth of 32% (the total market could easily be worth $500M), according to Deloitte. All of this is a clear sign it's a growing market with enormous potential, and that the apps themselves encourage higher engagement rates than traditional therapy. However, an app can't replace the benefits of receiving treatment from a therapist, psychiatrist or psychologist, and the growth of mental health apps is encouraging more people to receive in-person or telehealth-based therapy.
24-hour service: Apps can give patients round-the-clock monitoring or intervention support.
Consistency: Technology can offer the same treatment program to all users. Or these treatment plans can be tailored more specifically around a patient's needs.
Support: Mental health apps are brilliant at complementing traditional therapy by extending an in-person session, reinforcing new skills, and providing support and monitoring.
Objective data collection: Many customer data points can be collected, such as location and phone use. This data can be used to improve, enhance and tailor support more effectively, or cross-sell complimentary services, such as yoga and meditation.
A Harvard University study found that engagement rates are higher with mental health apps; "Because patients typically use apps on their own time without clinical oversight, they must be intrinsically motivated to engage with the app. Evidence from the literature suggests that patient engagement can be improved through: (I) real-time engagement; (II) usage reminders; (III) gamified interactions." 
Self-monitoring features. The same Harvard study found that "App-based features that enable users to self-monitor their mood by periodically reporting their thoughts, behaviors, and actions can increase emotional self-awareness (ESA), which has been found to be implicated in anxiety, depression, and substance abuse. Increasing ESA, defined as the ability to identify and understand one's own emotions, has been shown to reduce symptoms of mental illness and improve coping skills." 
Although there are numerous upsides to mental health apps, it's worth considering the downsides too.
Cons of Mental Health Apps
Despite numerous advantages, the National Institute of Mental Health (NIMH), has also noted several disadvantages with mental health apps:
Effectiveness: Within the profession, the biggest concern with apps is obtaining scientific evidence that these new methods work as well as traditional ones. A lack of peer-review studies or FDA approval contributes to this overall sense of concern surrounding mental health apps.
Too generic: Everyone's mental health is different, therefore, apps that are too generic shouldn't be promoted by a therapist because they could cause more harm than good. 
Privacy: App makers need to be able to guarantee privacy, since app users' information can be very sensitive. This is a serious concern for therapists, especially when selecting an app for your mental health practice. We cover more about this below.
Guidance: There are no industry-wide standards for proving effectiveness. Hence, it's a necessity that mental health practices check apps themselves and ask for recommendations before suggesting patients use them, or before integrating a mental health app within the services you offer. 
Regulation: It is still unclear as to who should regulate mental health technology and the data it generates.
Overselling: Consumers may be convinced to trust apps more than they should in favor of other, more effective therapies, such as in-person treatment. Patients should never completely rely on an app, unless it's fully integrated with a holistic range of treatments. 
Alongside these concerns, there are also the following issues with mental health apps:
No regulatory oversight or approval process. The American Psychiatric Association notes that "The FDA [Food & Drug Administration] has taken a largely hands-off approach to regulating these apps, and there is currently little-to-no oversight of mental health apps." 
Most mental health apps aren't peer reviewed, or assessed by more than a handful of psychiatrists, psychologists, or other mental health professionals. When professionals have a financial stake in its success, then that potentially weakens the effectiveness, or very least, the objectiveness, of the medical science behind the information and guidance these apps provide patients/subscribers. 
A lot of insurance companies don't pay for mHealth or e-coverage; although the number of providers that don't cover this has reduced since the pandemic forced patients to seek more mHealth, telehealth, and e-treatments.
When mental health support is provided by therapists in real-time, that support won't always be available in a crisis/out of office hours. Many apps warn patients of this, but it could cause serious difficulties for those suffering a crisis.
Patients may not be able to access out-of-state providers, or if you go out of state, and mHealth services are covered by an insurance company, you might find you aren't eligible for coverage until you return home. 
Unless a video call is included in the online therapy you're receiving, there's a downside to the fact that therapists need to see body language and properly assess vocal signals. That's not possible when therapy interactions are through in-app chat features. 
Online therapy is not enough and not suitable for those suffering serious mental health conditions, such as serious psychiatric illnesses. 
Most mental health apps only focus on one or a select handful of conditions.
Some of the thousands of mental health apps on the market weren't developed with the professional inputs and support of mental health professionals. And yet, with a large enough investment budget and good marketing, they can become incredibly popular, potentially inadvertently harming those seeking help from these apps as they aren't equipped to support everyone. 
Now let's consider the question of patient privacy and mental health apps.
What You Need to Know About Patient Privacy and Mental Health Apps
For the sake of compliance and patient privacy, it's essential that mental health apps are compliant with the Health Insurance Portability and Accountability Act (HIPAA). When picking a mental health app for your practice, make sure the software encrypting any messages and calls between you and your patients is HIPAA compliant.
At the same time, you need to make sure that any cloud-based storage is HIPAA compliant, and patient data is secure within the app. Ask whether the app interacts with any third-party services or if patient data and records are moved around or stored anywhere else.
As a mental health practitioner, you need to be confident before patients start using any app for mHealth or e-consultations that confidential patient data and therapy sessions are secure. Your patients will need to be confident of this too.
When it comes to picking a mental health app for your therapy practice, be it a psychological app, psychiatry app, behavioral health app or emotional health app, it should come equipped with a minimum set of features:
In-app chat function between patients and practitioners 
A calendar so patients can book appointments, and so that practitioners can manage these appointments 
Video calling for secure, encrypted patient settings 
Access to self-help services, such as mental health surveys and mental health support articles (and videos, if possible). 
Give patients everything they need to manage their mental health between sessions, and make sure any mental health app makes therapy sessions feel as close to in-person treatments as possible.