Mental Health, Addiction and Drug Rehab Marketing: Difficulties and 7 SEO Tips
Before the Affordable Care Act (ACA), addiction, drug and alcohol rehab, treatment, and recovery centers found patients through word of mouth. There weren't as many addiction-recovery practices, and marketing was more localized.
Patients were referred to treatment centers through those with professional relationships in the field – counselors, therapists, psychiatrists, hospitals, jails, the police, courts, and even churches.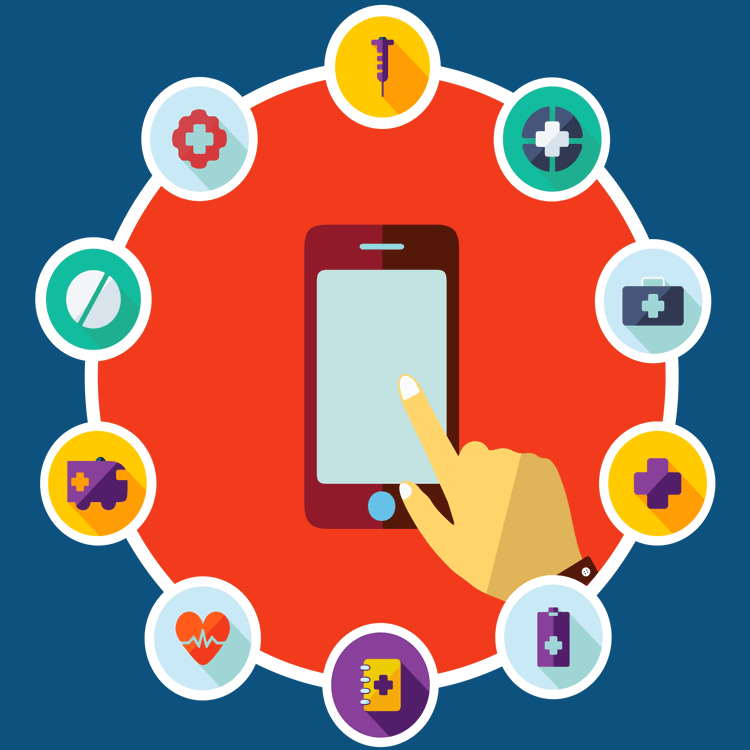 Photo Attribution: Tony_G10/Shutterstock.com
All of that changed under another ACA reform, when the Mental Health Parity Act was implemented. Finally, mental health and addictions could receive the same level of insurance and government-funded support as physical health problems. Insurance providers had to cover the cost of addiction treatment.
Under the ACA and expanded Medicaid coverage, a whole new market of people received coverage and could get treatment for addiction. A package of reforms transformed the industry, and now there are over 15,000 drug and alcohol rehab facilities around the U.S., treating 3.7 million Americans.
The drug and alcohol rehab treatment market is now worth $42 billion, according to Marketdata, with a 5.2% growth rate. However, there are 23 million Americans that need treatment, according to one study, which means that only 11% are currently getting the help they need for an addiction.
It's a growing market. However, marketing themselves is not easy for drug and alcohol rehab centers. In this article, we take a closer look at why, and what facilities can do to promote themselves more effectively through digital channels.
Why Is Addiction, Rehab and Mental Health Marketing So Difficult?
Marketing yourself as an addiction rehab and treatment facility isn't easy. Although traditional avenues are still open – TV and radio advertisements, print advertising, and postal campaigns – these aren't as effective when patients and their families are searching online for help.
Referrals are still an effective channel. However, since the ACA reforms, a whole micro-industry of "patient brokering" has emerged — unethical practices where "rehab marketer" middlemen refer patients to facilities in exchange for a fee.
Numerous states have made patient brokering illegal, complete with felony charges and fines; and for facilities accepting patients this way, doctors can lose licenses to practice. California and Florida took action a few years ago, curtailing the practice of patient brokering.
Google and Facebook also took action. However, it made it more difficult for drug and alcohol rehab facilities to generate leads for patients through digital channels. Now you need to secure accreditation through a trusted third-party, LegitScript, before you can run advertising campaigns on Google, Facebook, Bing, and other online platforms.
Google though still won't guarantee that advertisements your facility runs will reach those seeking help. In September 2021, The New York Times alerted people to the fact that numerous adverts for keywords relating to drug and alcohol addiction treatment are being curbed. In a statement, Google said they "started restricting ads that come up when someone searches for addiction treatment on its site", citing safety concerns.
Google hasn't pulled every advertisement for drug and rehab treatment centers. However, the number of ads being shown in search results and the number of keywords available for facilities to bid on/buy for advertising campaigns has been cut dramatically, as much as 96%, in some cases.
Why Addiction Treatment Centers Need Search Engine Optimization (SEO)
What does that mean, for those operating drug and alcohol rehab practices? You need patients, and there are millions of people who need your help. One avenue still open is Search Engine Optimization (SEO). Also known as "organic search" marketing.
Google doesn't restrict traffic from this channel, and when SEO is implemented effectively, you can generate high volumes of traffic and leads through organic search.
7 SEO Tips for Marketing Addiction Recovery
SEO isn't complicated. Providing your drug or alcohol rehab facility has a website, you can drive traffic to it through SEO campaigns. Here are the 7 ways you can do this:
High-Converting Web Pages

Every page on your website should serve a purpose. Your goal should be that people land on your website from search results, or specific pages, and make contact to get the help they're looking for, either for themselves or a loved one.

Drug and alcohol rehab centers need web pages that convert web visitors into potential customers. Achieving this goal starts with knowing what people are searching for, known as the "search intent."

Use keyword research tools – such as Ahrefs, Moz, and Google Search Console – to understand search intent. Or you can work with an SEO agency or consultant to support this activity. Any decent SEO professional should also tell you whether there are any technical issues preventing people finding your website, such as broken links, outdated content, or web pages not being indexed in Google and other search engines.

Once you've fixed any technical problems, you can focus on writing, or re-writing web pages. Ensure the web copy is human and search friendly. Use keywords throughout the web copy that tells search engines your facility is an expert in this area. At the same time, ensure every page works hard to promote your services and encourage web visitors to inquire about treatment.

Drive Traffic using a Blog (for content marketing)

Next, you need to think about the marketing funnel. Almost every marketing professional is aware of this and uses marketing funnel frameworks when creating SEO-driven campaigns.

Every funnel starts at the top of the funnel, and every layer of an SEO-driven funnel uses content marketing. Content marketing means publishing articles, and if you're going to publish articles consistently, then your drug or alcohol rehab center needs a Blog. That's where your more active or current-event-related content is going to live. This content is also useful in email marketing campaigns and on social media.

Create Awareness Level (top of the funnel) Content

At the top of the funnel, and where the bulk of your traffic is going to come from, is content that creates awareness. You need potential patients and loved ones searching for treatment to know about your center.

Awareness level, top of the funnel content, serves this purpose. Find the keywords you need for this content, and then write (or work with a writer) and publish articles on a wide range of topics. Such as, "How do I get treatment for an addiction?"

If you're new to SEO, there's a good chance you will need to write and publish dozens of articles like this. Ensure they're high quality, and although they need to use the right keywords, don't use too many. SEO does take time. Don't expect instant results. If there's old content that can be refreshed, then focus on this first, as search engines will push content that's been online for a while higher up the rankings. You should start seeing results from consistent SEO-driven content marketing after around 3-6 months.

Create Discovery Level (middle of the funnel) Content

Next, you need to create content for the middle of the funnel, known as the "discovery level." At this point, potential web visitors are actively searching for a solution. Either themselves or a loved one needs treatment.

For this content, you need to ensure articles focus on the types of treatment your center provides. Make it clear that you can help potential patients. Encourage anyone reading these articles to get in contact.

Create Consideration (bottom of the funnel) Content

Bottom-of-the-funnel content should include case studies, or testimonials from people who've successfully received treatment at your facility. At this stage, web visitors are actively considering treatment, and need encouragement to get in contact. Web pages are also very effective at the bottom of the funnel.

Drive Awareness Through PR (Public Relations Marketing & Linkbuilding)

Another way to generate traffic from Google is Public Relations (PR) campaigns. You might need to work with a PR agency to get results this way. Make sure any PR firm you work with will establish links to your website (known as backlinks) from media outlets that publish articles about your treatment center.

Press coverage is useful, but securing links is even more powerful. Backlinks help Google and other search engines rank your website higher.

Implement "Local Search" SEO Campaigns

And finally, another area you need to consider is "local search." Let's assume local people in your metropolitan area, town, or state, are looking for treatment. Make it easy for them to find you. Create web pages using local names, e.g. "City, State" connected to "Drug and Alcohol Rehab Center", etc., and other keyword combinations.

Set up pages for every treatment center you operate. At the same time, set up Google My Business pages for those centers. That way, when people are searching locally, they will find your centers and call, email, visit your website, and even see where your facilities are on the map, and read reviews from patients. Local search is a powerful way to gain more visibility in your market.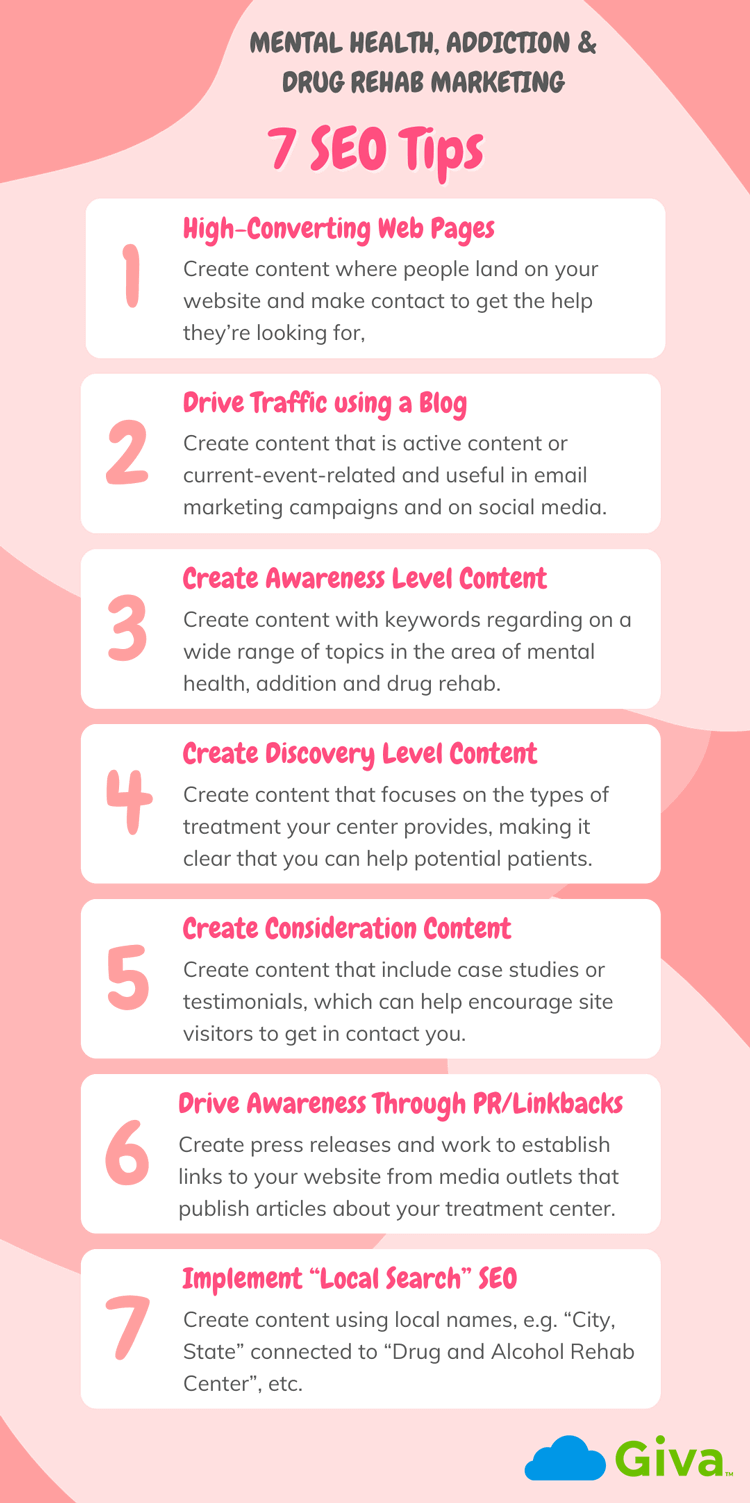 Key Takeaways: SEO for Addiction, Rehab and Mental Health Treatment Practices
SEO is a powerful way to increase visibility, generate more web traffic from search engines, and pull in more sales leads. More patients will find your treatment facilities if you invest in SEO. Working with an SEO agency could cost between $2000 - $5000 per month, and after 3-6 months you should start seeing results.
Or you can do this in-house, providing you have someone on the marketing team who can write articles and produce web pages, and someone else with a professional understanding of SEO techniques and marketing. It's an investment worth making, especially since advertising is so difficult on Google and social networks.
Once you have more patients, it's also worth investing in HIPAA-compliant mental health and addiction center customer support software, such as Giva.
Mental health and addiction recovery practices need to implement the following SEO tactics:
High-Converting Web Pages
Drive Traffic using a Blog (for content marketing) 
Create Awareness Level (top of the funnel) Content 
Create Discovery Level (middle of the funnel) Content 
Create Consideration (bottom of the funnel) Content 
Drive Awareness Through PR (Public Relations Marketing & Linkbuilding) 
Implement "Local Search" SEO Campaigns