12 Questions Mental Health Providers Ask When Evaluating EHR Tools
Those working as mental health providers over the last decade have experienced a shift in how tools are used to help their practices. This is true for both large mental health facilities and solo practitioners. Electronic health record (EHR) tools along with electronic medical record (EMR) tools have made many processes easier for mental health professionals, whether they be behavioral health, therapy, counseling EHRs, or any number of mental health categories.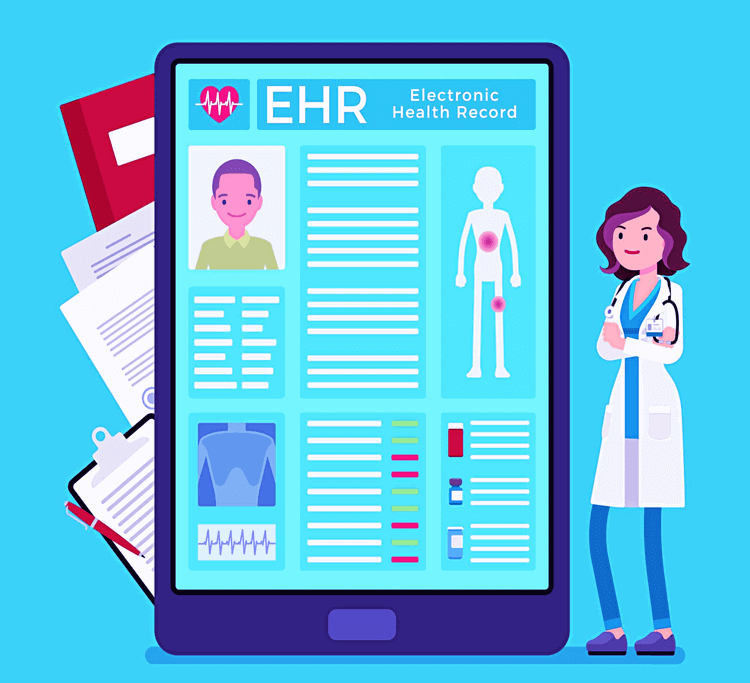 Photo Attribution: Andrew Rybalko/Shutterstock.com
Though many are ready to take the leap and integrate mental health EMR and EHR tools into their practice, many are asking themselves "what should I look for when I'm evaluating EHR systems and apps for mental health providers?"
Having a general understanding of how EHR tools can help one's practice and the ways to evaluate them can make the process of integration more accessible to a wider array of professionals. Here are twelve questions mental health providers ask when evaluating EHR tools.
Are There EHR Tools Designed for Mental Health Professionals?

For most mental health professionals interested in integrating EHR tools into their practice, this is the first question that will come to mind. While some EHR suppliers claim that their EHR systems are great for mental health practices, the majority of suppliers targeting the mental health sector claim that their systems have the ability to meet the needs of these organizations.

This means that, while not specifically designed for mental health professionals, many different EHR tools have all the capabilities needed to work well as a tool for them. As such, when evaluating different EHR tools it's important to have vendors verify that their product will meet all requirements to fully support the needs of the practice and the patient.

What Are the Best EHR and EMR Systems for Small Practices?

For those involved in a small mental health practice, it's natural to wonder which EHR or EMR system would work best for that environment. While many of the same EHR/EMR systems that larger facilities utilize would work great in theory for smaller practices, the cost can often be a huge barrier. As such, these costly technologies may not be worth it for facilities that are operating on a smaller scale.

For small practices, the best EHR/EMR systems are likely those which are more affordable, scalable and accessible, such as cloud based EHR and EMR software. By taking advantage of cloud based software, small practices will be able to benefit and compete with improved technological processes without having to pay prices that are out of their range.

This being the case, it's important to ask vendors about their cloud based offerings, which can make integrating EHR/EMR technology into one's small practice more accessible.

What Is the Best EHR System for a Mental Health Private Practice?

While large mental health facilities are beginning to integrate EHR systems into their practices on a larger scale, many solo mental health providers are wondering what the best EHR systems are for private practices. Similar to those in smaller practices, those who operate a solo private practice likely won't be able to afford some of the more advanced EHR systems.

Cloud based EHR systems represent a happy medium that can provide a private practice better management without the hefty price tag. Solo practitioners can benefit from asking vendors about their more basic EHR systems that would work well for the particular needs of a smaller office. 

What Certifications Do Suppliers Need to Have to Be HIPAA Compliant?

When deciding which EHR tool is right for one's practice, mental health providers need to be aware that not all EHR systems are HIPAA compliant. This is one of the most pertinent questions to ask when evaluating potential EHR systems to integrate into your practice. Some certifications, such as the SSAE 18 SOC 2 Type 2 Certification, must be held by suppliers in order for them to be HIPAA compliant.

In addition to certifications, HIPAA has other requirements such as regular audits of suppliers along with physical security and technical requirements to ensure patient confidentiality. This means that it's important to be aware of HIPAA compliance rules before exploring potential EHR suppliers for one's practice.

How Can EHRs Be Used to Improve a Mental Health Practice?

Mental health professionals wondering if EHRs are worth the cost should be aware of the ways in which potential EHR systems can help improve their practices. While there are a number of common applications of EHRs in mental health settings, such as e-prescribing and keeping track of patient notes, it's important to explore the ways in which particular EHR systems can help your practice.

However, before exploring the various EHR tools, it is critical to clarify which features one is looking to utilize in their mental health practice. This way, one can evaluate different systems through the lens of whether the features will be able to accomplish everything needed in order to improve one's practice. This means that it's important to ask vendors if the EHR systems that they offer have the features and capabilities that one's practice is searching for.

Can EHR Systems Be Customized for Different Practices?

Depending on the supplier, EHR systems can be customized and modified to suit one's needs. However, it's important to note that this is not always the case and suppliers should be asked whether they are capable and willing to do this for one's practice. 

Will EHR System Vendors Provide Training?

Most EHR system vendors will provide training for those who purchase their systems, however, the type and depth of training may vary. When evaluating EHR tools to potentially integrate into one's practice, it's important to ask vendors what types of training options they offer.

If one is new to EHR systems or has team members who are unfamiliar with them, then it may be more important to invest in an EHR system from a vendor who offers more in-depth training. Whether or not one feels unfamiliar with navigating EHR tools, it's important to understand the training options offered by vendors when exploring potential EHR systems.

How Expensive Will It Be to Integrate an EHR System Into a Practice?

Unfortunately, there's no one answer to this question. EHR systems can vary tremendously in their features and capabilities. Furthermore, many EHR systems will also have a base system that one can purchase, adding even more variability to prices. This large spectrum of costs makes it important to have a firm understanding of what one is hoping to add to their practice.  That way one doesn't overspend on features that won't be utilized or aren't needed.

When shopping around for an EHR system to add to a mental health practice, it's important to understand the price of systems and whether costs can be cheaper depending on the number of features one is getting.

What Should One Look for in Vendors When Purchasing an EHR System?

Mental health professionals searching for EHR solutions should be mindful of the potential vendors they are interested in purchasing from. Confirming that a vendor is credible, reputable, and reliable, let alone the quality of the product, is extremely important when committing to such a substantial purchase for one's practice.

Some useful things to note about vendors are:

The length of time they've been in business

Whether they are servicing a number of other mental health practices

Researching their product and service track record by reading reviews online and contacting others who are using them

By gathering and analyzing this information, it will be easier to determine whether a vendor is trustworthy and a good fit for your practice.

Are All EHR Systems Compatible with All Computers?

Unfortunately, not all EHR systems are compatible with all types of computers. Different systems are created to be used on specific types of computers. For example, if one uses both Macs and Windows computers in their practice, it's important to find an EHR system that is compatible with both types of computers. Be sure to determine the types of computers that various EHR systems are compatible with when deciding which to purchase and integrate into one's practice.

If a practice utilizes one type of computer but plans on purchasing a different type in the future, it's important to ensure that the new EHR system is compatible with those types of computers.

Will All EHR Systems Be Easy Enough for an Entire Staff to Use?

Before making a purchase, mental health professionals should evaluate the ease of use of an EHR system to determine if their entire staff will be able to use it effectively. Most vendors offer a free trial period so the staff can familiarize themselves with the basic functions of the system and provide their feedback.  The system may end up being useless unless the entire staff is on board.  

How Long Will It Take for an EHR System to Be Installed?

Different types of EHR systems will take different amounts of time to be installed. It can take anywhere from days to weeks to months depending on the particular system and the vendor.

A good question to ask the potential vendor is the length of lead time for product deployment and training to get up and running smoothly and efficiently. 

Without doing so, one runs the risk of having an uncertain timeline that could potentially affect one's mental health practice.
Making the Perfect EHR System Choice
While the process of finding the right EHR system for one's mental health practice can take time and effort, it is well worth it considering the negative consequences that can come as a result of making a wrong choice.
Having an understanding of how to evaluate various systems and vendors will make integrating a new and effective EHR system into one's practice easier and more likely to succeed. 
Advantages of Cloud Based Customer Support and Case Management Software for Mental Health Providers
System software that is installed on site to each physical device location can ultimately create cost and flexibility issues.  Software based in the cloud provides full flexibility in terms of timely updates and changes, accessibility, scalability, time and cost savings.  Giva provides HIPAA compliant, cloud-based system software which is customizable to the customer support and case management needs of any mental health professional environment. It safely and securely tracks and manages all manner of personal health information, as well as assists in capturing and creating a knowledge base to provide ongoing support to patients and providers.  Giva's software is extremely user friendly, cost competitive, deploys in a matter of days and training takes just one hour.  Sign up for a free 30-day trial to see if it might be the right fit for your organization.