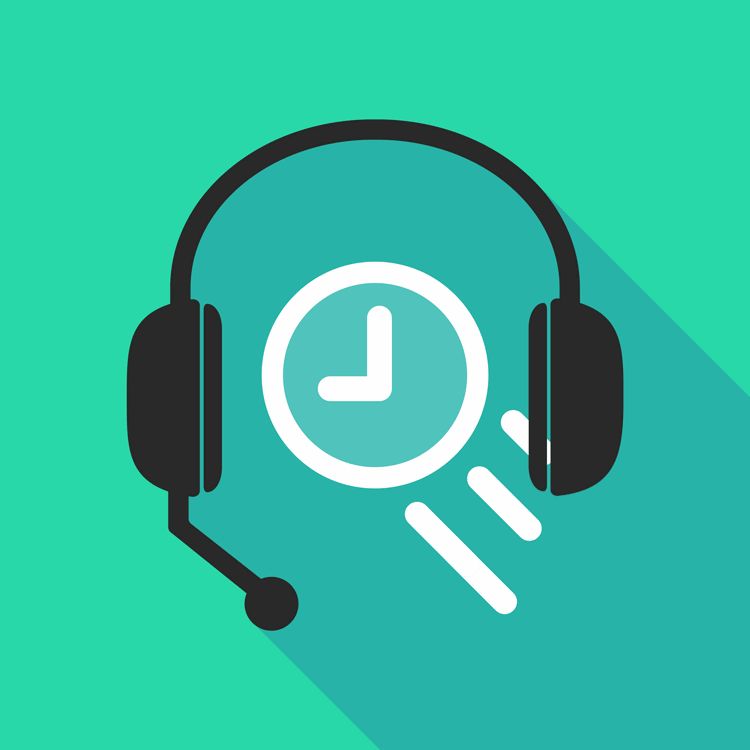 Photo Attribution: Blablo101/Shutterstock.com
Average Handle Time (AHT) is one of the most important metrics in call centers, help desks, and contact centers. 
Alongside first call resolution, churn rates, and customer satisfaction metrics (e.g. Net Promoter Scores, Customer Satisfaction Scores, and Customer Effort Scores), AHT is closely monitored by team managers, operations managers, and senior customer service leaders.
While everyone — and we mean everyone — is looking for ways to cut costs and get through inflationary times, call center managers are being asked to take granular views of their operation's Key Performance Indicators (KPI) and metrics to identify ways to improve processes, reduce costs, and ultimately increase the bottom line. 
Taking a closer look and monitoring AHT is one of the most effective ways to reduce costs and improve processes. In this article, we dive into how contact center and operations managers can achieve this goal.
What is AHT? What Does AHT Mean and Why is it so Important in Call Centers? 
Everyone's time is precious, especially when customers have work and family to juggle.
Hence the prevalence of self-serve solutions for customers. When there are questions that customers ask over and over on calls and live-chat messages, these should form the basis of self-serve Q&As, articles, and videos in an easy-to-use platform you create to support inbound queries.
Alongside these in-house solutions, customers also search for answers to their questions that other customers have answered. People turn to Google, YouTube, Twitter, Facebook, and now TikTok for answers. If someone is looking for an answer to a question about your product or service, it's likely that someone out there has answered it in a video or comment.
So, when customers have exhausted those options, or when there is a problem that can only be solved by speaking with a customer service agent over the phone or in a live-chat message, that's when they get in contact.
Once the customer reaches out, call center agents and managers have a responsibility to achieve an AHT (average handle time) that's in line with your company's KPIs. Every company is different, of course. It also depends on the complexity of the query. Simple questions should be answered quickly, whereas complex questions or problems take more time to resolve.
AHT meaning and use:
Average handle time (AHT) "refers to the total amount of time every contact center agent spends in conversation with each customer – including hold time and time spent completing forms or other tasks as a result of the conversation, as well as the length of the conversation itself — is added up and an average taken to calculate the average handle time."
AHT is used to assess and measure in real-time the efficiency of customer service agents, whole teams, and contact centers. Agents and teams not achieving those KPIs are failing in their job, and often managers and trainers need to put measures in place to quickly improve performance.
According to reports, a majority of customers still prefer to resolve issues by speaking with agents over the phone. Live-chat conversations are another option, but phone conversations often ensure issues are resolved more effectively and with less confusion.
With the AHT metric are the following mini-metrics of customer contact success:
Average time an agent is speaking to a customer
Average time a customer is put on hold (including when agents are speaking to agents in other teams/departments, or with managers, support or admin staff in the contact center) 
Average wrap up or follow up time; e.g. the time an agent spends making notes about the call
Average time between calls (often included in wrap up, or other terms used to describe that brief period of time an agent isn't speaking to a customer but doesn't have them on hold)
And the average number of calls agents handle per day
What is a Good Average Handle Time?
Calculating a "good" average handling time depends on a number of factors. Every company and sector is different. In most cases, this calculation is influenced by the products or services you offer, number of customers you have (e.g. a software company with 10,000 customers will have a different AHT than a bank with millions of customers), and your approach to the customer experience.
As a valuable contact center metric, AHT helps support team and operational managers accomplish the following:
Optimize talk time and the customer experience
Reduce wrap up, or follow up time
Ensure agents can handle as many calls as possible within the average day without damaging the customer experience (e.g. making them feel too rushed on calls, negatively impacting a Net Promoter Score (NPS) or other satisfaction scores, increasing churn, or forcing customers to call back because an agent couldn't resolve an issue on the first call)
Maintain high levels of First Call Resolution on as many calls as possible
Improve customer satisfaction
Increase up-sell or cross-sell opportunities on calls (if your agents are measured according to any sales KPIs)
Increase the number of calls agents can handle
Ultimately, accomplishing these goals should ensure customers are happier, agents are more cost and time-effective, and contact centers are more efficient. As you can see, AHT has a direct positive top and bottom line impact for companies.
Measuring AHT is quite simple, and most contact centers use dashboards and SaaS-based software to monitor this metric in real-time. You can use the following average handling time calculator to get a handle on your AHT:
[Talk time + hold time + follow up time] / calls = AHT (calculated in minutes or seconds) 
What is a Good Average Handle Time?
Although every company is different, according to Call Centre Helper, the industry standard is around 6 minutes 10 seconds (including hold and follow-up time). This means, on average, individual contact center agents should be handling around 60 — 70 calls per day.
However, as we say, every company is different, and your AHT might be longer or shorter depending on a wide range of factors. Now, let's take a look at how managers can reduce AHT in call centers and customer service desks.
How to Lower AHT in Call Centers and Customer Service Desks
Review the Interactive Voice Response (IVR) menu and automated voice-based security regularly

Have you checked your IVR menu options recently? Do they make sense from a customer perspective?  Can the customer navigate the menu quickly and easily?
How easily can the average customer get through your automated voice-based security process?   And if, for some reason, they are unable to pass this level of security, can they easily get through to speak to an agent to assist them? 

Both need to be reviewed regularly to avoid customers coming through that are unhappy and already frustrated with your company's processes. Otherwise, you might find that customers are more inclined to complain and stay on the phone longer because of the automated gatekeepers you've set up.

Monitor metrics around AHT

Remember, AHT isn't the only metric. As a manager, you need to keep a close eye on the following and implement improvements for agents and teams that are struggling to achieve KPIs:

Calls missed
Calls dropped or declined
Transfer times
Average wait time in the call queue
Longest wait time (e.g. when there are a lot of customers waiting to speak to agents)
Number of calls abandoned in the queue
Time it takes for agents to answer calls 

Regularly record and listen to calls for manager and agent training

As a manager, it will help your agents and team if you listen to a wide range of calls. Normal ones, that are resolved quickly, and difficult ones. Don't always listen to them from the perspective of improving agent performance.

Instead, listen to these calls with the intention of reviewing whether you can change internal policies, processes, and the ways agents find information when they're on the phone.

Optimize information systems for agents

Make it easier for your agents to find the information they need to resolve customer questions when on a service call. Knowledge is power, especially when the clocks are ticking and agents have to hit AHT targets.

New agents, in particular, often struggle with this, whereas more experienced agents can find information quickly because they've done it hundreds of times. Make sure that internal knowledge base systems are optimized for keywords that agents use when they're searching for answers to specific questions while they have customers on the phone.

Optimize training for new agents

New agents take longer to achieve AHT targets. Naturally, inexperience is the main reason. Despite going through training, new agents can struggle once they start taking live calls. As a manager, it's important to give them as much support as possible in the first few weeks.

The faster a new agent gets up to speed, the quicker their AHT should drop. It's worth the investment, and it will reduce churn during the probationary period.
We hope you found these 5 tips helpful for reducing AHT, and for more information please see our article on 6 solutions to challenging customer service issues.