Help Desk vs. Service Desk vs. ITSM: What Are the Differences?
Never in human history have we been so reliant on technology. Businesses, organizations, and governments everywhere rely on software and IT services to function. The tireless IT help desk, service desk, and IT service management teams (ITSM) are keeping all of this technology working.
Organizational leaders often need to decide the best approach for providing IT support for their entire organization. Forcing themselves to ask the question: "Which is better, an IT help desk, service desk, or IT service management?"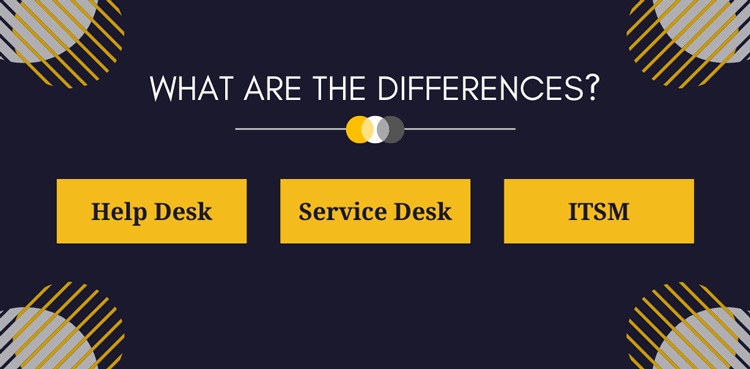 Before organizational leaders can make this decision, especially if they're looking to overhaul existing IT functions, it's helpful to understand, "What's the difference between an IT help desk, service desk, or IT service management?"
This article will explore these differences by comparing IT help desks, service desks, and IT service management (ITSM) functions.
What is an IT Help Desk?
An IT help desk, compared to other forms of IT assistance, is usually an organization's first point of contact for IT solutions, troubleshooting, and support.
It's also known as Level/Tier 1 support, as the requests for help with IT problems, also known as support tickets that go through an IT help desk, don't usually require specialist levels of knowledge.
In most cases, we are talking about anything that requires human IT service intervention. Despite IT teams and software vendors providing an extensive range of self-help solutions, there's still the need for support for anything that can't be fixed using self-help processes. Or, when people are unable or unwilling to use self-help solutions, IT team members need to provide the help someone requires.
Internal or external IT help desk customers usually ask for help using a number of channels, such as phone, email, help desk ticketing/communications software, and social media. At the Tier 1 level of IT support, problems that need fixing normally include forgotten passwords, someone being unable to connect to a network, printer issues, and numerous other low-level IT issues.
Examples of IT Help Desks
IT help desks are meant to be tactical rather than strategic, providing a single contact point to fix broken IT systems and hardware. Help desks are also known for providing "incident management" and "problem management".
IT help desks usually have software to provide the means to track support tickets, monitor outcomes, and evaluate whether a help desk is adhering to service level agreements (SLAs) and key performance indicators (KPIs).
Almost every organization of any size (e.g., 100+ people) has some form of IT help desk. Even if it's simply one IT team member with various layers of autonomous and self-help support systems. In larger companies, an IT help desk will comprise an entire team, a manager, and dozens of self-help and autonomous support systems and software.
As we've covered in another article, there are numerous types of IT help desks. Most perform a similar function, whether that's supporting internal or external customers with IT trouble-shooting or fixing hardware, cloud services, and devices.
Now let's compare IT help desks with service desks and IT service management (ITSM).
What is a Service Desk?
An IT Service Desk, on the other hand, provides higher levels of more proactive support than IT help desks.
Service desks are more strategic than reactive. According to IT Information Library (ITIL®) definitions, IT service desks are meant to be "the single point of contact between the service provider and the service consumer".
Service desks typically identify and resolve issues before they occur, while a help desk focuses on problem-solving after something has gone wrong. Service desks are all about preventing problems from occurring in the first place -- expert IT teams anticipate problems, putting solutions in place to prevent systems or hardware from crashing in the future.
In most cases, the services provided include ensuring that the help desk section of the IT department is operating efficiently. Although, IT service desks usually go much further than that when it comes to providing strategic IT support for an entire organization. Service desks usually deliver the Tier/Level 3 and above lines of IT assistance, going beyond basic troubleshooting.
A service desk is a centralized customer support center that serves as a single point of contact for end-user IT, software, and hardware issues. Most service desks are internal, meaning they focus on the needs of your employees, not those of external customers--but they're also customer-centric because they can provide services and information to employees who need them. Like help desks, service desks will be monitored according to response times and customer satisfaction scores; it's not expected that response times need to be as quick as Level 1 IT problems.
Service desks are proactive by nature; they offer IT operations and security monitoring, problem prevention and triage (the process of identifying problems before they become incidents), incident and change management, help desk ticketing systems, and much more.
Hence, the value of the service desk provides:
Offering proactive support
Working with users to figure out what causes problems so that colleagues can avoid them by using tools provided by the service desk
Information regarding other resources available within your company's IT department
Examples of IT Service Desks 
Similar to help desks, there are several types of service desks or individuals within an IT service desk team that deal with different issues.
Service desks can be specifically set up to handle different incidents, either proactively or reactively. However, in most cases, reactive incident management is handled by help desks, and these often fall under service desk operations.
IT service desks can include solutions for change management, problem, incident, administrative support tickets (e.g. onboarding, off-boarding, etc.), and a crucial one, information and data security. IT service desks are usually managed by an IT manager, Head of IT, or Chief Information Officer (CIO).
What is IT Service Management (ITSM)?
If we think of an IT help desk as the first layer of support (reactive), and an IT service desk as the proactive second layer, then IT Service Management (ITSM) is the strategic framework that both functions sit within.
IT Service Management (ITSM) originates from the belief that IT should be delivered "as a service", even when this is provided to internal customers. Before ITSM and ITIL concepts, IT wasn't respected alongside other internal operational functions. IT was simply the "back office", somewhere colleagues would call when they had an IT problem and expect the technical people to fix it.
Since then, IT has evolved enormously over the last decade, especially as our reliance on IT systems, software, and hardware has increased.
ITSM encompasses everything software, hardware, and IT related, including the end-to-end delivery of IT services to customers (internal, external, or both). ITSM is focused on the creation, implementation, and monitoring of an IT strategy and IT services.
ITSM is proactive, strategic and process-driven, which means that it focuses on anticipating changes in the organization's needs so they can be addressed before they become problems.
ITSM operates on a set of comprehensive best practices. However, ITSM solutions are not all created and implemented similarly. Some are more focused on internal processes, while others may focus more heavily on customer relationship management software (CRMs).
Depending on operational goals and who's leading the ITSM team/department, there might be proactive methodologies, such as Lean, Agile, ITIL, or others. Different ITSM teams have a variety of ways of implementing IT operational practices.
Examples of IT Service Management 
Most companies will use ITSM in some way. You don't have to look far for examples of this in practice. Your organization probably uses ITSM to run IT functions, or maybe you lead that department. One of the reasons you're reading this article is that you could be looking for better ITSM software to ensure your IT service or help desks operate more effectively.
While searching for a solution, it makes sense to assess whether you need software for your help desk, service desk, or both, or overall ITSM functions. Fortunately, there is software that you can deploy which covers every IT function, including the service, help desk, and ITSM.
Comparing Help Desks with Service Desks and IT Service Management (ITSM)
The majority of large organizations employ some form of ITSM. Alongside either an IT help desk, IT service desk, or both, and both of these operational IT functions will sit under the mandate, goals, and budget of ITSM.
If we compare these functions, we can see that there is a series of important distinctions and differences between them.
IT Help Desk
On one level, the IT help desk is a reactive operational IT function:
Providing support for internal or external customers
Processing support tickets
Working towards ensuring help desk services are aligned with and meeting SLAs and KPIs
Help desks solve relatively small IT problems, trouble-shooting and providing a basic set of self-help tools and guidelines.
Service Desk
On the next level, the IT service desk offers a more extensive range of proactive IT support. Service desks fix problems when they come in, but at the same time, they aim to ensure these IT problems don't exist in the first place. Service desks are more strategic than help desks.
Both aim to resolve tickets within an expected timescale and have to meet KPI and SLA requirements. However, the types of tickets that service desks handle are often more complex and are expected to take longer to resolve. Accordingly, service desks manage what is known as Level/Tier 3 and above support tickets.
ITSM
And finally, IT service management sits above both the help and service desk functions. ITSM encompasses and manages both, and in most cases, any other IT-centric teams as well. ITSM is usually cross-functional, working on a strategic level with other stakeholders and departments, vendors, and external customers.
Depending on the size and scale of your organization, and your IT needs, you might need an IT Help Desk, Service Desk, and ITSM, or simply ITSM to provide strategic oversight and a service desk to deliver IT services to internal customers.
Are you looking for the right kind of cost-effective, cloud-based IT software that will transform your IT Help Desk, Service Desk, or IT Service Management team's performance and adherence to business goals and KPIs?
Look no further than Giva: Help Desk Software or IT Service Management Software in the Cloud. Giva consistently earns 4.9 out of 5 stars from independent customer reviews of our intuitive Help Desk, Service Desk, and ITSM solutions.
Find out why Giva is among the top IT help desk software solutions. Speak to one of our relationship managers today, or take a self-guided tour. Giva offers a 30-day free help desk or ITSM software trial, so you can get hands-on experience.