Help Desk vs Desktop Support: Comparing ITSM Delivery
When it comes to technical support, there are two main options: Help Desk and Desktop Support. These can be in-house/on site or delivered remotely via third-party cloud-based software (SaaS) solutions. There is often some confusion over the use of the terms Help Desk and Desktop Support.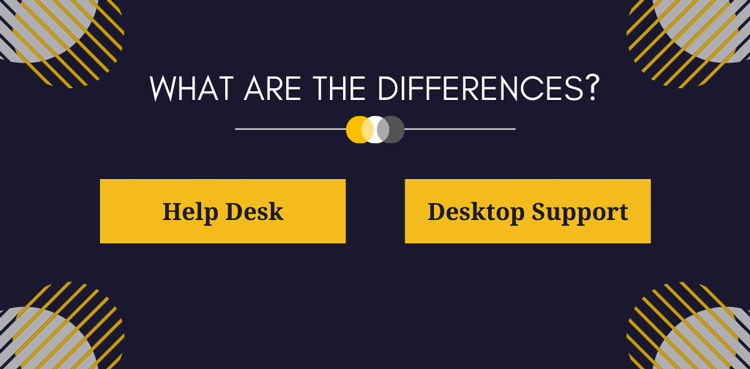 This blog post aims to clarify the differences and synergies between these two critical IT Service Management (ITSM) functions.
Understanding the unique roles of help desk and desktop support can empower your organization to allocate resources and streamline your ITSM operations effectively.
What is a Help Desk?
An IT help desk is a service that provides technical support to computer users of your organization's IT service. This can include help with software, hardware, and devices. It also answers questions, provides troubleshooting assistance and aid with other technical issues.
A help desk team of IT professionals either provide specialized support in complex technical fields or are front-line generalists, usually known as Tier 1 or Tier 2 IT agents. Internal customers can access IT support through a variety of methods, such as email, phone, live chat, AI-powered chatbots, and self-help services.
What is Desktop Support?
Desktop Support is similar to a Help Desk, except it is on-site and usually involves an actual desk/workspace. Internal customers can get practical, physical help with multiple devices, such as computers, laptops, tablets, printers, and work-issued phones.
Desktop support is a one-stop-shop for expertise on any device-based problems:
Installation, configuration, or troubleshooting of software, hardware, accessories, and networks
Advice and assistance with the use of computer applications such as Microsoft Office and Adobe Photoshop
In busy offices, this type of support is still useful because not everything can be done remotely. The more devices an organization uses, the more that can go wrong. Desktop support agents can physically check the devices. This speeds the process of diagnosing and solving technical issues or ordering replacements.
Help Desk vs Desktop Support: What's the Confusion About?
Help Desk and Desktop Support are two distinct IT support services. The terms can be used interchangeably, and that is one of the reasons for confusion as to the services both of them perform.
"Help Desk" is a broader term that covers all IT-related issues, particularly in-house software and other apps and SaaS products used. On the other hand, "Desktop Support" is more focused on diagnosing and repairing hardware and software issues on user devices.
Help desk IT teams most often have a wider range of skills than desktop support staff. Help desk staff usually help with software installation, configuration, and troubleshooting tasks. However, desktop IT teams need to provide on-site support for devices and hardware.
Should Businesses Have Help Desk and Desktop Support and Why?
Help desk support is essential for businesses that need to provide quick and efficient customer service. It is an important part of any successful business, as it can provide customers with quick and accurate answers to their questions. Help desks can also provide technical support to help users troubleshoot a problem.
Desktop support, in contrast,, focuses on providing users the hardware and software necessary to run their computers efficiently. This type of support can help businesses save time and money by eliminating the need to hire extra technicians. Additionally, desktop support can help users troubleshoot hardware and software issues.
Help desk and desktop support are both essential to ensure company IT services run smoothly. Both are necessary for the typical service desk to ensure the systems, software, and hardware that employees and customers use every day are functioning properly.
By deploying both in your organization, you can maintain high-levels of employee productivity. Further, support can be reactive and proactive, in line with Key Performance Indicators (KPIs) for IT and Service Level Agreements (SLAs).
Help Desk Agent Skills and Responsibilities
Help desk agents provide technical assistance to customers struggling with IT problems. This can be via a number of channels (e.g., support tickets, email, live chat, AI bots, and self-service). They diagnose, troubleshoot and provide advice on software and hardware problems and use. They also install, configure, maintain and repair computer systems, and monitor and manage performance.
ITSM help desk staff also play a role in monitoring and managing internal and external IT security, data protection, and sector-specific legislation, such as HIPAA, in healthcare organizations. They also help in digital transformation, software, and hardware upgrades, and other proactive IT policies, such as selecting software vendors and other third-party IT providers to support the organization.
Desktop Support Agent Skills And Responsibilities
Desktop support provides technical assistance for hardware and software issues, such as troubleshooting, diagnosing and repairing. Agents need to have a wide range of in-depth technical knowledge and training.
Desktop support agents work on a break-fix model. So, if something breaks and it is not a problem a help desk can deal with, then an internal customer will go to this support desk to get the help they need. It is a much more reactive service than ITSM, although it still needs to adhere to customer service KPIs such as Net Promoter Scores (NPS) and SLAs.
Tips For Running an Effective Help Desk
Running an effective Help Desk involves the following:
Ensuring the services adhere to business objectives listed with the Service Level Agreement (SLA)
Using remote support tools to provide speedy assistance
Monitoring customer feedback surveys to gauge customer satisfaction
Utilizing automation tools such as chatbots and self-help platforms to reduce customer wait times
Developing and maintaining a knowledge base to provide customers with ongoing and frequently updated self-help solutions
Providing ongoing proactive and reactive security to counteract internal and external threats, such as data breaches and employees' abusing positions of trust with sensitive data
Maintaining that ITSM support is managed effectively within budgetary guidelines
Facilitating that business objectives, and long-term plans are implemented efficiently
Tips For Running Effective Desktop Support
Running an effective desktop support service involves the following:
Support staff accessing the computer system directly to diagnose and resolve issues more quickly than an IT help desk can
Tracking all system and hardware issues and defects to identify problem areas and areas for improvement
Establishing targeted SLAs and KPIs for desktop support activities
Whenever possible, utilizing remote access tools to diagnose and resolve user issues quickly
Implementing regular system health checks, including automation to speed up routine maintenance tasks
Monitoring system changes to identify potential security risks
Providing internal support with hardware installations and network issues and upgrades
Working with IT help desk staff to implement any digital transformation projects
Establishing a process for logging and tracking user requests
Keeping customers updated with any hardware and device fixes
What to Look For in Help Desk Software
Both IT service provisions should include the following in their choice of help desk software:
Be cloud-based to reduce costs and maintenance
Ability to log and track support tickets
Is easy to use
Integrates with other SaaS IT tools
Provides ongoing reporting, analytics
Has a customizable dashboard
IT Help Desk and Desktop Support Software in the Cloud (SaaS)
Accelerate productivity with Giva's IT Help Desk quick setup, extraordinary reporting and dashboards, and guided setup with pictures and videos.
Giva allows you to start quickly with ticketing and then move to the following, seamlessly integrated:
Knowledge base
End-user self-service portal
Customer satisfaction surveys
Hardware and software asset management
Change enablement/management
Etc.
Giva has an intuitive design, and low training costs and start-up time. No coding, programming, or consultants are required.
Try Giva today, or use our Free Assessment Tool.