Definition of Change Management vs. Change Enablement: How Do They Differ?
For any IT organization, the management of change is a challenging process to implement.
Over the years, the process of implementing change has become codified around a core best practice concept known as Change Management.
For IT leaders, CIOs, and IT professionals trained using ITIL® methodologies, the concept of change management has been replaced with a new, more dynamic framework known as Change Enablement.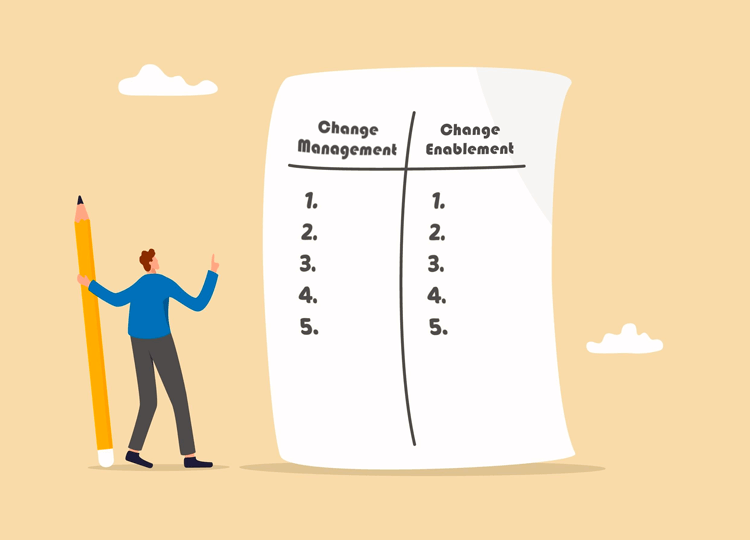 Photo Attribution: eamesBot/Shutterstock.com
It's important to understand the difference between change management and change enablement and, crucially, how to implement an effective change enablement program or project.
In this article, we compare and contrast change management with change enablement while explaining the concept more effectively and outlining how you can implement a change enablement program or project.
What is Change Management?
According to ITIL (version 3), the change management definition "focuses on . . . release practices, providing guidance and process activities for transitioning services into the business environment."
Change management is a formal process within the "Service Transition" lifecycle of any ITSM operation or deployment of an IT service, such as software/hardware. Every technology service deployed within an organization or an organization's IT Service Management (ITSM) team goes through numerous iterative service transitions and lifecycles.
Change is inevitable and unavoidable in ITSM. However, how you manage any form of change influences and impacts the outcomes of that process.
Within ITIL 3 change management frameworks, this is seen as a formal process to accomplish change, and this can involve Change Managers and Change Advisory Boards (CABs). Depending on the nature of the services and processes that need changing, ITSM organizations might need to make a Request for Change (RFC) application, especially when a new budget is needed. This approach does make changes more difficult to implement, with longer, more drawn-out processes than is now recommended following ITIL 4 guidelines and best practices.
Under the version 3 concept of change management, any service transition should involve appointing a "change manager" who can manage everything on a strategic and operational level. Change models need to play a role in how a change manager implements strategic or service-oriented changes and transitions.
Change managers are also often responsible for communicating operational and budgetary needs to senior leaders. Normally they need to make the business case for any proposed service or ITSM changes, including sourcing new vendors for projects. At the same time, change managers are responsible for communicating the outcome of any change projects to staff, getting buy-in and training from different teams and across the organization.
Now let's compare this with change enablement so that the difference between the two concepts and models makes more sense.
What is Change Enablement?
Axelos, the company behind ITIL, PRINCE2, and other best practice training formats and models, is responsible for the term "Change Enablement."
In 2019, Axelos launched a revised version of the ITIL best practice framework and training model, ITIL 4 (or ITIL v4).
Within ITIL 4, "an end-to-end operating model for the creation, delivery and continual improvement of technology-enabled products and services" is a key section on how to manage change.
Instead of this being known as "Change Management", Axelos changed the concept of how IT organizations should implement change-centric programs and strategies. This process is now known as Change Enablement.
Under ITIL 4, change enablement is outlined as a process whereby the "Sole responsibility is to maximize the number of successful IT changes by evaluating risks, authorizing changes to proceed, and managing the change schedule. They do this by matching the three types of changes with the three change authorities."
The dependencies to consider include the following: "All personnel to follow the cardinal rule that nothing can change in the live environment without an approved Request for Change (RFC). (Change enablement) actively supports the IT department's goal to maximize the number of 'Standard' changes."
Within this context, ITIL 4 is more committed to recognizing the importance of DevOps practices and benefits. This is partly because when ITIL 3 was published in 2007 and then revised in 2011, DevOps didn't play such an important role in ITSM and the IT service centers of high-growth and large organizations.
Publishing ITIL 4 corrected this oversight, reflecting the changing nature of IT operations, ITSM, and the inclusion of DevOps in business IT practices.
Alongside the inclusion of DevOps, ITIL 4 also recognizes the critical role complexity plays within any change enablement project. Depending on the differing levels of complexity of the ITSM operations within your organization, ITIL 4 recommends implementing strategies at the appropriate level to handle inter-organizational intricacies.
Now let's take a closer look at the difference between change management and change enablement and how to implement change enablement in your organization.
What's the Difference Between Change Management and Change Enablement?
According to experts, many things must occur before and after the 'controllable' portion of a change management objective to ensure effective change.  An infrastructure of favorable circumstances must first be established and pave the way for changes. All of this necessitates a sustainable strategy for lasting, synergistic results, hence the change in terms and definitions.
Some of the most significant changes when change enablement took over from the outdated change management concept include the following:
DevOps concepts such as fail-safe feedback and testing loops, iterative testing, and CI/CD now play a more important role in change enablement.
Modern IT organizations and ITSM teams now recognize the value and benefit from faster iterative feedback loops, reducing costs and ensuring any change projects are implemented on a smaller scale first before org-level deployment.
Instead of encouraging companies to appoint a Change Advisory Board (CAB), ITIL 4 promotes the concept of having designated change-focused people across the ITSM team, leading products, and development team.
Using this format, change enablement is easier to manage, quicker, and more cost and time-effective.
It's also much easier and quicker to identify when something is or isn't working. Instead of waiting to see the impact of changes that could take months to determine whether something has worked, this concept allows for faster deployment, testing, and iterations.
Organizations are also encouraged to use tools and technology to track workflows, backlogs, implementation, deployments, feedback loops, and collaborative processes.
Now we will take a closer look at how to implement a Change Enablement process model and deployment solutions in ITSM organizations.
5 Steps to Implement a Change Enablement Process Model in ITSM
Here are 5 steps you can take to implement a change enablement process, program, or project in your organization:
Get senior leadership sponsorship

Senior leadership sponsorship is almost always essential for the success of any ITSM change enablement project. New budgets are often required. Resources need to be redeployed. Training might be needed. For all of these, your ITSM team needs support from a C-Suite leader, such as the CIO, or someone on the same level.

Communicate well to relevant stakeholders

Change enablement projects often involve different teams or departments affected by IT changes. It's important that you inform them long before they feel the impact of these changes on day-to-day workloads.

Plus, it's often the case that different teams and departments have useful inputs and insights you would benefit from. Maybe your organization's front-line staff have been struggling to use a particular piece of legacy software for years. During change enablement programs, it's a good time to overhaul or purchase new software that will improve efficiencies, and staff workloads, and save money.

Use gamification to support change enablement processes

Creating long-term changes often involves training and process modifications. One of the most effective ways to make these changes easier to manage and absorb for front-line staff, including those in ITSM teams, is to use gamification.

Gamification will solicit engagement, inspiration and interaction to help your team, and other departments retain new best practices and processes for months and years ahead.

Test on a small scale, iterate, and then scale up

One of the most significant differences between change management and change enablement is the use of smaller test projects before iterating and scaling up. Test anything new in a small contained environment, such as a small team, before rolling out anything new on a larger scale.

Automate changes, keep testing, iterating, and monitoring

Whenever possible, automate any changes. Keep testing, iterating, and monitoring, implementing deployments in small batches, while ensuring training and communication keep pace with any changes so that buy-in from the top and front line is continuous.

Automated workflow management software and dashboards make continuous implementation easier and more cost-effective.
One way to implement a Change Enablement Process Model in ITSM is to deploy Giva. It's a powerful technology solution, and one of the best ways to manage any change enablement process. Find out more about how to use Giva to implement change management or change enablement programs: one of the world's top change management software solutions. Giva offers a 30-day free change management software trial, so you can get hands-on experience: Demo Giva today!