Navigating Negative Online Reviews: Insights for Healthcare Providers
Online reviews wield significant influence on public perception, including for healthcare providers. Responding to reviews is crucial, but it must be done while safeguarding patient privacy and complying with HIPAA regulations.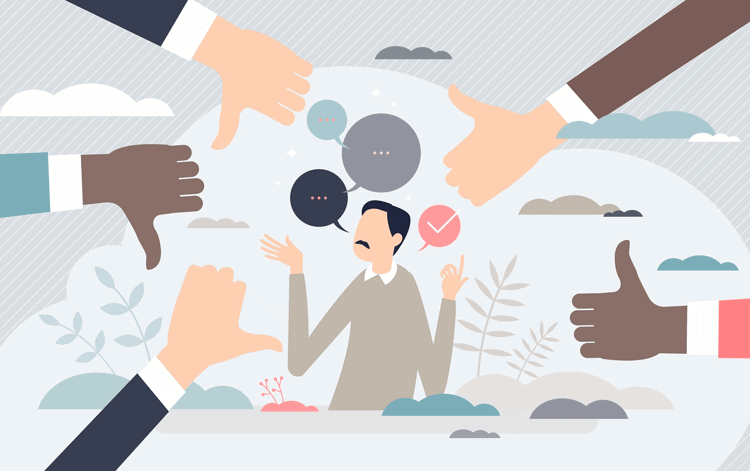 Photo Attribution: VectorMine/Shutterstock.com
In negative patient reviews, prioritizing empathy and assistance should be paramount. Expressing concern for the reviewer's experience and encouraging private communication demonstrates a dedication to resolution. Though, discussing specific medical details, such as advice, conditions, diagnoses, or treatments, in a public response could well breach confidentiality. On the other hand, positive reviews offer an opportunity to express gratitude and reinforce positive relationships.
Thoughtful and empathetic responses, coupled with confidentiality protection:
Enable effective engagement with the online community
Safeguard reputations
Emphasize dedication to patient satisfaction
This article provides insights on effectively addressing online reviews while respecting patient confidentiality and upholding their rights.
What a HIPAA-Covered Entity Can or Cannot Say
When healthcare providers encounter negative online reviews, it is crucial to respond in a manner that remains within the boundaries of HIPAA compliance. Generally, these guidelines protect patient privacy, so remaining neutral and generic in your replies is critical. Here are some concise tips to crafting HIPAA-compliant review responses.
Express Appreciation: Start by expressing gratitude for the feedback received, ensuring the response remains generic and does not disclose any protected health information (PHI).
Acknowledge Concerns: Address the reviewer's concerns and show empathy and understanding by acknowledging the issue raised.
Provide General Solutions: Offer general information or solutions to address the concerns and highlight ongoing efforts to improve.
Encourage Private Communication: Direct the reviewer to contact the healthcare provider directly through private channels to discuss their concerns confidentially.
Read more: Customer Service Loving Their Haters: How to Respond to Negative Reviews Plus Examples
By following these HIPAA-compliant guidelines, healthcare providers can effectively manage negative online reviews while safeguarding patient privacy and maintaining a professional reputation.
Case Study: Manasa Health Center
Manasa Health Center, a renowned psychiatric service provider catering to adults and children in New Jersey, found itself in trouble after allegations arose regarding the disclosure of protected health information in response to negative Google reviews. The Office for Civil Rights (OCR) of the U.S. Department of Health and Human Services (HHS) investigated the matter, resulting in a $30,000 settlement and the implementation of a corrective action plan.
What happened?
After a patient posted a negative review about Manasa Health Center on Google, the practice allegedly replied with a response that shared confidential details regarding the patient's mental health diagnosis and treatment. After a complaint about the review by the patient in April 2020, the OCR conducted an investigation that uncovered three more instances of similar breaches of patient medical information. The investigation further revealed that Manasa Health Center had failed to establish adequate policies to prevent such HIPAA privacy violations.
To address these issues, Manasa Health Center has agreed to a monetary settlement and committed to a two-year corrective action plan overseen by the OCR. This plan entails several crucial steps, including:
The development, maintenance, and revision of written policies and procedures to align with the HIPAA Privacy Rule.
Comprehensive training on HIPAA Privacy and Security Rules will be provided to all staff members, including owners and managers.
Within 30 days of the agreement, breach notices will be issued to affected individuals, or their representatives, whose protected health information was disclosed on any internet platform without proper authorization.
A breach report will be submitted to HHS, highlighting the individuals affected by such unauthorized disclosures.
Lessons Learned in How to Avoid HIPAA Violations
The case of Manasa Health Center shows that staying out of trouble goes beyond instructions on "how to respond to a review." While keeping PHI out of review responses is the simplest of steps, if your organization violates HIPAA guidelines, there are a few actions that you may take to lessen the damage.
For starters, it is essential to maintain written policies and procedures that align with the HIPAA Privacy Rule, providing clear guidelines to staff members on appropriate responses to online reviews.
Additionally, comprehensive training should be conducted to ensure all individuals involved in the organization's operations understand their responsibilities in protecting patient privacy.
In the event of a breach, prompt action must be taken, including issuing breach notices and submitting reports to the appropriate authorities.
By following these steps, healthcare providers can navigate the complex landscape of online reviews while upholding patient confidentiality and regulatory compliance.
HIPAA-Compliant Response Example
Responding to bad hospital reviews while avoiding HIPAA violations requires healthcare providers to prioritize patient privacy and confidentiality. Even if a reviewer discloses personal information, healthcare entities must not engage in sharing or discussing such information publicly. Here is an example of a textbook, compliant response to a negative online review:
Generic response example
"Thank you for taking the time to share your experience. We appreciate your feedback and take it seriously. We apologize for any inconvenience you may have encountered during your visit. We are committed to continuously improving our services and addressing patient concerns.
To ensure your privacy, we kindly request that you contact us directly at [phone number/email address]. We would like to discuss your concerns in a confidential and personalized manner, so we can better understand and resolve any issues.
We value your trust in us and remain dedicated to providing high-quality care. Thank you again for bringing this to our attention."
The Bottom Line: Safeguarding Patient Privacy is Paramount
It is not uncommon to come across doctors with bad reviews. Such reviews can stem from various factors, including unpleasant bedside manner, rude support staff, or long wait times, among others. Patients often turn to platforms like Google or RateMDs to express their frustrations and document their experiences. While it is important for all businesses to address client reviews, healthcare providers must exercise a heightened level of caution to avoid HIPAA violations.
In these situations, healthcare providers are advised to acknowledge a patient's dissatisfaction and direct them to an official, private line of communication for further discussion. Engaging in a discussion that involves disclosing specific situations or protected health information (PHI) in a public space can lead to trouble with regulatory bodies, as exemplified by the case of Manasa Health Center in New Jersey.