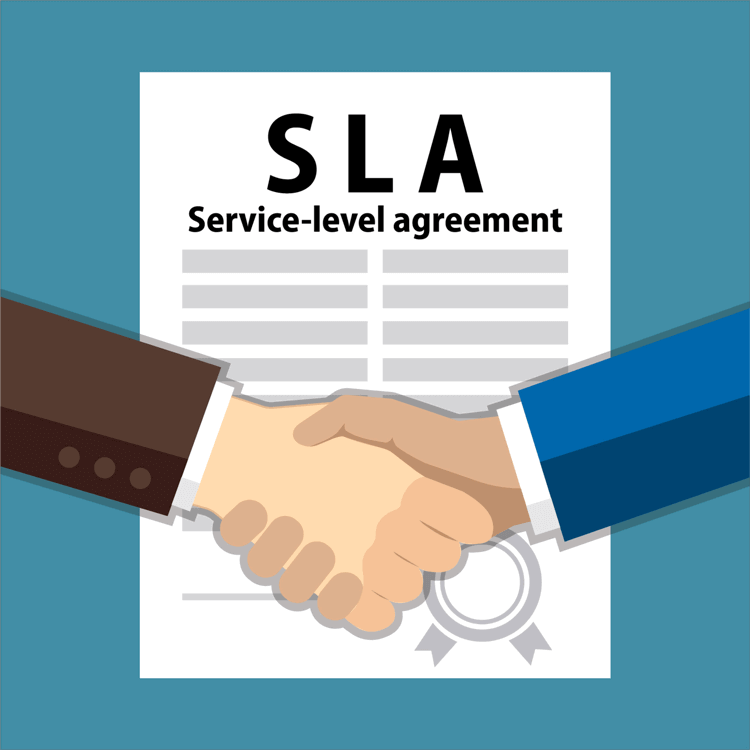 What is a Service Level Agreement? (SLA)
Think of a SLA like a contract; it will contain agreed-upon standards and standard operating procedures for your team in providing services to your client. SLAs keep your organization accountable and set clear guidelines for what customers should expect from their IT services, defining for customers what to expect from their services, and creating a foundation for mutual accountability between your business and your customers. Service Level Agreements can be developed for internal customers as well, such as an IT help desk's levels of service for the personnel they support.
Benefits of a SLAs
Improve customer service and contribute to long-term customer loyalty and engagement
Facilitate communication and understanding between your business and your clients
Define procedures
Provide a basis for conflict resolution
Documented agreement
Mutually accepted
Putting Together a Service Level Agreement
Build Internal Commitment. What you put into your SLA you must adhere to. Make sure that your entire IT service desk staff and support groups are ready and willing to commit to the SLA.
Get to know your customer. Your team will understand how to best help your client with their IT needs if you thoroughly understand your client.
Identify participants. Identify all stakeholders, including clients, IT service desk staff, outside organization that may assist the service desk, important individuals or decision makers, etc.
Set up support metrics. Establish guidelines within your IT service desk team for responding to various issues, assigning different situations/cases different severity levels. Once you have defined severity levels; assign cycle times (how long it takes to resolve a case) according to the level of severity of each particular case.
Create a Rough Draft. The following are examples of important elements of a SLA:
Introduction
Service goal
Definition of terms - not everyone will know the terms used; define terms to the lowest common level
Service delivery elements (e.g. business hours, methods for requesting service, service tracking procedures, environments supported)
Escalation procedures
Telephone, web and email response times
First contact resolution by the IT service desk (e.g. IT service desk level 1 will resolve at least 70% of all cases received)
Reporting methods
SLA contract periods
Examples of cases by severity level and type
Sample of customer satisfaction survey questions
Getting Everyone on Board
After creating a rough draft, present it to your managers and IT/customer service teams to obtain their feedback, approval and confirmation to proceed. Once your team is on board, it is time to meet with your customers to review the Service Level Agreement and get their feedback. Make sure you are ready to explain your reasons for certain decisions regarding items included in the SLA (e.g. response times, severity levels, etc.). Should your customers request alterations to certain items in your SLA, it is important to listen to them, as they will probably be fair. Once you come to mutual agreement with one of your customers, you will be well on your way to SLA success with all of your customers.
For more information on preparing Service Level Agreements for your business, Giva provides much more in-depth coverage of this subject in our whitepaper Implementing Service Level Agreements, which you can view online or download for free.