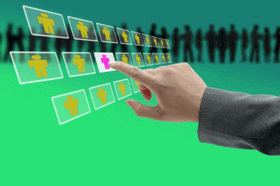 Studies indicate that 80% of the typical help desk budget is salary. Frequently, Help Desk managers worry about staffing levels more than any other matter. These managers need a methodology to determine said levels. The usual Erlang formulas from queuing theory do not always work because of the wide diversity of Help Desk entry points (phone call, e-mail, fax, etc.). This theory is helpful for some call centers but not for the more complex Help Desk environment. Therefore, staffing appropriately has a major impact on the business and the bottom line.
Understanding the Different Call Flow Design Models is Key
Gatekeeper Model
This model can be staffed with a single person or a few. It is designed to make it easier for the customer to have one phone number to call. In most cases, however, this model creates more problems than it solves; most often the "Gatekeeper" cannot solve the problem, creating a bottleneck instead, resulting in very low customer satisfaction.
Call Sorting Model
This structure sorts the calls into special groups using technology rather than people. Each call is then transferred to someone who can solve the customer's problem, a "specialist." With this model, additional staff is required in order to resolve the issues in each category; and, due to the fact that call volumes are not predictable, a lot of time can be wasted. Often, customers have more than one problem they are calling about which is a big drawback to this design.
Tier Structured Models:
The Specialist Model is the filtering of calls, commonly known as a tiered specialist structure. Often, the Desktop Support group receives the calls in order to solve more customer problems on the first call. Because of payroll expense for the "specialist," phones are not manned 100% of the time prompting customers to leave a message.
The Generalist Model is where the "generalists" answer the phone, e-mail, log the calls, answer what they can and transfer the rest to the second level (tier). This model resembles an ER triage process. This triage call handling process is the most effective for most help desk operations. The majority of good help desk analysts can solve 45%-65% of all calls allowing the second level (tier) to solve the more challenging issues. Customer satisfaction is often very high because the Help Desk operators "own" the problem even though they may not be the one to handle it, similar to the first nurse contact in the triage of an ER
In part two, we will discuss the financial impacts of various Help Desk staffing models!
For more in-depth analysis, please refer to Giva's Whitepaper on Help Desk Staffing Models.