Essential Change Management Roles and Responsibilities
The ITIL Guru sat at his desk, looking over the latest additions in the Continuous Improvement Register (CIR). As a review board member, he liked what he saw. More and more IT staff contribute improvement ideas, making him feel good about the progress. The phone rang.
 "ITIL Guru. How may I assist you today?"
"This is Michael. The CIO requested that I come to her office tomorrow. She wants me to take over the role of Change Manager. Her text does not appear clear about the new Change Enablement practice. Can you help me to make a good impression?"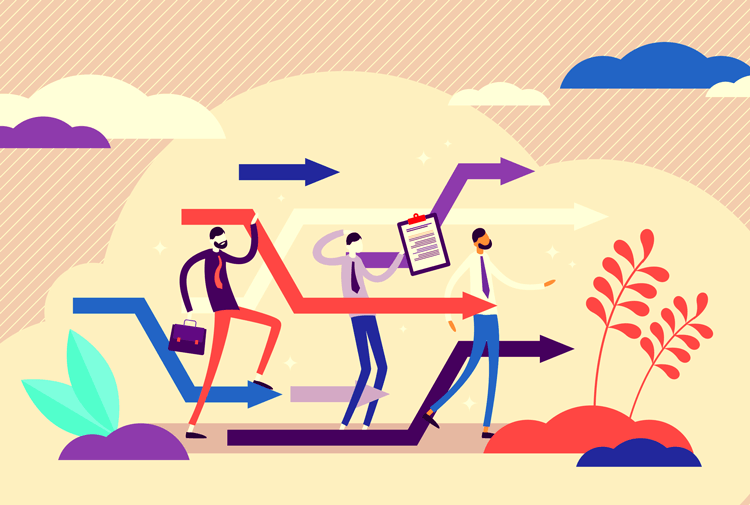 Photo Attribution: VectorMine/Shutterstock.com
"Michael, I am always happy to help explain ITIL.
Changing the Practice Name is a Continuous Improvement
"As you recall, in ITIL version 3, the practice (or process) name was Change Management. In January 2019, Axelos released ITIL 4. At this time, Axelos changed the practice name to Change Control. And then, in January 2020, Axelos again changed the name to Change Enablement. I do not see any ambivalence here, and I am happy to adopt Change Enablement as continuous improvement. Change Management never managed changes. That was left to Project Management. However, for the purpose of this explanation, we will continue to include the more common name of Change Management.
Purpose of the Change Management (Enablement) Practice
"The purpose of the change practice has never deviated. It has always been to maximize the number of successful service and product changes by ensuring a risk assessment, authorizing changes to proceed, and managing the change schedule.1"
"Thank you for clearing up the name change. I want to make sure we follow ITIL's best practices in everything. Is Change Enablement responsible for business changes as well?"
"No. There is another practice for that. ITIL calls that practice Organizational Change Management. 'The purpose of Organizational Change Management is to ensure we implement changes in the organization smoothly and successfully, and that we manage the human aspects of the change.'2"
The Starting Point: The Change Manager Role in Change Management
The Change Manager's roles are:
To assign the correct Change Authority to each type of change
Enable the change to happen, and
Manage the change schedule."
"What you must know is there are three Change Types and three Change Authorities."
| | |
| --- | --- |
| Change Type | Change Authority |
| Standard Change | Change Manager |
| Normal Change | Change Advisory Board (CAB) |
| Emergency Change | Emergency Change Advisory Board (ECAB) |
Three Change Types are the Key to Change Management Efficiency
"There are only three types of changes. That is all you need!"
Standard Change
Characteristics:
Low risk
Pre-authorized
Well-understood
Fully documented (i.e. work instructions)
Implemented without needing additional authorization
Proven history of never causing an incident (optional)3
"A Standard Change is my favorite. The change authority for Standard Changes is the Change Manager. The Change Manager determines what criteria they require to make a change a Standard Change. A best practice is to set an IT goal of eighty percent of all changes are standard changes. When meeting the CIO, ask her to make this the IT goal and make it 80% for every IT functional team."
Why are Standard Changes the key to successful Change Management?
The advantages of Standard Changes:
With the majority of Changes Standard, it means less overhead for the Change Management/Enablement Practice allowing the Change Advisory Board (CAB) to concentrate on high-risk changes (Normal Changes)
For the functional teams, no delays waiting for approval
Increased speed of changes as proven and documented changes is more efficient
Customer satisfaction improves when IT implements changes faster with no errors
IT can execute service requests that change the live environment faster by linking a Request for (Standard) Change document to the service request
Standard Changes are NOT on the change schedule since they do not impact the environment
Examples of a Standard Change:
Life cycle replacement of devices
Replacement of a failing device with an identical model and configuration
Patching (when tested beforehand)
Application monthly/quarterly releases
Firewall changes (i.e., to block an IP to address security incident
New DNS entries
Restarting/rebooting in a high-availability environment
New hire onboarding
The Emergency Change is change enablement's answer to a SWOT team
"Emergency Changes are changes implemented as soon as possible.4"
Characteristics of Emergency Changes:
Emergency changes are NOT on the change schedule
Expedited assessment and authorization assigned to the Emergency Change Advisory Board (ECAB) ensure speed
As far as possible, Emergency Changes should be subject to the same testing, assessment, and authorization as Normal Changes
There may be a separate change authority for Emergency Changes, typically including a small number of senior managers who understand the business risks involved5
A best practice is for the ECAB to identify the root cause of the Emergency Change. The objective is to reduce and eliminate Emergency Changes caused by not following procedures (i.e., skipped preventative maintenance)
A high-priority incident often requires an Emergency Change to restore normal operations as quickly as possible
"The IT goal for Emergency Changes should be to a reduction in the frequency over time. With the direction of the CIO, each IT functional team should set a plan to reduce Emergency Changes."
Change Management/Enablement Approves Normal Changes for Execution by the Project Management Practice
"With Standard Changes automated through Change Enablement because they are pre-approved, and Emergency Changes fast-tracked past the detailed scrutiny, Change Enablement can concentrate on Normal Changes.
"The Change Advisory Board (CAB) is the change authority for all Normal Changes. The degree of scrutiny depends on the scope, risk, and priority. The Change Manager often chairs the CAB. 
"Once authorized and scheduled, the Project Management practice executes all Normal Changes."
How to Use the RACI Matrix Model for Effective Change Management Roles and Responsibilities
"The RACI acronym stands for Responsible, Accountable, Consulted, and Informed. Use these to understand the various roles and responsibilities in effective Change Management/Enablement:"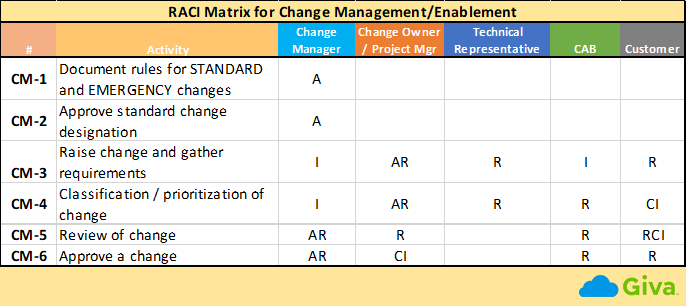 Change Management Roles & Responsibilities Defined
What does a Change Manager do?
Maintaining Change Management/Enablement system, including policies, processes, systems, metrics, and procedures used across the entire IT business and adheres to all regulatory requirements
Continuous improvement identifies opportunities for process, measurements, and systems to improve Enablement services' effectiveness and efficiency
Works closely and communicate effectively with users and stakeholders of the change process to drive the improvements
KPIs and metrics ensure service quality objectives, governance compliance, and responsiveness
Attends all CAB meetings
Ensures updates to Change Management/Enablement documentation
Provide information and reports on change implementations, successful and failed changes
Conduct Post Implementation Reviews (PIR) on successful and failed changes as required for continuous improvement
What does a Change Management/Enablement Analyst do?
Register, categorize and prioritize changes after conducting a thorough analysis
Conduct risk analysis before submitting it for CAB approval
Maintain a balance between the business need for immediate change and the necessity of ensuring the stability of existing systems
Document and publish the CAB - MOM (Minutes of the Meetings)
Reroute misdirected changes promptly
Identify changes that need special attention or escalation
Draft and send out communications to ensure that all relevant stakeholders know procedures
What does the Change Advisory Board (CAB) do?
Responsible for making decisions on whether or not the RFC would bring positive results, value to the organization, reduce manual efforts, and reduce costs.
Approve or reject changes based on:

The risk to IT services and business services
The impact of a difference on availability, performance, security, compliance, and SLAs
Provision of procedures
Test plans defined
Test results gathered

Discuss previously failed, rolled back, and backed out changes to understand what went wrong
Prepare for CAB meetings by circulating RFCs within their group and coordinating feedback
Review RFCs and recommend whether they should be authorized
Review successful and failed changes
Review unauthorized changes (i.e., changes without approved RFC)
Review the change schedule and help identify conflicts or resource issues
Review the Projected Service Outage (PSO) and provide feedback on the impact of planned outages
"As you can see, Michael, Change Management/Enablement efficiency is critical to keeping IT in alignment with business demands and opportunities. ITIL's term for this is Governance. Change is how the company continues to make continuous improvement happen. The more efficiently change occurs, the faster the organization improves.
"I wish you well with the new position. I am sure you will have more questions. I am always here for you."
Footnotes:
1. ITIL Foundation ITIL 4 Edition, AXELOS GLOBAL BEST PRACTICE, 2019, p. 118
2. Ibid, p. 89
3. Ibid, p. 119
4. Ibid, p. 119
5. Ibid, p. 119