Information Technology (IT) Industry Analysis & Overview
Today, you would be hard-pressed to find an industry that does not rely on technology, whether directly or indirectly. From healthcare to retail and everything in-between technology is used to gather, share, monitor, and create.
Though similar technologies appear across different industries, they often serve alternative purposes. Similarly, however, technology is designed to streamline day-to-day processes. Although, some may argue that it has complicated things further!
Are you interested about the role of IT across industries? Get ready for 'IT education' as we explore various components of tech uptake across the information technology sector.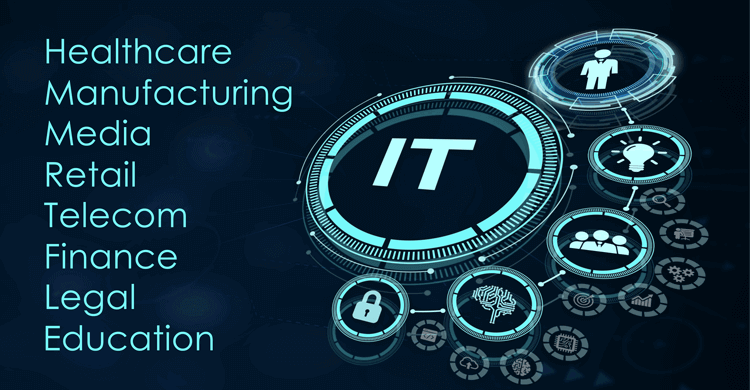 Photo Attribution: Den Rise/Shutterstock.com
(Select to quickly scroll to an industry)
Healthcare
What is the role of information technology (IT) in the healthcare industry?
Perhaps out of all industries examined, healthcare information technology is the most important. Over the years, technology within the industry has advanced and has been well-received by small, medium, and large organizations.
Why is information technology important in healthcare? Use cases for healthcare IT can change from practice to practice; though it is mainly used for the storage and exchange of health-related data. The benefits related to securely storing and transferring this data with speed is said to contribute to:
Improved medical care
Reduced medical costs (for patients and providers)
More accurate reporting
What is the current uptake of cloud computing in the industry?
According to Research and Markets, the international cloud computing market across all platforms is forecast to expand from USD 371.4 billion in 2020 to USD 832.1 billion by 2025, at a compound annual growth rate of 17.5%.
Healthcare IT systems like cloud computing play an important role, allowing healthcare providers to make patient care portable and more accessible. According to Nutanix, 87% of healthcare companies surveyed cited the hybrid cloud as an ideal IT operating model to handle personalized healthcare and data received from AI assistants, among other items. In one of the most recent HIMSS surveys on the topic of Healthcare and the Cloud, a few key stats and trends are identified:
Approximately 39% of healthcare information technology (HIT) workloads currently operate using cloud technology
Cloud-based HIT workloads were anticipated to increase to 50% by the end of 2020
A large majority of healthcare providers (approx. 79%) were estimated to focus on incorporating cloud technology into their business model in the last year
What are some of the top challenges in health IT?
IT teams in healthcare have to be highly accurate in their decision making. One mistake can result in damaged reputations, fines (as outlined by HIPAA), or even jail time for corporate officers. The high black-market value of personal health information (PHI) makes it a prime target for cybercriminals. IT professionals in healthcare must always remain vigilant. What are some of the top IT challenges faced within the healthcare industry? Jason Lackey at Keysight Technologies lays out a few of these challenges.
Minimizing security breaches while increasing patient privacy - the biggest challenge IT teams will face is protecting PHI from cybercriminals
Eliminating network blind spots - ensure you know what your network is capable or not capable of doing
Transformation of the business to align with the Consumerization of Medicine - think about eCommerce in medicine. Can you provide information or sell products online?
Leveraging technology to ensure a competitive advantage - What are your competitors doing? Will implementing new tech improve your business to a point where it becomes a more attractive option for patients?
How can a help desk or knowledge management software assist with productivity and security?
Help desks can assist organizations in many ways. In healthcare, a help desk can keep staff, including doctors, organized with efficient ticket management, and health IT analytics reporting displayed on brilliant dashboards. When it comes to healthcare, patient care must be priority number one, and it must not be slowed by the need to locate data across several programs.
What are some information technology benefits in the healthcare industry?
HIPAA compliant solution that operates in the cloud - see Giva!
All conversations are located in one place - chat, emails and calls - that means situations are easy to reference; an incredible benefit when looking for important conversations had with patients or other caregivers
Real-time monitoring of all activity - displayed on vibrant dashboards, and ensuring no ticket, conversation or report is overlooked
Manufacturing
What is the role of IT in the manufacturing industry?
At the center of any functioning economy is manufacturing. When it comes to manufacturing IT, it is all about making tasks, especially those which are repetitive, automated. Robots are a popular piece of technology in the manufacturing industry. They are becoming more sophisticated and can perform complex tasks. Other advancements include:
3D printing - which allows for the quick creation of precise, cheap components and prototypes
Artificial intelligence - machines learn to do tasks and respond to various situations
All in all, IT in manufacturing creates a more efficient work environment with less downtime.
What is the current uptake of cloud computing in the industry?
In the 1960s when business computing technologies became available at a commercial level, the manufacturing industry was one of the early adopters. They mainly used these computers to take care of operations that include accounting, time-keeping, and tracking production. This was all happening at a time when other industries were still using pen and paper for these same tasks. Although the manufacturing industry was quick to adopt computing for business, they have been much slower to transition to the cloud. Mergers, divestitures, and acquisitions are driving the need to look at IT solutions for the manufacturing industry and make the shift to the cloud sooner. Remaining competitive and attracting younger talent is also a benefit of cloud adoption. Other future trends of cloud uptake in manufacturing are outlined in the below infographic.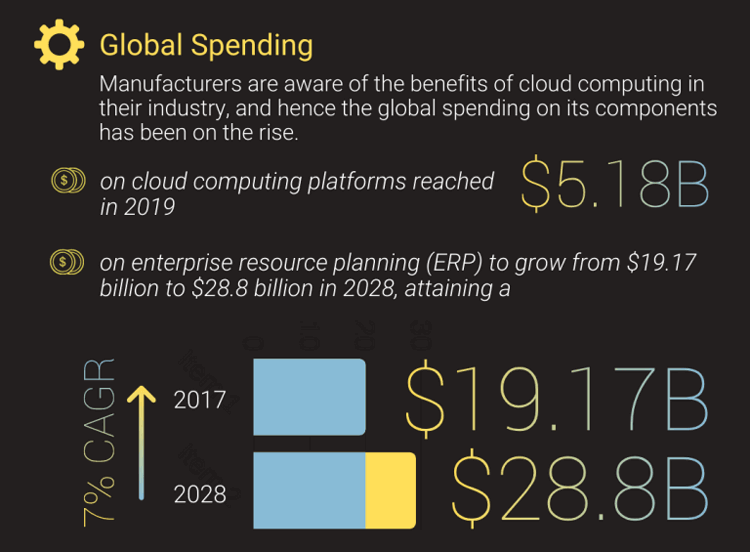 What are some of the top IT challenges?
Manufacturing processes are often redundant and on tight schedules. Facilities often produce thousands upon thousands of items per day to meet demand. Any hiccup in an operation can result in downtime, proving very costly to the bottom line. What are some of the top IT challenges faced within the Manufacturing industry? Let's take a closer look.
Downtime - Or maintaining uptime. Manufacturing facilities often can't afford long periods of regular downtime as it can cost thousands of dollars per hour in lost revenue
Adopting new technologies - As mentioned above, manufacturing got off to a great start in adopting computing before many others. However they have been slow in the uptake of cloud technology which may prove damaging in terms of competitiveness and attracting younger talent
Managing data - Manufacturing firms often collect plenty of data, however using it to generate new insights and business opportunities is often not regarded as their strongest point
Cybersecurity - Breaches in cybersecurity can result in downtime as mentioned above. Cybercriminals are highly interested in IoT systems that manufacturers often utilize
How can a help desk assist with productivity and security?
The use of IT in manufacturing can assist firms in utilizing help desks to stay organized and reduce downtime. If one of your employees notices issues in a workflow, they can submit a secure service ticket and assign a corresponding level of urgency. Previous tickets of a similar nature can be quickly and efficiently reviewed and utilized to diagnose the specific issue. If you want to track current levels of productivity to identify new opportunities, then easily rely on vibrant dashboards to track progress. IT Help Desk cloud infrastructure affords extra security, including encrypted data stored in redundant data centers rather than locally and onsite. Regularly scheduled backups provide for data to be secure and always available. A help desk can act as an integral component to running a smooth, secure daily operation.
Media
What is the role of IT in Media?
IT plays a crucial role in the media. Everything from creating scripts to live coverage requires coordination and the flawless operation of technology to bring everything together. This includes smartphones, cameras, digital screens, and more. Need to reference an old story? Archiving news and re-visiting it years later could be important. Technology that works well in unison is key to the operation of the media industry.
What is the current uptake of cloud computing in the industry?
Shreyas Shivananjappa who is the HoD and Director at CRESTA Digital Academy at Cresta School Of Management, Science and Arts says that, "Media and entertainment companies like publishing, broadcasting, sports and music make use of cloud computing applications to improve their operating efficiency. More than 73% of the companies run at least one application in the cloud."
Media - why IT matters:
Cloud computing plays an important role in the industry:
It helps to manage demand thanks to program scalability
It allows for more storage and quicker transfers so you can post with greater frequency
It minimizes downtime - an important trait when you are live or promising to go live at a certain time
What are some of the top IT challenges?
The media industry faces a wide-range of IT challenges, from financial constraints to those more technical. Since media can be fluid, IT leaders often have to react quickly in order to avoid prolonged downtime. When working with advertisers and other key stakeholders, remaining online is critical to the bottom line. Some of the top IT challenges faced by the media industry include:
Managing large quantities of data - Viewer feedback, new content and archived footage can take up plenty of space. Media companies require this information and they are often required to keep it on hand for long periods of time. Many of these organizations have trouble in finding the most efficient ways to receive and store big data
Finding new ways to engage viewers - Audiences want to be engaged wherever they are. They want to be able to access, enjoy and dive into new experiences; virtual reality being a recent area of interest. The media industry must constantly look at the latest trends of the user experience to remain competitive
Mitigating cyber threats - This might appear as a top challenge for most industries. For media, they are often home to plenty of 'raw' content that is broken down to be suitable for television. A data breach could expose sensitive video, imagery and personal information
How can knowledge management (KM) software assist the media industry?
KM software manually and automatically collects data and stores it for the times you need it most. Think about it like a vault filled front to back and floor to ceiling with information of your choosing. Media information technology teams can use a program like this when they need quick answers to a problem. For example, when conducting a live news hit and your tech falters, a member from your IT team could type issue keywords into a KM software application to see the related information. It could be a great place to store information on past issues to solve them quicker in the future.
Retail
What is the role of IT in the retail industry?
From the supply chain to the sales floor, IT in the retail sector plays several roles in the day-to-day functions. It assists stakeholders with complex retail operations that include gathering new market knowledge and controlling data. In addition, IT can assist in the following areas:
Synchronizing global data - This is especially important for large retailers with worldwide locations who want to effectively manage stock, or improve other business practices
The collection and analysis of customer data - This can include a number of items, from purchase history to personal information like home addresses. Retailers use this information to profile their clientele, amongst other business enhancement techniques
Remaining competitive - Technology, such as AI, can assist retailers in reducing costs and improving efficiency - a situation that is seemingly a win-win
What is the current uptake of cloud computing in the industry?
According to 360 Market Updates, the global retail cloud market was valued at USD 13.24 billion in 2017 and is estimated to reach USD 40.75 billion by 2023, recording a CAGR of 20.61% over the forecast period of 2018–2023.
Why is cloud computing becoming an attractive solution for the retail sector? There are a couple of important reasons.
Access to real-time data - This assists in both predictive and prescriptive inventory forecasting in order to reduce stock shortages or surplus
Cybersecurity - Retailers at both corporate and store level handle data that can include sales figures, inventory reports, customer data, feedback and more. It is time to move that type of data from local servers to the cloud for better security
As we can see in the graphic below, IT spending in the retail industry is increasing year over year, with increases expected to continue for the foreseeable future.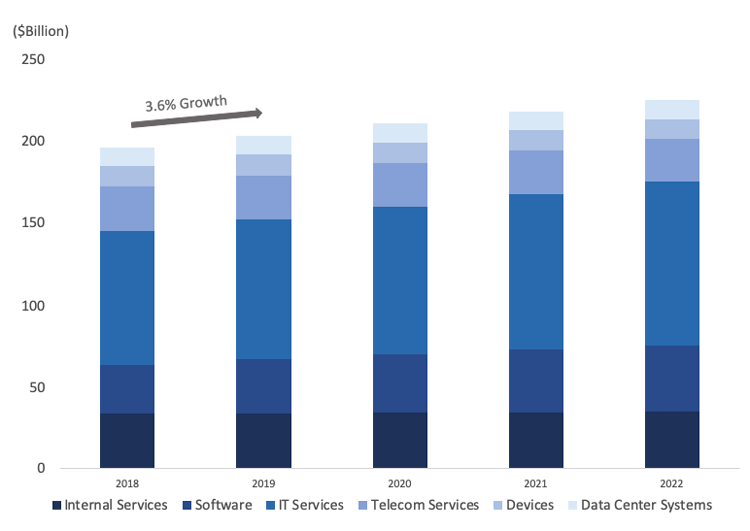 Retail IT Spending Forecast (Billions of U.S. Dollars) image courtesy of
DNX Ventures
What are some of the top IT challenges?
Retail is an ever-evolving field. In addition to the desired product, customers also prefer an intuitive and seamless shopping process. To remain relevant, retailers must adapt to the times. This often involves implementing new technologies in-store and online. These new technologies, whether they be consumer-facing or not, can present challenges for IT teams. Let's take a look at some of the top IT challenges in the retail sector.
Wireless infrastructure - Whether it be in-store self-serve kiosks or an online payment platform, wireless infrastructure is becoming a convenient solution for consumers and cost-effective for retailers. This technology requires added vigilance, sometimes manually, by IT teams to ensure the security of data exchange is upheld at all times
Optimizing supply chains - One of the best ways to ensure your supply chain runs smoothly is by implementing an IoT management system to control and maintain all connected devices. Shash Anand, VP of Product Strategy at SOTI, says, "The right mobility and IoT management solution can help them stay compliant, streamline operations and eliminate the downtime of devices, all while delivering great customer service"
Streamlined data management - How much of your business is in-store foot traffic, and how much of it is online? Not into eCommerce just yet? Are you able to gain competitor insights to determine whether you should be online? These are all questions that data can help you answer. Collecting and storing data is a challenge that many businesses face, especially those in retail
IT in Retail: How can a help desk assist with coordination?
Retailers are often managing both in-store and eCommerce operations. For large retailers, managing customer and store inquiries from across a country can be overwhelming if a system to streamline the process is not in place. If eCommerce is part of a business model, managing online inquiries can add to the already significant volume. A help desk can provide retail IT solutions and support by assisting corporate offices to manage and channel inquiries from different stakeholders. As in other cases, a help desk can assign priority to an inquiry and group similar inquiries together for standard responses to similar situations.
Telecommunications
What is the role of IT in telecommunications?
IT teams must cast a wide net when it comes to the telecommunications industry. That's because telecom deals with the tools that almost all individuals use in some capacity every day. That includes television, the Internet, private networks, and more. These tools are the central nervous system of most organizations. The most significant role they play is in transmitting data. In more recent times, the telecom industry has been evolving tools so organizations can utilize fewer resources to achieve the same results. With that being said, IT teams could play various roles in telecom. From keeping national cellular networks from experiencing downtime, to ensuring corporate computers are loaded with the latest software.
What is the current uptake of cloud computing in the industry?
Every day, more telecom companies are deciding to transfer from physical infrastructure to the cloud. When handling such large customer bases, it makes one wonder why the switch did not happen sooner. Large international carriers, like Vodafone and Rakuten, have made the switch with more planning on it. What is prompting cloud adoption in telecom? There are many standout reasons, but a few of the most important include:
Scalability - The flexibility to add or remove unnecessary services is important for telecom giants who deal with increasing (or sometimes decreasing) customer counts
Guaranteed uptime - When businesses, healthcare and government are relying on your services, any amount of network downtime can be critical. Moving data to the cloud can help manage high loads, hardware failures and more. It also means that if and when danger strikes, recovery can be swift
Network automation - Cloud technology helps to automate manual processes. Whether it be monitoring existing networks or testing out new network components, cloud is there
What are some of the top telecom IT challenges?
Telecom provides users tools to solve many everyday issues. Although the tech provided can sometimes make life a little more complicated, the IT related challenges experienced by the telecom industry seem to be mainly centered around service offerings and adapting to ever-evolving trends.
Digital demand - Organizations can no longer rely on legacy systems, especially with hybrid or predominant work from home arrangements. The need for cloud offerings and cloud systems is critical
5G - Telecom companies must adopt 5G, and they must adopt it fully if they wish to remain competitive. This would include offering the latest 5G devices on a well-functioning network
Network downtime - This cannot be stressed enough. Telecom companies must ensure a plan is in place to respond to downtime when it occurs. It can affect critical infrastructure and cause incredible losses when it comes to the economy. In April 2021, Rogers, one of Canada's largest telecom providers, experienced nationwide outages lasting up to an entire day. This caused significant stress to local economies across the country, including feelings of anxiety amongst those who rely on mobile services like phone calls and text messages to acquire essential services
Telecom IT support: How can knowledge management (KM) & help desk software assist the industry?
Phone calls, emails, and chat. Customer service centers at telecom companies are constantly receiving inquiries for support regarding customer tech. Help Desk software can streamline the process of receiving and replying to customer inquiries. It ensures support requests are assigned priority and end up with the correct department. When an outage or problem affects an entire network, similar inquiries can be grouped and responded to with the same response. This saves your team time and ensures customers have the answer that they need promptly.
Knowledge management software can be helpful to IT teams who need a place to store information on issues and solutions. For example, when a cell phone network goes down, it would be ideal if IT teams could quickly reference potential causes and fixes through a repository of information. A knowledge manager can automatically and securely store information on the go and be available on several devices, especially handy when IT goes on the road.
Finance
What is the role of IT in financial services?
The financial data of organizations can be both sensitive and highly coveted. Even publicly traded companies like to protect their financial data until earning reports are made available to the public. For consumers, IT helps to build out better mobile-based solutions, like banking apps. For accounting teams, generating automated reports that high-level personnel use for decision-making is a prime function. For revenue management teams, IT can provide better financial forecasting tools for the ultimate accuracy. Financial data is also often exchanged between internal, and external sources. This means that protecting the data throughout the transfer process is very important. A secure channel to do so is a must. However, considering that finances often begin and end with a bank or other financial institution, our focus will be on these entities.
What is the current uptake of cloud computing in the industry?
For the financial sector, the early days of cloud computing involved non-core business processes, such as Human Resources. As uptake of cloud computing within the industry increases, we are now seeing core business processes take place within the cloud, such as credit risk management and even payment transactions. Speaking of uptake, and according to data provided by VEXXHOST, approximately 60% of banks and financial institutions in the United States are now using some form of cloud computing in their day-to-day operations. That number is expected to grow past the year 2023.
With its benefits of immediacy and personalization for consumers, and scalability and risk mitigation for the organization, the cloud is quickly becoming a win-win solution for all parties, reaping the positive impact of information technology on financial services.
What are some of the top IT challenges?
As mentioned earlier, managing and protecting financial data is paramount due to the sensitive nature of the content. Although the cloud can assist in areas such as security and agility, there are also challenges, many of which apply to other industries already covered. When it comes to financial institutions, there is one challenge that prevails over most others.
Data security requirements: In many countries, including the United States, the financial industry is subject to strict data security requirements. This can include rules on the geographic locations where data is stored and visibility into the process of primary and secondary data storage and backups. These restrictions can make the search for a compliant provider more difficult. It can also dissuade institutions from migrating to the cloud entirely. Prior to moving over to the cloud, be sure you are aware of all requirements related to your region.
How can help desk software assist the finance industry?
Like other industries, financial institutions, like banks, are home to both personal and business clients. What do they have in common? Among other things, they require customer service, and they do not want to wait! A help desk is a great solution at both corporate offices and even branch locations. Customer inquiries in this industry can be sensitive and more personal, meaning that organizing tickets, and responding securely is of the utmost importance. A help desk software based in the cloud can help you achieve quick and secure communications.
Legal
A law firm's main focus is on its clients, and distractions from that can impair the success of its cases.  Thus it becomes imperative that the technologies legal IT services use are secure and run smoothly behind the scenes.  With the advancements in cloud computing, the cost savings and availability anywhere at any time, law firms are increasingly relying on this modern solution for data storage and collaboration.
What is the current uptake of cloud computing in the industry?
Adoption rates in the legal industry are growing slowly but steadily, but more and more by larger law firms, whereas traditionally smaller ones have been at the forefront.
For more information, please review our blog post that discusses cloud computing adoption in the legal sector.
What are some of the top IT challenges?
The Cloud has simplified the jobs of those working in law firms. It has made access to data more widely available across a number of devices, and it has allowed for the secure transfer of critical information. Despite its benefits, there are some challenges worth noting.
Security concerns: Law firms often store and transfer plenty of sensitive information regarding not only an individual's case, but also personal details that are considered to be secondary information. If this data were to be compromised, it could pose a serious threat to the outcome of the case, an individual's reputation, and the reputation of the law firm itself. Law firms are encouraged to review the security records and guarantees of a cloud provider before signing a contract
Data control: Law firms are protective over the data they handle, and for good reason. Many feel reluctant to host data in other countries due to the fact that they may 'lose control' of it. When signing a contract with a cloud provider, it will be important to discuss where your data is being stored, ensure it complies with data regulation policies in your country, and how your organization can maintain oversight over this entire process
How can a help desk assist with coordination?
Lawyers are often squarely focused on the tasks at hand, defending their clients and getting them the best compensation. However, law firms are bustling spaces with many teams working behind the scenes. There are human resource departments, administrative assistants, paralegals, and others who work together to create a smooth operation. A help desk can streamline requests between teams. It can create a repository of previous requests and solutions for future reference. When working alongside many different teams in a fast paced environment, a help desk software seems like a necessity to coordinate projects, get quick answers and to view data.
Do you still need more information on cloud computing in law firms? Check out our guide to determine if it is a right fit for your practice.
Education
The student of today is accustomed to having the latest technologies available in every day life, and so it would make sense they would expect it in the classroom.  Further, technology is also widely used by staff in classrooms and offices alike. The role of information technology in education is to ensure that devices are available and operational. This role will continue to grow as virtual learning and other devices are introduced into more modern education systems.
What is the current uptake of cloud computing in the industry?
The spending by U.S. schools continues to grow each year.  But what about cloud computing more specifically and how is information technology affecting education? There is no doubt that it is on the rise. Although recent numbers on uptake are not available, data shared by EdTech notes that "while 57 percent of IT staff believe their school should prioritize updated software and hardware, 55 percent say existing budgets aren't enough to cover these costs". This indicates that the real barrier to implementing more cloud technology in school systems is a lack of available budget.
The COVID-19 pandemic further reinforced the benefits (one could also say 'necessity') of cloud computing in education systems. With mandated shutdowns and so much unpredictability, cloud computing allows schools, their staff and students to access resources on-demand when situations change drastically. This experience is likely to drive more cloud computing uptake among educational facilities in the near term. What other benefits does it provide?
Digital content: Post-secondary students attending college and university can attest to the high-cost of textbooks. In addition to expensive tuition fees, textbooks are often seen as an unnecessary cost in a digital age. Many educational facilities are now providing textbook content digitally with the help of cloud computing. This saves students money, while also enhancing access - no more trips to the bookstore or waiting for a delivery
No more expensive hardware: Many cloud based applications can be accessed via a web browser on a computer or a smartphone. For educational facilities, this means they can likely purchase less physical equipment, or opt for cheaper options such as tablets over desktop computers. Students can also benefit from 'anytime - anywhere' access via smartphones, without the need to purchase external storage
Reach more students: The beauty of cloud computing is that it brings school material and places it in an online environment. That means students do not need to be at school, or not even in the same city to access the material. This benefits schools as they can acquire more students, especially those located in other parts of the world. For students, especially those who struggle with in-person learning, cloud computing provides a new way of learning and a 'second chance' for others
IT in education: What are some of the top challenges?
It is no secret - educational systems have been some of the last to adopt modern technology. You should not be surprised to still see old fashioned overhead projectors, printers, pencils, and a plethora of printed material. Although this still works, it is not keeping with the times. Modern technology has enhanced and sped up the learning process. So, what are a few of the biggest challenges still facing educational systems today?
Digital integration: It comes as no surprise that integrating technology into a school system is by and large the overarching issue. Making room in the budget is the biggest hurdle in this instance
Outdated curriculums: Educational facilities can provide staff with as much tech as they want, however, if the curriculum does not suit the tech, then it will not matter. For example, if curriculums are still providing written tests to be printed, or requiring drawings by hand, then there is no need for physical technology like tablets or laptops. Curriculums must evolve to include software for doing and submitting tests online. A big step, as mentioned above, is the availability of readings online, rather than through hard copy textbooks
Resistance to change: Change can be uncomfortable, especially when we are already comfortable in our ways. Learning a new technology can seem like a daunting task for staff, especially those who have been in an education system since before the time of smartphones. Staff might also worry that introducing tech into a curriculum could make the content more difficult to learn due to 'distraction by device.' Although we cannot deny that there is nothing more reliable than pencil and paper, technology has evolved the learning process. If implemented correctly, it can provide real benefits to student development
A help desk is a win-win situation for everyone in education
Today, education and information technologies go hand in hand. For educational facilities one of the best investments to make is through the adoption of a help desk to consolidate multiple systems of tracking and responding into one. It has benefits for students, staff and IT teams. For students, asking questions, notifying a teacher of a completed project, reporting tech issues and more have never been easier. For staff, managing those overwhelming periods that include, enrolling students, onboarding them and managing finances and facilities with a new level of organization. For IT teams, a streamlined approach to receiving and responding to service tickets is the real benefit - especially in an environment where so many different pieces of technology can exist.
Learn more about the ways in which school IT support software can be part of modernizing technology used in education systems.