What is EUC? Everything You Need to Know About End-User Computing Made Simple
With the rise of mobile commerce, companies need to constantly accommodate customer demands to ensure their business is keeping up with technological advancements. It is not enough to have a website to sell services and products. According to Allied Market Research, "The global mobile payment market size was valued at $1.48 trillion in 2019, and is projected to reach $12.06 trillion by 2027, growing at a CAGR of 30.1% from 2020 to 2027." In a study completed by Dynamic Yield, three out of four consumers answered that they prefer using their mobile to make purchases to save time. As a business, you must ensure you are able to reduce the barrier to purchase for your customers. Customer-facing applications have become a norm in EUC, which stands for "End-User Computing".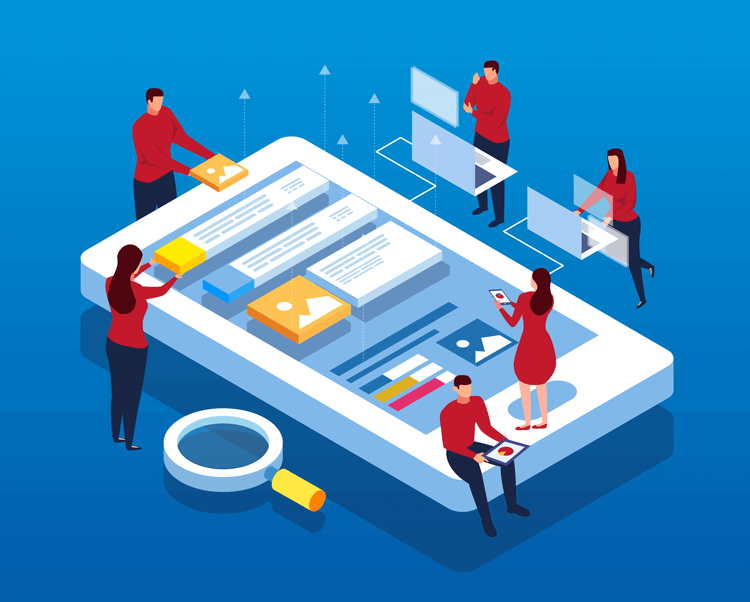 Photo Attribution: wan wei/Shutterstock.com
What is End-User Computing (EUC)?
One major shift in computing is that end users who may not have knowledge or interest in the technology are often demanding, recommending, and implementing end-user technologies. The end user has become the primary decision-maker when it comes to technology implementation and purchase.
End-User Computing is the use of technology by end users for business or personal purposes. The software is a computer system that allows non-programmers to build applications. EUC allows them to perform activities that were typically only performed by IT staff members before, such as file sharing and data storage. It also allows people with very little technical knowledge to access new technologies without needing extensive training or assistance. End users can create complex processes with little to no coding knowledge. Most importantly, EUC integrates the actual end users into the process, and therefore the product is more consumer centric. EUC can be created by employees or by third-party companies, although end users may need some training before using EUC.
Who are the "end users"? 
The "end users" in EUC are untrained professionals, data processors, management, or support personnel who want to develop an app for their services or business needs. These end users do not, however, need to be UI/UX specialists. "End user" refers to any person who uses computers or information technology, and it can be contrasted with other terms such as client, customer, or consumer. These people are not involved in domain administration nor in the design of networks and software applications. You can think of them as users who have a foot in both the customer and the technology worlds—somewhere between the consumer (such as the mobile shopper) and the IT or applications groups. Some examples might be the marketing or help desk departments.
How does EUC work?
Traditionally, end users have been excluded from designing and building new technologies because they were seen as being too unskilled. This leaves end users having to adapt to whatever technology infrastructure organizations choose to use. It also limits their ability to perform certain tasks due to a lack of access and understanding of these technologies. In order to find solutions that are easy to use and practical for end users, EUC presents an opportunity for end users to participate in app development and gives them the power to accommodate software to their own needs.
EUC is the process of using computers at a high level to do lower-level work. This system functions by incorporating the important features of the lower-level computing environment into the higher-level design of networks and software applications, as opposed to focusing only on specialized/low-level hardware devices, software or operating systems. This higher-level functionality can be as simple as creating automation by clicking a series of buttons (like macros) or as complicated as writing higher-level computer code to develop lower-level programs.
What are some examples of End-User Computing software in a business?
To help understand this better, let's look at a few examples:
Most businesses are using a lot of EUC platforms without realizing it. This can look like dashboards that employees use to customize and analyze data, such as using PowerBI.
You might also be using a web application to create automatic responses that chatbots employ to respond and interact with customer tickets. ChatBot.com, ChatFuel, and Drift are powerful platforms that help you sell products and provide automated customer service on your website.
You may have used a web AI function to create your website with themes and commands without writing any coding language. Website providers such as Squarespace, Wix and Wordpress include these options to give their users a seamless and easy experience.
Many employees use office productivity software that supports document creation, sending emails, or content management, like Microsoft or Adobe.
There is even visual programming software that creates animation based on simple text-based input called Doodly.
Other examples of EUC include chatbots or widgets that help employees to reduce training time, using software that unites data from different applications, and creating end-user documentation for customers. WalkMe is digital adoption software that supports your employees by walking them through training and e-Learning for digital products. Employees follow instructions on pop-ups to complete tasks. EUC is even utilized for end-user documentation, where end users set up the process workflow, and then other users can read the internal program documentation easily and without assistance.The software usually comes with a graphical interface that end users can understand well so that they are able to carry out daily computer tasks easier and faster. This means users are able to apply changes and create processes through simple buttons, drop-down menus, or drag and drop features.
Advantages and Disadvantages of End-User Computing
Advantages
The following are some advantages of End-User Computing:
Companies can use End-User Computing strategies to maximize employee productivity, enabling companies to be more efficient and save money. It is possible End-User Computing will become an integrated part of all business processes, making it a key component in end-to-end digital transformation.
There are many end users who work in IT environments at major companies, and they can make technology work better by finding ways to optimize their own workflows and personalizing the experience they have with devices, websites, and applications. They add value through the innovation they discover while working around problems, ultimately increasing productivity to allow your organization as a whole to serve your customers better.
One of the key benefits of using this type of system as opposed to the traditional IT model is the ability to quickly build prototypes and publish them for testing. This gives businesses the opportunity to save time and money that would be spent perfecting an application instead of testing to see the features that are user-friendly. Therefore, it becomes focused on actual user experiences. There are fewer technical costs since you will not need to hire professional programmers. This will keep the development costs relatively low to allow for multiple testing campaigns. The EUC platforms have tools to easily and swiftly make changes to the design, layout, elements, or structure. All these advantages give you the power to test your computing processes quickly and inexpensively.
Disadvantages
The following are some End-User Computing risks:
End users frequently lack training when it comes to using End-User Computing technologies. Interoperability between various end-user devices such as smartphones, tablets, laptops, and desktop computers can be a problem due to different technical requirements of these devices. For example, some devices use operating systems different from the desktop computer, so previously established documents cannot be accessed on these devices without major modifications. Furthermore, end users increase their security risks by entering personal information into various mobile applications which creates opportunities for this information to become susceptible to data leaks and hacking.
Of course, since the system is not developed by a trained professional, the system is not going to be as reliable as if it was built by someone with coding knowledge and background. Since end users are not as well versed in computing processes, there is a low possibility of maintenance because inexperienced end users cannot easily identify or fix computing errors.
Conclusion
The problem with many applications is that most companies do not understand the customer aspect of the technology. They are used to focusing more on sales than what their end users need. This creates a split between users who use the software and system developers. While End-User Computing is an effective method to bridge that gap, it takes a lot of work to convert end users into effective participants.
EUC has not seen a major role in the masses yet because it is a relatively new technology that does not get much attention, even from some companies with the best intentions and resources for EUC. It is not enough to just have an End-User Computing solution—all stakeholders must come together for EUC to work as intended.