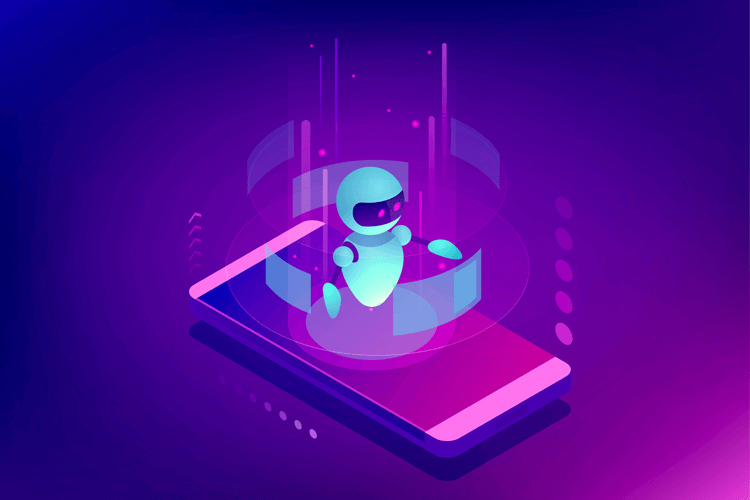 Photo Attribution: Golden Sikorka/Shutterstock.com
Chatbots for business is a major requirement today, as they save time, money and are effective for a company. They are automated customer support services, used to carry out simple and repetitive tasks that help to address common customer questions. They have proved to boost productivity, improve customer retention and increase referrals for organizations. 
The significance of chatbots for business is similar to what a mobile phone app was for a company in the past; an additional resource for marketing and customer support that every business needs. Despite the fact that chatbots are beneficial, there must be a critical analysis moment that brings us to the crucial question as a company or an entrepreneur: 
What does your customer actually think of your chatbot? 
To address this question, we should first look at some statistics: 
Chatbot Statistics 2021
The chatbot industry is growing rapidly with time. According to the Drift.com 2021 State of Conversational Marketing report, statistics show that chatbots are: 
Highly favorable with customers because of their quick response 

The report states that 58% of customers expected a company to resolve their queries immediately, resulting in chatbot software holding a major advantage over a human in this aspect.

The fastest-growing brand communication channel 

Usage of chatbots as a channel for communication has increased by a whopping 269%, from 13% of customers utilizing chatbots to interact with firms in 2019 to 35% in 2021.

Capable of handling 91% of chats from start to end

Chatbots are becoming increasingly advanced every year. Comm100 data from 2021 reveals that, as chatbots are getting more and more prevalent, they could handle up to 91% of chats from start to finish. 

Used as conversational marketing tools

The report states that in 2021, 42.1% of companies used chatbots as a conversational marketing tool, which is an increase from 40.5% in 2020. These numbers show that chatbots are not only useful in customer service but also to increase sales.

Predicted to manage 17% of customer interactions in 2021 and beyond

The statistics show rapid growth in the trend of the chatbot industry. Gartner in 2019 predicted that by 2021 17% of global interactions would be handled by the chatbot industry using AI.  And based on the larger picture, this percentage should continue to grow.
Chatbot Statistics Indicating Usage
ELIZA was the first chatbot created in 1966

Joseph Weizenbaum created ELIZA which failed to pass the required tests, but it laid the foundation for the development of sophisticated future chatbots which have gained popularity over the years because of the convenience they offer.

USA, India, Germany, the UK, and Brazil are among the top five countries in terms of chatbot usage 

In terms of usage, U.S. users comprise  (36%), followed by India (11%), Germany (4%), the United Kingdom (3%) and Brazil (2%).

By the end of 2019, about one-quarter of the world's population was using chatbots

According to Chatbots Magazine, almost a quarter of the global population has been forecast to use chatbots for customer support and the trend is on the rise.

The real estate industry has reported the most profits using chatbots

The real estate industry has reported that more than a quarter of companies use chatbots and are reaping huge benefits as a result. 
Predictions About the Future of Chatbots
30% of operational costs can be cut by using chatbots

Chatbot stats from the eCommerce sector show that businesses spend approximately $1.3 trillion on customer queries every year. Chatbots can help to reduce these costs by 30%.  

By the end of 2023, 2.5 billion hours of customer service will be saved by using chatbots 

As the primary goal of the companies that deploy chatbots is to reduce work time, introducing chatbots will save 2.5 billion customer service hours over the coming years according to research conducted by Juniper. This can reduce customer service costs by $11 billion annually by 2023.
Chatbot Usage Questions to be Asked Before Arriving at a Conclusion
What are the uses of chatbots for a customer?

Chatbots help to reduce the waiting time and reply to queries instantly
Chatbots are interactive and available around the clock
Chatbots help to search for products for the customers, and collect feedback using chatbots surveys to ensure the customers' voices are heard
Chatbots can provide personalized recommendations to the customer, thus easing decision-making
They are the front line tool for conversational marketing that can keep the customer updated about new products
The feature of chatbots surveys that helps to analyze customer behavior can identify and collect customer complaints
They can perform a wide range of functions like shipping, returns and tracking orders easily within the app, thus improving the overall customer experience

Chatbots are useful for both customers and companies.  Read on to find out more uses for chatbots.

What does a customer expect from a service representative?

Consumers expect fast and reliable service at any point in time, as they don't like to wait. A report by PRWeb shows that, out of a survey done on "over 2,500 consumers, nearly 60% of respondents believe that one minute is too long to be on hold. In addition, 32.3% of consumers believe that customer service departments should be answering immediately with no hold time." 

It is difficult for a human agent to respond to a high volume of customer queries in such a brief span of time, especially during peak hours. This is where chatbots come to the rescue of a company.  

How important has the customer experience become and how does it affect the customer end game? (ie: closing a sale)

Statistics show that: 

80% of respondents expect the customer experience with a company to be as good as its product
Over 67% of respondents confessed that their expectation of a customer service experience has been raised under the influence of interaction with competitors from various sectors
Recent research concludes that quick resolution of issues results in consumers being over twice as likely to stay with a brand
Consumers, when considering online purchases, prioritize (94%) by reviews and ratings as their number one reason for purchasing, above brand and price

Does a customer prefer to talk to a chatbot or to a human representative?

According to a study conducted by Userlike, 80% of respondents have interacted with a chatbot before; 60% of respondents answered they would prefer to wait in a queue if it meant they could immediately speak with a human agent, while only 9% of respondents out of 415 people answered that a company shouldn't use a chatbot. 

Chatbots can enhance the customer experience by starting with a short friendly greeting, thus creating a good first impression, but we cannot expect them to act as a silver bullet that can correct all the issues. 

While a majority of the customers are willing to interact with a chatbot, they would prefer chatbots only as the first point of contact. As the present chatbots are not sophisticated enough, people usually prefer to be transferred to a human agent at a later point of interaction. 

Is the chatbot trend being endorsed by big companies? 

If multinational cooperation endorses a technology, smaller companies will follow suit and this will further validate its upward trend. A few prominent examples of chatbots for business are:

ChatBotlr

This chatbot is being used by Marriott International. It provides assistance with stays or reservations at hotels and helps with their Rewards account through Facebook Messenger and Slack. Thus, increasing chatbot conversion rates. 

Apartment Ocean Real Estate Chatbot

A real estate chatbot that is AI-powered, can send personalized greetings using the Facebook Messenger platform that helps to build good relationships with prospective clients.  

Feebi Restaurant Chatbot

Feebi is a restaurant chatbot that is being used by the hospitality sector, utilizing the Facebook platform to interact with customers. Feebi can be integrated into a table reservation software or a restaurant's booking system so that scheduling can be automated. It can update customers with opening times, menu changes, and FAQs, thus automating about 80% of repetitive inquiries. 

Woebot Therapy Chatbot

This chatbot uses Facebook Messenger as a platform and is trained to perform cognitive-behavioral therapy (CBT) in patients suffering from depression. Woebot helps to find mood patterns of users that might be difficult for a practitioner to analyze. It interacts with patients about their physical and mental health status as part of daily conversations and sends videos and any other tools that could help with their fight against depression. 

The companies that use chatbots are satisfied with their performance and are continuously looking for more sophisticated forms of AI-powered chatbots which could automate most of the workload for the company. 
Conclusion: Chatbot Uses and Statistics
Although chatbots cannot replace a human, in responding naturally, they can respond to multiple queries in a short span of time and are available around the clock to provide fast and effective solutions, which is what most customers like about chatbots. 
By studying the statistics, we can arrive at a conclusion that chatbots have their place, and they likely are not going anywhere, but it will take time for customers to fully endorse a chatbot conversation. Today's chatbots have come a long way and we would like to think of them as a better version of the autoresponder, "press 1 if you're calling about this, press 2 if you're calling about that". However, as the technology evolves and becomes more sophisticated and natural, customers will readily accept and trust chatbots and their interactions will be more helpful, accurate and enjoyable.