What is ITIL Compliance: Are Organizations Achieving It or ITIL Alignment?
In most organizations there is a generic form of the Information Technology Infrastructure Library (ITIL®), that provides a detailed outline and operating procedure for IT operations and activities.
In many ways, this ITIL operational management process controls and oversees IT Service Management (ITSM), IT Help Desks, and relationships with external vendors, such as Software as a Service (SaaS) providers.
In recent years, the idea of  becoming "ITIL compliant" has become more popular. However, this leaves many IT leaders wondering: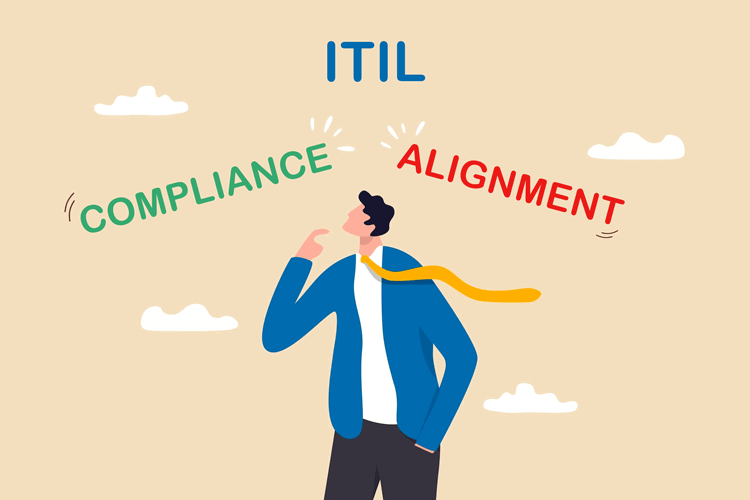 Photo Attribution: eamesBot/Shutterstock.com
What is ITIL compliance?
Is this something we need?
How do we achieve ITIL compliance?
Other IT leaders also wonder:
Is ITIL compliance real? 
Or is it more about becoming ITIL aligned operationally with business goals and objectives? 
Giva explores the topic of ITIL compliance in this article. 
What is ITIL Compliance? 
ITIL Compliance is a concept that's become fashionable, in some ways, across the IT sector.
In some cases, there are certifications that IT teams can achieve and become compliant in, such as the COBIT framework (Control Objectives for Information and Related Technologies). COBIT was created by ISACA to help IT organizations and providers bridge the crucial gap between technology solutions and services, business risk, and control requirements.
IT teams can also look into ISO/IEC 20000-1:2011, a Service Management System (SMS) standard for IT providers, vendors, and help desks.
In the same way, the ISO 9000 and other compliance certifications are ideal solutions for manufacturers, and in some cases, technology providers. Particularly when those vendors are handling big data, Artificial Intelligence (AI), Machine Learning (ML) and other data-intensive projects and services for corporate clients.
In those scenarios, when it makes sense for your IT team, or when you need a vendor that has achieved an internationally recognizable level of compliance, certifications may be the best logical next step. It's a powerful way for a vendor, or internal team, to demonstrate enhanced levels of operational integrity, security, process management, and ITIL alignment.
However, in itself, ITIL is a series of internal guidelines. It's different for every IT team, organization, and vendor. ITIL is not a one-size-fits-all solution. Some businesses operate on a higher, more advanced level of ITIL and ITSM maturity.
Others operate with less structure, adopting a more ad-hoc approach. It might work for them, but it involves greater risks and it's more likely that when something goes wrong it will take longer for an IT team to return operations to normal.
Taking all of that into consideration, there are internationally recognized certifications that IT teams and vendors can achieve. Securing these takes time and effort. However, there is no universal approach to "ITIL compliance" that IT teams and vendors can aspire to attain. As a structured, attainable goal that other organizations will recognize, ITIL compliance doesn't exist; it's a tagline more than it is a tangible goal.
ITIL Compliance vs. ITIL Alignment
On the other hand, ITIL alignment is real, and this is something every IT team and vendor should aspire to achieve.
ITIL alignment is tangible. It provides a way for IT teams to evolve into business service providers, rather than simply back-office or back-end IT support. When ITIL is aligned with ITSM service provisions and wider business and operational goals, it ensures that IT has a standardized approach for the selection, planning, and delivery of IT services within a business.
IT alignment and a higher level of ITIL and ITSM maturity is an achievable goal for IT teams in any organization. This way, ITIL guidelines, processes, and best practices are aligned around what a business needs and adaptable to operational growth and expansion. ITIL alignment ensures there are measurable key performance indicators (KPIs), standard operating procedures (SOPs), and a way of measuring (internal) customer satisfaction.
ITIL alignment also makes it easier to select the right vendors and SaaS providers to support IT services, operations, and software for other teams within a business.
What Is ITIL Certification?
Although we mentioned above that ITIL in practice is unique to every organization, there is a company that can provide ITIL certification: Axelos.
Axelos is the company behind "ITIL®, PRINCE2®, and a wealth of other world-renowned best practice methods and certifications", and was originally founded in 2014, as a joint venture between the UK Government and outsourcing giant Capita. In 2021, it became part of PeopleCert, and they are "dedicated to being the world's most respected provider of global best practice."
For reference, "PeopleCert is the global leader in the delivery of examination and accreditation services, delivering millions of exams in over 200 countries."
So, it is possible for IT teams and SaaS vendors to achieve ITIL certification, from the organization that manages the concept and best practice frameworks for ITIL.
IT leaders, team members, and SaaS vendors can go through several different ITIL 4 certification programs. Unlike previous ITIL certifications, ITIL 4 has evolved for more agile IT environments, with programs for IT professionals, strategic leaders, and foundational courses, alongside extra courses and modules as needed.
Other companies might offer ITIL and other IT certifications. However, when it comes to ITIL in particular, it makes sense to go directly to the source, with an Axelos certification. Alternates are likely to be copies or imitations of the ITIL certification that Axelos provides, and therefore, not as valuable or rigorous.
Which Organizations Benefit From ITIL Certification?
We need to remember that achieving a certification in ITIL, whether as an IT professional or leader, is not the same as ITIL compliance. As we mentioned, there's no one-size-fits-all approach.
Every organization needs to ensure ITSM and SaaS vendors are aligned with business and operational goals, objectives, KPIs, SOPs, Service Level Agreements (SLAs), and the needs of internal customers.
If you want to take your ITIL and ITSM maturity to the next level, then achieving ITIL certification is worth the investment. For IT leaders, this will give you the tools and skills to improve operational efficiencies, outcomes, and processes within your team. IT professionals will also benefit from achieving ITIL certification, especially if they are wanting to up-skill, land a promotion, or work upwards to become a CIO or CTO.
Whether you lead or work in an IT team within a large or mid-size company, or you're an IT leader (CTO, Co-founder, or Product Manager) in a SaaS company, ITIL certification can give you and your team a much-needed boost.
How do I Get ITIL Certified?
For those wanting to achieve ITIL certification, there are two ways you can do this, according to Axelos:
"There are two ways to gain your ITIL certification:
Attend a training course with an accredited training organization, which will include the exam as part of the course
Self-study using the core manual, then book an exam directly with PeopleCert (this option is not available for all ITIL modules — you are kindly advised to check the requirements for each module of interest)." 
ITIL v3 certifications were phased out at the end of 2021. In order to pass either the strategic leadership course or other modules you first need to pass the Foundation course and exam.
At present, you can take ITIL foundation courses and exams in 10 languages; although the Managing Professionals exam is only available in English, French, German, and Spanish. Whereas, the Managing Professional Transition Module is only available in English, German, and Japanese.
Axelos doesn't offer training services directly. Unless you plan on self-studying, you can work with approved and accredited ITIL certification trainers and training organizations. IT leaders and professionals can find trainers through the PeopleCert website.
Why ITIL Alignment Matters 
There are numerous advantages to achieving ITIL certifications, whether you're an IT leader or professional. Both from an organizational and personal career perspective, ITIL certification is worth having. And the same applies for third-party SaaS vendors and IT providers.
If you want to show you're a reliable vendor with the skills and knowledge to work effectively with internal IT teams, systems, and processes, then ITIL certifications are worth investing in.
The ultimate goal is ITIL alignment with ITSM processes, and wider organizational and operational goals and objectives. IT teams and vendors need to provide the right service, in the right way, at the right time, for the budget available, to contribute to what a company is trying to achieve. ITIL alignment is the approach and mindset every IT team and service provider needs to adopt in a fast-paced business and economic environment.