How to Reduce IT Help Desk Costs
From fuel at the pumps to food at the grocery store, everything costs more these days. The reason? Inflation. According to data from the U.S. Labor Department and shared via the U.S. Inflation calculator, the country is experiencing an annual inflation rate of 8.3% for the 12 months leading up to April 2022. That is an astoundingly high number in comparison to previous years. In fact, it is the highest rate of inflation since 1982. The result? A trickle-down effect, meaning companies are incurring greater costs to bring in products, with these additional costs passed down to the consumer.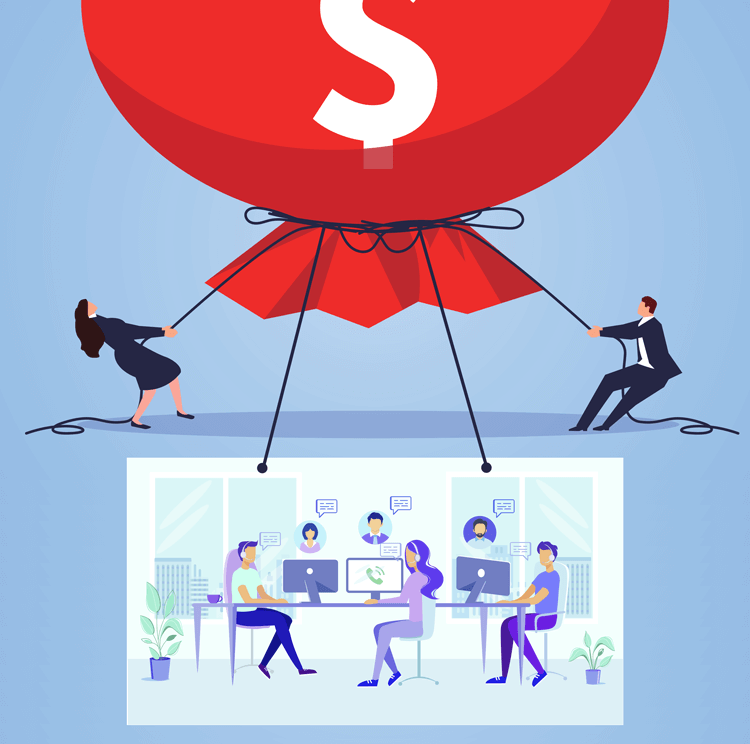 Photo Attribution: wan wei and Unitone Vector/Shutterstock.com
Consumer habits are also changing. People cannot afford the rising costs of goods and services, so they are spending less where possible. Companies are taking the brunt of higher import fees and lost business - a difficult blow following two years of COVID-19-related business restrictions and closures. The only way to stay afloat is to reduce operating costs by working with a leaner team. This concept can seem like a difficult task, especially in a day when clients want top-notch customer service. How a service help desk handles inquiries and issues can make or break the probability of a return customer.  In this blog post we will explore how organizations with service desks of all shapes and sizes can reduce operating costs, while remaining just as efficient (if not more than before).
How to Reduce Help Desk Costs
Help desk software can be a time-saver for organizations big, medium or small. It relieves stress on employees, while creating a more seamless experience for clients. This efficiency comes with a cost, and reducing that cost usually means a reduction in service quality. Though, when difficult times arise, and there is a need for IT budget management, there are ways to cut back, without sacrificing employee or client satisfaction. Here are a few ways to potentially save money on help desk costs at your organization:
Evaluate your team: Most help desk platforms charge organizations "per agent." IT managers and department leaders should consider who in the organization will use the software. When you need to save money, but want to keep your help desk software up and running, consider limiting the number of employees who require individual logins, perhaps even sharing a master login if possible.
Feature-frenzy: Help desk software programs are scalable platforms. They often require you to add additional features for an added cost. When it is time to cut back, consider removing features that are seldomly used.
Compatibility: Whether it is clear or not, organizations often have many programs which can conduct similar tasks to one another. It is important for IT leaders to evaluate if the help desk software you have chosen is compatible with other programs already in use at your organization. Uncovering these efficiencies can allow organizations to scale back certain help desk features, ultimately saving some money.
How to Reduce Help Desk Tickets
The COVID-19 pandemic further emphasized the importance of the digital commerce landscape. When organizations were forced to shut down or operated with a limited capacity, clients went online. Whether it be new purchases or product support, clients flocked to websites rather than driving to stores. With an unparalleled level of convenience, e-commerce continues to be a popular alternative to in-person shopping, even as the world returns to normal.
Due to the influx of online clientele, organizations are handling more orders and tickets. Although senior leadership will enjoy the extra income, employees may find it cumbersome to manage the barrage of inquiries - many are repetitive or are easily found by clicking into a tab on the website. So, what can organizations do to reduce the number of support tickets? 
Consider the following three steps to improving your self-help resources and learn how to reduce support tickets being received.
Understand help desk data - What are your clients reaching out about? Is there a common issue or category which inquiries can be sorted into? Understanding help desk metrics can allow you to build a more targeted help center.
Look for alternative response methods - Rather than immediately offering the chance to submit a ticket, or sending a client to a dedicated help center, you can deploy a chatbot, powered by artificial intelligence (AI). These chatbots can respond to basic inquiries, and also be programmed to answer some of the more common questions being received at that point in time.
Analyze results - Did providing your clients with self-service alternatives make a difference in the number of tickets your organization received? Did the help center receive a significant number of page views and engagement? 
Improve Help Desk Ticket Response Time
These days, pre and post-purchase customer service has nearly become as important as the product or service itself. According to research conducted by Super Office, the average response time to customer service requests stands at 12 hours and 10 minutes. If that seems like a slow response time, it is because it is too long! With the availability of new technology, including AI, response times should be much quicker. The same research project uncovered that almost half of all clients (46%) expect organizations to reply to their inquiries in 4 hours or less. 
If you are not replying to clients quickly enough or are finding that they are following up with you via multiple channels, it might be time to look at your average first response time and what you can do to bring that number down. The first step in calculating this number is to look at the time it took to respond to inquiries during a particular interval. You could look at a week, month, or even an entire year. Next, you will want to get the total number of responses sent in that same interval. Finally, divide the total response time by the number of responses sent to get your first average response time. 
Since one of the most significant steps to serving clients is providing timely replies to inquiries, organizations should regularly assess their first average response times. Need to improve your response times? Here are a few tips to consider. 
Extend Support Hours - Eight hours hardly seems to be enough these days. This is especially true when the eight hours covered by staff are the same hours that most clients are at work themselves. Consider hiring more staff or outsourcing roles to cover more support hours.
Automate replies and/or develop "canned responses": It would be common for organizations to receive plenty of similar inquiries. This is especially true during busy times of the year, when you may get lots of emails along the lines of, "why is my order taking so long to ship." As you notice many inquiries of a similar nature arrive into your support inbox, develop a canned response, or auto response, so staff can spend less time replying to the same questions over and over again. This also ensures there is standard messaging tagged to a common problem.
Merge Similar Tickets: When response times are lengthy, clients may resort to sending you multiple messages, on multiple channels. They may also send different tickets to ask about different issues. Consider merging tickets from those with the same contact info, and provide an "all-in-one" reply. This helps to declutter your inbox, while still getting the client the answers they need. 
Automate Functions
Although we have touched on it in various forms up to this point, here are more ways  to reduce IT help desk costs through automation. 
When you implement help desk automation, you reduce the need for a physical presence. This process frees your employees to deal with other tasks while providing around-the-clock customer service coverage.
Service desk automation can help in several ways, including the ability to respond promptly to frequent, simple inquiries like "How to reset a password" or "Where is my package?"
Besides automatic replies or the grouping of similar tickets, IT support automation can also encompass chatbots, which can conduct simple conversations with clients, answering basic questions in seconds.
Lessen Staff Turnover Rates
These days it seems as though there are more jobs than there are people willing to work them. According to the U.S. Bureau of Labor Statistics, via CNBC, "the labor force participation rate, a key measure of worker engagement, fell 0.2 percentage point for the month to 62.2%, the first monthly decline since March 2021 as the labor force contracted by 363,000. The level is of particular importance with a gap of about 5.6 million between job postings and available workers". 
The situation is especially precarious in the field of customer service, where long hours, manual labor, demanding, and often angry clients have made for work environments that are less than desirable. Through actions that include acknowledging performance, wellness programs, training and modern technology, employers have tactics and tools to make the field one that is both desirable for employees and useful for clients. 
Read more: Customer Service Recruitment Strategies in a Post-Pandemic World 
Staffing Models to Help Your Organization Save Money
It is always a good idea to have a plan. Unexpected resignations? A lull in willing or capable workers? If the COVID-19 pandemic taught us anything, it showed that the world can change drastically in what seems to be an instant. As we close out this piece, we want to leave you with a few staffing models to consider. These models can help you maintain the coverage needed to run your business while at the same time remaining frugal with corporate funds. 
Swarming Support Model: In this model, a ticket is assigned to one individual (or team), who may be best suited to solve the inquiry. This individual or team will collaborate and work through the ticket from start to finish, without the need to pass it through other teams. This process is also referred to as intelligent swarming.
Your clients will enjoy working with one individual as opposed to being passed around different departments. The downside is that the swarming model can sometimes provide overqualified agents with simple tickets. Their time may be better spent elsewhere. 
Call Routing Model: Ensuring the right employee gets the right call or email is important in terms of efficiency and reducing client frustration. You are probably familiar with calling into an organization and being prompted to "press 1 for a department, press 2 for another department." This is essentially how call routing works. For emails, it works similarly in that a client fills out a form on a website, along with their message.
In this model, your clients will enjoy reaching someone with knowledge on their issue, and not being passed around to other specialists. On the other hand, depending on an organization's structure, this may leave employees "sitting around" waiting for routed calls. 
Tiered Structure - Generalist Model: All calls and/or emails are filtered into one "general team" to start. That team may not be specialists on a particular situation, but they will attempt to solve the issue. If assistance fails at this step, it is elevated, usually based on priority, to another team. There are usually three tiers of support in this model, but there can be more based on organizational offerings and product complexity.
In this model, customers have the benefit of having one phone number or email to remember when they require support. They may also be able to receive near immediate service to solve their issue. For an organization, this model can help to filter inquiries to the correct individuals, and save the time of overqualified employees. On the other hand, this can become a frustrating process for clients, as they face the possibility of being passed around several agents or tiers of support until a resolution is found.  
Read more about these staffing models and others by downloading this free whitepaper: Help Desk Staffing Models - Simple Analysis Can Save You Money