An Apology Letter or Script: Examples of How to Apologize to a Customer (Without Sounding Scripted)
Apologies are a necessary part of recovering from your mistakes. In the customer service industry, knowing how to deliver a meaningful apology is a crucial skill everyone should be willing to improve in themselves.
However, it takes more than saying "sorry" to make a change. Customers want fast, simple solutions to their problems. And when they can't solve it themselves, customer reps need the ability to tell them what to do instead of apologizing and asking them what they need.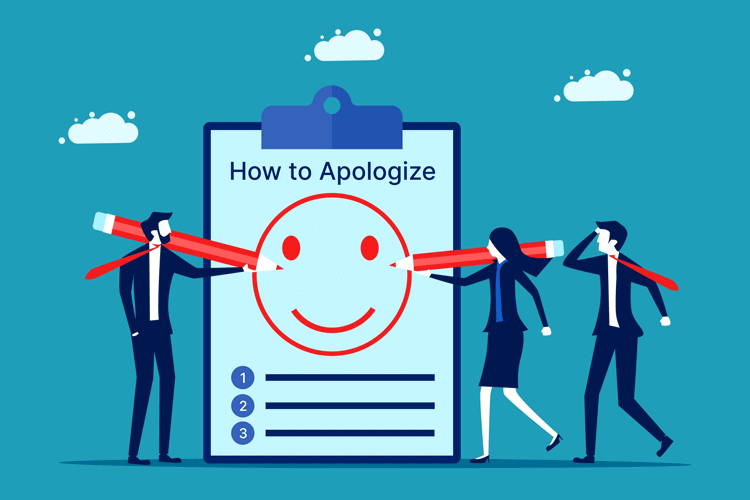 Photo Attribution: Na_Studio/Shutterstock.com
In a study by Harvard Business Review, researchers studied the effects of customer satisfaction levels between Empathizers and Controllers:
Empathizers are reps described as communicators, listeners, and willful.
Meanwhile, Controllers are people who take charge of the situation. They "go with the flow" and are often opinionated, confident decision-makers.
One of the results showed that 84% of customers prefer a straightforward solution. They don't want to invest too much time in solving their problems. Therefore, Controllers are quite competent in their roles in providing this.
In fact, they can improve results by 30% when it comes to customers committing payments. Research also shows that a bank could drop 30 appeals each month down to fewer than 5 because of the approach they used from Controllers.
Yet, in some scenarios, Controllers aren't always the best culture fit within certain companies, and not all service reps are suited to coming up with a straightforward solution.
What Customers Want in Apology Statements
When apologizing to customers, it can be challenging to find what your customers need exactly. It requires a strong sense of caring and empathy on your part.
Therefore, your customer service team may need apology training to meet customers' needs more effectively. To retain more customer satisfaction, knowing what to avoid first can be just as important as knowing how to interact with customers.
What to Avoid in Apology Responses
Below are some of the customer service apology phrases and response methods to avoid when following these best practices:
Following up with a response without context: In apology training, you might use scripts to help agents practice their skills. While scripts can be helpful, relying only on canned responses can make the situation more troubling for the representative and the customer.
Use of "But": "But" statements should be avoided since they can contradict a situation. Rather than focusing on why the customer is wrong, consider focusing on making the situation positive and how to provide better solutions.
Over-apologizing: Being overly apologetic can send customers into even further frustration. Customers want thoughtful, immediate solutions.
Arguing: While it can be tempting to argue with a disgruntled customer, this can only worsen things. Offer to let them speak to someone above you to sort the situation carefully if they refuse to work with you.
Other Ways to Meet Customer Needs When Apologizing
Everyone is bound to slip up eventually and make a mistake. If you've offended a customer for one reason or another, you might be quick to apologize and give an explanation.
However, customers don't care for your reasons. Instead, they'd rather focus on what you haven't done or did do so you don't offend them even further.
For example, if you give a statement such as, "I apologize for the confusion. I didn't mean to..." or "I'm sorry, I was just trying to...", these strategies can lead to ineffective results. Therefore, it's helpful to be clear on exactly what you're apologizing for and give an explanation later when the apology has been accepted.
So, how can you apologize for a mistake professionally?
Apologies are about righting the wrong. Therefore, it's best to keep in mind that customers want you to move forward in helping them. What exactly can you do to solve their problem?
It's more beneficial to put whatever personal feelings you have aside and deliver a genuine apology rather than being defensive. People can tell the difference between these, and you can make the overall situation better by being productive.
Apology Training vs. Apology Scripts
As previously mentioned, apology scripts and training can be helpful and produce effective results. Knowing when and how to apologize to a customer for bad service is the first step to recovering from a difficult situation.
In apology training, you'll want to ensure you provide your team with the resources they need to perform on the issue properly. Approximately 27% of people report that "lack of effectiveness" is their top frustration with customer service.
Therefore, proper training techniques will provide value upon taking action.
Apology Training Tips
Here are a few simple rules you can follow in apology training:
Gain a complete understanding of what has gone wrong in the situation. Gather all the details. Asking questions will help you fully grasp the customer's problems.
Acknowledge the mistake made and how it impacted the customer. Let the customer know you realize their disruption and are doing everything possible to make the situation right.
Empathize with the customer. Listening patiently and putting yourself in the customer's shoes will help the customer appreciate your honesty. Furthermore, speaking when they're finished talking and expecting a response will help keep them calm when handling the conversation correctly.
Set expectations when troubleshooting. Customers naturally expect quick resolutions, which can lead to questions on when you will handle the situation. Make it clear to the customer how long it will take to resolve the issues and promise the ETA accordingly, if possible.
Follow up with the customer. Once your reps have completely handled the situation, the cycle doesn't end there. Following up with customers regularly to ensure you've smoothed out the issue will provide the optimal experience they look for and turn them into loyal users.
Apology Script Tips
Learning how to write an apology email or letter to a customer or an apology script for general use is an important aspect your team will need in ameliorating the situation completely. Therefore, apology examples will serve as a helpful guide.
Use apology statements and consider modifying your responses when applying them over the phone, in person, or by email. For example, suppose your customers have difficulty accessing the company's website because the server was down. They sent in their complaints and your responses were not up to par during that event.
In a typical situation where technical issues arise, an apology letter may sound something like this:
"Dear [Company XYZ] Member,
First, I would like to apologize for the inconvenience and stress that our site has caused. I am truly sorry for our actions or what we didn't do to make the community feel unheard.
We acknowledge that our responses were insufficient, and it pains our team to see that [Company XYZ] has caused any additional anxiety.
I hope you'll find joy in our services again, and please know we are working hard to reach this goal. In the meantime, we think it might be useful to answer some questions you may have for us today..."
This apology letter example shows the person taking full responsibility for the issues. This person also acknowledges that the customers felt unheard.
In an apology letter like this, it's always a good idea to apologize up front and share what you'll do to resolve the situation immediately.
Should You Use an Apology Script?
Apology scripts can be useful. However, it would be best to remember that every situation is unique. Often, customer support will reuse apology templates to help save time when creating a personalized response.
In certain situations, this can backfire on the results you want to achieve. Therefore, clichéd replies may not help address the problem entirely. However, they do serve as a valuable resource since apology scripts can:
Prepare your reps for difficult customers.
Transform negative experiences into positive ones.
Reduce stress for customer reps.
Speed up the process.
Remember, apology scripts are only helpful when using them as guidelines or resources. The customer support agents should avoid following them word for word since that can cause further confusion and frustration.
Apology Script Best Practices
When your organization is in the wrong — and a customer service rep is having trouble taking care of the issue — these apology script best practices will provide them with a systematic approach to help them prepare:
Acknowledging Your Mistake

Remember, taking ownership and providing quick solutions is one of the most important things you can do to resolve a situation.

For example, if you sent a product to the wrong address:

"We apologize for the inconvenience. I see your order was sent to the wrong address. That's entirely our fault. I will go ahead and send the order to you right away."

Communicate Understanding

No matter the scenario, conveying your understanding to the customer demonstrates you're on their side. Help customers feel valued and understood using this sample apology script.

In this scenario, your customer is disappointed in the product they received. Consider stating:

"I understand how you're feeling. This does sound especially frustrating, and I'm sorry you're experiencing these issues. Here are some of the ways I can help you."

Explain the Problem and Potential Solutions

Customers like to have options when an issue occurs. Therefore, you can show them you care by providing them with dedicated solutions.

In this example, your customer is experiencing a technical delivery issue. Here's a sample apology script to the customer for the mistake:

"Alright, it seems there was an issue with the warehouse department. I'd like to take care of that for you by going ahead and resending the order. Or, if you'd like a refund, this is available to you as well. Will either of those options work okay for you?"

Express Gratitude

Expressing gratitude when customers provide feedback shows you're being thoughtful and taking their suggestions in mind. For example, if a customer suggests a new product idea, consider this response:

"We highly appreciate your feedback and thank you for the recommendation. While we can't guarantee this, I'd like to pass this along to our product team and share how great customers like you are excited to provide invaluable solutions to us."

Be Personable and Sincere, With a Human Touch

A personal touch, and that your customer is talking to someone who is genuinely interested in them as a person, is most appreciated in a customer service apology. Amp up your interactions by providing a human element.

For example, a customer tried to complete an order but could not. Treat your customers like people in this apology script:

Hi, [name].  I'm glad you contacted us to let us know, and I'm really sorry you had trouble placing the order. I do see you've purchased from us several times this year, and we always really appreciate that a lot. Actually, I can send your order to this [address] right away if you'd like? Would you like me to go ahead and do that?
Practice Makes Perfect
Anyone can apologize for the mistakes that they inconveniently made. However, it takes skill to apologize effectively without taking matters personally. Use these apology scripts and training tips to bring value to your business. Knowing the right way to apologize can yield immeasurable benefits and likely retain customers in the long run.