Advantages and Disadvantages of Cloud Computing in Healthcare
In industries across the spectrum, cloud computing is far outpacing physical storage infrastructure. It may provide you a sense of security knowing your data is physically on-site, however, these systems often take up valuable space, are easily compromised (including physical theft), and cost a fortune to maintain. The cloud is a "new" technology that provides an efficient working model that is secure for any industry, especially those that house sensitive data like governments, financial institutions, and healthcare.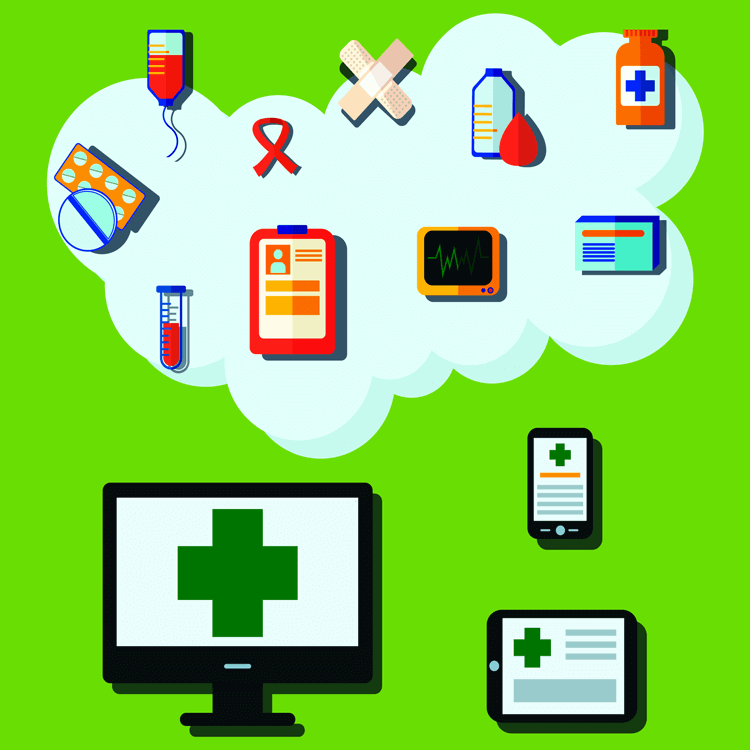 Photo Attribution: Olha Kho/Shutterstock.com
According to Markets and Markets, the global healthcare cloud computing market is projected to reach USD 89.4 billion by 2027 from USD 39.4 billion in 2022, at a compound annual growth rate (CAGR) of 17.8%. The same article notes that this increase is being driven by factors like, "the growing adoption of EHR, e-prescribing, telehealth, mHealth, and other healthcare IT solutions due to COVID-19; the increasing adoption of big data analytics, wearable devices, and IoT." In addition, health cloud features also provide unparalleled flexibility, storage options and security.
Cloud computing may be gaining in popularity, though we know there are pros and cons to any technology on the market - whether it be new and emerging, or something tried and tested over time. In the healthcare industry, it is critical to remain on top of technological trends to find efficiencies in patient care. Many new technologies, often powered through the cloud, can help provide quicker and more personal care. Although this sounds great, it will not work for all healthcare organizations the same way. Cost, employee base, patient base, and other factors can influence the scope of cloud technology needed, if at all. Listed below for your consideration are a few advantages and disadvantages of cloud computing in healthcare to better understand how cloud technology might work for you.
Benefits of Cloud Technology in Healthcare
In recent times, healthcare organizations, whether small family practices or large hospitals, have been transitioning to the cloud. The benefits of cloud technology in healthcare reach both patients and providers alike. They offer the ability to securely store large data sets off-site while making that same data accessible across several devices. Software scalability means you can reduce costs by only purchasing the storage plan that works for the size of your organization. Patients can also receive more personal and efficient care with new opportunities to access their records. These points emphasize some high-level benefits of cloud adoption in healthcare. There is plenty more to consider, so check out the additional benefits below.
Support digital transformation: When healthcare organizations speak about modernizing their technology, one of the first things to consider is the cloud. This means implementing it for the first time or appropriately scaling it up or down. It requires almost no investment in infrastructure and is easy to deploy.
Streamline record-keeping: Workplaces of all kinds experience some level of disorganization when it comes to storing files. Whether using paper records or saving files in several places, including your desktop, the cloud can help centralize file storage. This is especially important when dealing with personal health information.
A scalable solution: Your digital transformation might be more cost-effective than you first anticipated. One of its most attractive traits is that it is scalable. It works as a pay-as-you-go, subscription model. Scale services up or down depending on the needs of the organization.
New collaboration channels: When personal health information (PHI) is stored electronically in the cloud, it becomes easier for doctors and specialists to share information. This can expedite patient care in critical situations. In addition, the cloud enables HIPAA compliant tools for video conferencing and chats - a great solution for patients with mobility issues or those who live in rural areas, far from their healthcare provider.
Data recovery and security: Downtime is costly. For organizations with ecommerce, downtime can cost hundreds of thousands of dollars in lost sales. In healthcare it can make a difference in the way a patient receives critical care. Natural disasters, theft and hardware malfunctions are just a few ways physical infrastructure can be compromised. Most cloud providers offer risk management, monitoring and user authorization methods to ensure your data storage systems remain up, running and accessible. If a system becomes compromised, implementing a back-up from the cloud is often quick and can be conducted remotely.
Artificial Intelligence: Many cloud solutions utilize artificial intelligence (AI) to automate redundant tasks, especially those related to data population and entry. This can reduce employee stress and preoccupation, when energy can be directed to more efficient tasks.
Case Study: Grand River Hospital, Kitchener, Canada
Grand River Hospital (GRH), located in Kitchener, Ontario, Canada, was the first Canadian hospital to migrate data to the cloud. If you were expecting this process to have occurred many years ago, you would be mistaken. GRH, the pioneer of cloud adoption in healthcare in Canada, only began its migration process in 2018.
The issue? Data, some of which was up to three decades old, was being stored in a warehouse, and staff were losing critical time sorting and looking for items when they needed to be accessed. Young Lee, the Vice President of Planning, Transformation, and Innovation at GRH, asked, "Where are we going to store 30 years of data, and what can we do with it?" He goes on to say that the hospital required "one source of truth" for data past and present.
Since they were dealing with patient health and financial records, they needed something secure, accessible, and compliant with the medical-legal obligations of the Canadian government. Enter the cloud. Utilizing this method as the backbone, they went with what is referred to as a "data lake." This solution is a centralized archive to store both unstructured and structured data. Since GRH was using several different systems for data storage in the past, this was a game-changer. It also meant that they required a solution that could accept and reproduce various file formats when needed. Grand River Hospital is a trailblazer in cloud adoption in the Canadian healthcare industry. Their transformation capturing and realizing the benefits of cloud technology in healthcare proves that no amount of data is too daunting when it comes to modern tech updates - even in the most critical of workplaces.
Read more about the GRH cloud adoption project.

Disadvantages of Cloud Computing in Healthcare
There is no doubt that cloud adoption in healthcare has several benefits. Like almost all technologies available on the market, some loopholes and imperfections can create issues. Most issues can be avoided with simple attention to detail. Sometimes, what constitutes an "issue" will depend on the industry and risk tolerance in your organization. In healthcare, there is almost no room for error regarding patient PHI. Need a little more convincing? Take our quiz to learn more about HIPAA violations and the associated penalties.
It will be essential to consider the possibility of HIPAA violations when picking cloud software to implement. Although it makes patient care more efficient, does it expose you in other critical areas? Ask your IT team this question before proceeding with implementation. Here are a few cloud disadvantages to consider.
Government regulations: Much like HIPAA in the United States, almost all countries have governing rules around how PHI is stored and shared. Since your cloud provider may not be located in the country where you operate, it will be important for you to verify that the services they provide match the compliance requirements of your local and federal governments. Failure to meet these requirements can result in hefty fines and even jail time for corporate officers!
Control: Access to data in the cloud is unparalleled. You may access it on-site, off-site - just about anywhere. However, there is a sense of "lost control" when data is moved to the cloud because it is now in the hands of a third-party. They are in charge of gatekeeping security threats. There is not much a healthcare organization can do if a cloud provider experiences a cyberattack - they must wait for the issue to be rectified and hope for one of their backups to be restored and that critical PHI is not stolen. To better understand your level of risk as an organization, it will be important to sign a thorough and detailed Service Level Agreement with the provider. Learn more about what to look for in a good Service Level Agreement. 
Downtime: Another risk with cloud software is downtime. Since cloud providers are often servicing several clients besides yours, they may experience system outages, where data cannot be accessed. For businesses, even the smallest amount of downtime can result in hefty financial losses. In healthcare, it can be the difference between life and death. As was mentioned above, a good service level agreement can make guarantees on uptime - an important metric to track, especially when looking to implement cloud-based healthcare.
Giva's Cloud Offering for Healthcare
The future of cloud computing in the health sector is bright. There are many types of cloud computing in healthcare to choose from and deciding on the right solution for you can depend on several factors. Employee count, client base, existing data and future plans can all play a role in the decision you make.
Giva has several HIPAA-compliant programs, including a help desk, which can confidently support healthcare organizations. Some key features of this offering include:
Whether it be help desk, customer service, knowledge management, Giva has you covered. If your healthcare organization has yet to move to the cloud, or is looking for a service upgrade, check out the Giva difference.