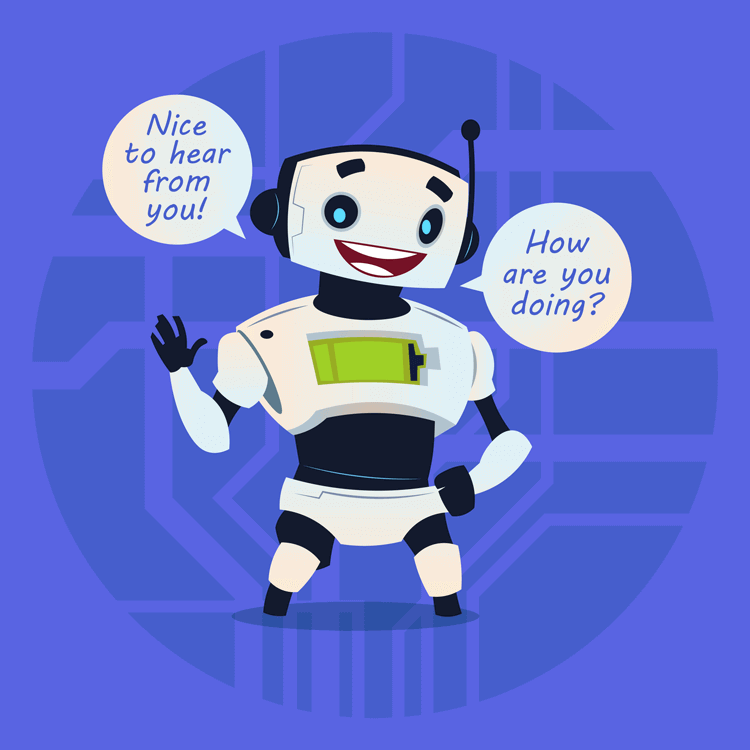 Photo Attribution: ProStockStudio/Shutterstock.com
Customer support automation — using digital services and tools, including chatbots and self-serve solutions — is a powerful way to reduce operational costs as much as 40% and provide 24/7 service to customers.
Businesses everywhere are using chatbots within customer service operations. In most cases, customers are happy to engage with chatbots when they have simple questions or problems that need resolving.
However, for more complex questions and problems, automation needs to make room for "human-powered" customer support. That's where some businesses are failing. In an attempt to keep customer service costs down, an excess of automation can leave some customers unhappy with the service and unable to find the answers they need.
In this article, we take a closer look at customer support automation and how businesses can humanize and improve AI-powered customer service chatbots.
What is Customer Support Automation?
Customer support automation includes a suite of solutions that help customers find answers to questions themselves. From Frequently Asked Questions (FAQs) to self-service articles, videos, and guides, businesses are keen to encourage customers to find answers first before contacting them. Customers are equally happy to take this approach too, preferring self-service to calling customer service.
Chatbots are a part of customer support automation. Whether you've been buying something online or searching for an answer to a problem with a service provider (e.g. cell company, insurance, etc.), you've probably already interacted with a chatbot.
What are Chatbots Used For?
According to Gartner, automated customer service solutions — such as AI chatbots — are already handling 17% of customer service interactions. Other research shows that automated chatbots can now manage 91% of chats from start to finish. In 2021, 35% of companies were using chatbots, and that number continues to increase.
Chatbots are integral to customer support automation. Although we use the term "Artificial Intelligence", this is loosely applied. It's more accurate to say that these simple algorithmically-generated tools use Natural Language Processing (NLP) to understand what customers are asking them. Answers, or responses, are then pulled from a database of options.
Smarter, more comprehensive AI-powered chatbots are better equipped to understand how people ask questions. Whereas, simpler, rules-based chatbots operate along more narrowly defined perimeters and are less able to resolve complex questions.
What Are The Downsides of Relying on AI Chatbots in Customer Service?
Businesses need to be aware that there are several downsides to relying on AI chatbots in customer service.
Chatbots need to be designed to help customers. As part of that, chatbots should provide a quick gateway for customers who want and need to speak to human customer service agents. Consider the elderly, those who aren't as comfortable interacting with technology. Or those with complex queries.
As soon as chatbots prevent too many customers from interacting with customer services it will cause a problem for your brand. There is a fine line businesses need to find between chatbot success and chatbot failure. Chatbots should help, not hinder; guide and support, but not block customers from getting the service they need. Be mindful of the limitations of customer support automation, self-serve, and chatbots.
Big brands in particular need to think about their wider network and supply chain.
For example, brands that sell physical products, make sure to find out:
What is our delivery company's customer service like? 
Do our customers get the help they need if a parcel isn't delivered, or does a chatbot prevent that?
The last thing you want are customers getting so sick of bad service from a provider that it forces you to issue refunds every week.
Medical companies need to consider similar questions. Especially when it comes to insurance providers and other services customers interact with.
In order to maximize chatbot benefits, businesses need to consider the rules that govern a chatbot's interaction with customers.
Are they too restrictive?
Does our chatbot actually help customers enough?
What more can we do to make each interaction more "human"?
"Humanizing" AI customer service chatbots is a big step that businesses can take to improve customer interactions. Although customers know they're speaking with a chatbot, it's important to make these interactions as natural and "human" as possible. Let's take a closer look at how businesses can achieve this.
How Can Businesses Humanize AI to Make the Most Successful Chatbots?
Research conducted at the University of Wisconsin-Milwaukee Lubar College of Business, has pinpointed ways to humanize AI-powered customer service chatbots.
Scott Schanke, Assistant Professor of Information Technology Management conducted the research: "Our study specifically looked at the impact of anthropomorphizing — or humanizing — chatbots, and how doing so affects things like overall customer experience or completion of transactions."
Schanke and his colleagues worked with a dual-channel clothing retailer to automate a clothing buy-back service. The study involved applying four categories to customer service chatbot conversations. One channel involved a straightforward chatbot interaction, without any humanizing changes made to the interactions.
On the other three channels, varying levels of humanizing interactive scripts and algorithms were introduced. These humanizing changes included the following:
Giving the chatbots a human name, rather than "Customer Service Chatbot"
Introducing slight delays to responses, such as 20 seconds instead of the instant responses most chatbots automatically generate
Using more casual, less formal language when chatbots are interacting with customers
Pre-loading approved jokes for chatbots to deliver if a customer wants to hear them
Based on the study, Schanke "found that humanizing the chatbot's communication with the customer clearly has a direct and beneficial relationship with transaction outcomes."
Here are a few ways you can make chatbots more human:
Invest in NLP to make a chatbot more relatable and easier/more natural to interact with 
Consider the context of chatbot conversations and continue to refine the rules by which it operates
Keep adding to and investing in the supporting knowledge base materials, such as self-serve tools, guides, articles, and videos, so that customers are more effectively supported when a chatbot guides them to find answers to questions
Introduce humanizing elements, such as slight delays to responses and more casual language
Does Humanizing AI Customer Service Chatbots Work?
Yes, to a point.
Humanizing how a chatbot interacts with customers is a positive step. It's a great way to improve customer service outcomes and provide a better service to customers.
However, there are several downsides to this and risks businesses need to consider.
Let's start with the name. Give your chatbot a name. But, make it clear that customers are interacting with an automated chatbot, not a customer service agent. Most will know they're not speaking with an agent.
It doesn't matter how advanced an AI-powered bot is, the reactions and responses aren't human, and until NLP and AI technology catch up with human speech, that is not likely to change anytime soon.
So, don't attempt to fool your customers into thinking they're speaking to "Wendy" when in fact they're interacting with "Customer Service Chatbot." Even if you give it a human-esque name, make sure it's clear there's a chatbot on the other side of the conversation, not a person. The study found that "chatbots that had names like 'Customer Service Chatbot' were deemed more likable by customers than chatbots that were given a human name."
Another thing to consider, according to Schanke, is that "the findings also gave us reason to believe that adding high levels of anthropomorphism to chatbot conversations isn't always advisable.
Schanke said: "For example, in our study, when presenting the customer with a randomly drawn offer, individuals also prove to be more price sensitive when it comes from a highly humanized agent. This may prove that how human you make an agent depends greatly on the context."
Customer Support Automation: Creating the Human Chatbot Experience
The advantages of chatbots are many, and humanizing them is a worthwhile investment. Especially when you couple this with self-serve solutions and conversational AI software.
At the same time, every business needs to be aware of the potential disadvantages of chatbots and limits of chatbot-based customer service. Customers want to find answers to problems themselves. Businesses benefit from this because it reduces costs.
However, the greater cost in chatbot marketing is when automation goes too far. When customers are stuck talking to a chatbot and can't get the answer they are searching for, a chatbot won't help them speak to a customer service agent. Customer service leaders need to carefully balance the needs of the business with that of customers. Humanizing chatbots is one way to achieve this, and ultimately, improve the service customers receive.
Here's how you can start to humanize your business' AI-powered chatbots:
Implement natural language processing into the AI-powered chatbots interactions with customers
Invest more in understanding the context and content of customer chatbot conversations
Continue investing in self-serve solutions so that the chatbot can provide more advanced customer support
Ensure chatbots are helpful, including reducing any barriers you may have inadvertently put in place that prevent customers from getting through to human customer service teams
Remember, the bottom line objective of customer services is to retain customers. Over-automating customer service removes the human factor. The last thing you need is to lose customers in an attempt to cut costs too much, as this will directly impact revenue and profitability.
Humanizing chatbots is a useful way to improve the customer service experience. However, you need to remember that this must not be done at the expense of the service you want customers to receive.