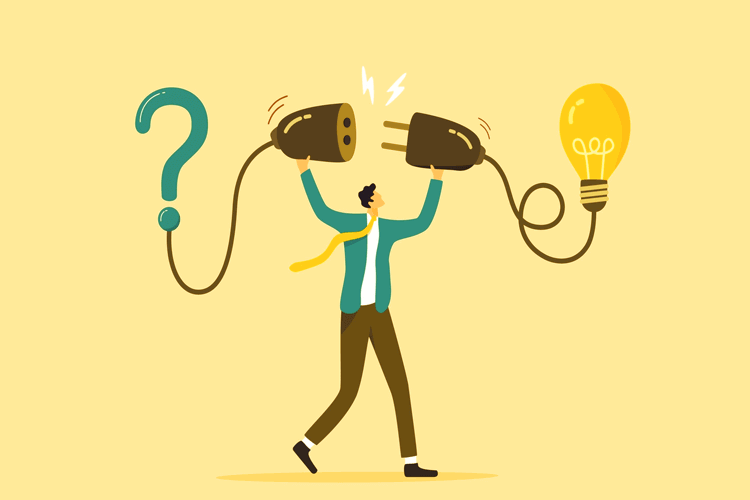 Photo Attribution: eamesBot/Shutterstock.com
When customers have a positive experience with a brand, when customer service is responsive and helpful, that influences 90% of buying and retention decisions, according to HubSpot research. 
HubSpot also found that 62% want to use email to communicate with businesses, while 42% prefer Live Chat, and 36% are happy with contact forms. 
However, an overwhelming number of customers prefer to find the answers themselves. According to Forrester, 90% want an immediate answer to a question they have, making knowledge bases the preferred channel over other types of self-serve channels, or contacting a company. 
Consumers want to find answers themselves. So, if you don't have a knowledge base, or it's not up to an acceptable standard, now is the time to invest in developing and scaling this valuable customer service asset. 
According to our own research, Giva has found that when companies have 5000 help desk queries every month, there's a massive savings if 10% find answers to their questions using a knowledge base. When each case costs $40 to resolve, if 10% of them take the self-serve (knowledge base) resolution route, that's a $20,000 savings every month, or $240,000 annually.
What is a Knowledge Base?
A "Knowledge Base" is a self-serve library, full of helpful knowledge articles and guides that answer any questions customers might have about a product or service. 
Most companies have customer service help desks. Some will have a team of telephony agents. In most cases, smaller businesses have a help desk, or customer support team. They answer questions that come through online ticketing channels.
In larger businesses, most have a help desk/customer support team, plus a team of telephony customer service agents. 
Businesses are constantly looking for ways to improve the customer experience. Developing a knowledge base is one of the ways to achieve this. 
A knowledge base should include a mix of articles, guides, FAQs, videos, troubleshooting resources, and any other information your customers need to know. 
Why Do Businesses Need Knowledge Bases?
As businesses grow, their customer base grows. If you have millions of customers, you can't possibly staff enough customer service roles to handle the volume of questions people ask over the phone or through support tickets. 
Plus, as Forrester research has shown, customers want to find answers to questions themselves. A knowledge base enables businesses to scale up customer service resources without needing to recruit a massive team. Customers can find the answers to almost any question they have through a well-resourced and detailed knowledge base. 
The benefits of having a well-resourced, informational rich and informative knowledge base include: 
Quicker customer service resolution times, and more questions answered at first contact, or before any contact is needed — when customers find the answers themselves 
Lower operational costs for customer service teams 
A higher quality of customer service 
Happier customers 
A customer service asset that is equally useful for marketing purposes, web traffic, and lead generation 
How to Create a Knowledge Base
Building a knowledge base is a long-term project. Developing any type of database, knowledge database in this case, will take time. You are going to need to invest internal and external resources to implement this project. Remember, it's a long-term investment that will generate outsized returns, such as reduced customer service costs, and an increase in your customer lifetime value (CLTV). 
Follow these steps to start building — or overhauling — a knowledge base: 
Collect the materials. An effective knowledge base includes a wide range of content.  Knowledge examples include articles, guides, FAQs, videos, troubleshooting resources, and anything else your customers need.
Map out the materials: Which section(s) content assets should sit under, e.g., the various sections of the knowledge base: Billing, Fixing A Problem (or Troubleshooting), My Account, How to Guides, and others.
Work with customer service or the help desk to fill in the gaps. What are you missing? What other questions do customers need answering? 
Create and improve the materials. A knowledge base should also serve a marketing purpose, so when writers are creating articles and guides, they need to follow SEO best practices and include keywords your company wants to rank for in search engines. 
Integrate knowledge base articles with self-serve and AI chatbots. If you want to reduce support tickets, you can't expect every customer to know about the knowledge base. But, if you integrate articles automatically with questions customers are asking then this will direct them to find answers themselves, reducing demand on the customer support team. 
How Do You Make Knowledge Base Articles Easy to Find?
Ensuring articles are highly searchable and easy to find is crucial within a knowledge base. When customers first land on your knowledge base it should have a prominent search function icon right in the center of the knowledge base landing page, above the fold. 
Below that, you need an easy-to-understand series of category landing page icons, such as Billing, Fixing A Problem (or Troubleshooting), My Account, How To Guides, and numerous others. 
Aim to think like your customers when creating this. Work with a Customer Experience (CX) agency or consultancy, if you need more support, and market test the concept with customers before rolling it out live. 
At the same time, ensure that knowledge base articles are automatically integrated with Live Chat features, so that if a customer asks a question, they can find what they need quickly and easily. 
How Do You Write Knowledge Base Articles?
Leverage Customer Service Teams & Help Desks to Feed Knowledge Bases

When it comes to building a knowledge base, those who interact with customers every day are your company's best resources. Ensure the person leading the knowledge base project is in direct contact with customer support/service team leaders, and even members of those teams. 

Ask for help. Encourage them to compile lists of questions customers ask from support tickets, Live Chat interactions, emails, and calls. Ensure knowledge base articles, FAQs, and guides are created from answers to those questions. 

Giva's blog post How Your Customer Support Help Desk Feeds Your Knowledge Base provides more information on this topic.

Work With Skilled Content Writers

We can't stress this enough: hire the best writers you can find to produce high-quality and engaging articles and how to guides for your knowledge base. Even if you've got videos explaining things, you still need articles and answers to questions for customers who prefer to read them. Also, as we explain next, they serve a useful role in the marketing mix too. 

Leverage SEO Best Practices 

Although knowledge bases are primarily a customer service asset, they can also perform a marketing function. When you leverage search engine optimization (SEO) best practices, such as using the right keywords and writing long-form pillar page answers to complex questions, these articles can play a role in generating organic web traffic. 

Your knowledge base can contribute to SEO-driven content marketing efforts, providing you ensure articles are created using the questions and answers in that resource. 

Use a Knowledge Base Request for Information Form

When creating a knowledge base, the aim should be to capture as much value as possible through every channel. One easy way to achieve this is the Giva eKnowledgeManager™, a knowledge base software application that helps businesses easily and efficiently capture information from customers and support teams. 

With the Giva eKnowledgeManager, you can collect the information you need, streamline it, categorize, and share with those working on the knowledge base project. 

For more information, see Giva's eKnowledgeManager product page.
Common Mistakes to Avoid When Building a Knowledge Base
Companies often make a number of mistakes when building a knowledge base. The most common is not having one at all, or if you do, it's poorly organized, or full of incomplete information. 
Other mistakes you need to avoid include: 
It's difficult to use (poor navigation and search functions) or impossible to find 
Not comprehensive enough
Not updated often enough, making it irrelevant
Not integrated with self-serve tools and AI-based customer chatbots 
Developers writing a knowledge base. Remember, a knowledge base is a customer service asset, and it's also useful for marketing. In software companies, developers should make a substantive contribution, but a marketing team with customer support input, or an external provider should write the content 
Information overload. At times, companies can put too much information in these. Watch out for that
Incorrect or outdated information 
Formatting problems (mismatched tone of voice, not using SEO, looks unprofessional, etc.) 
Not visual enough. Videos and graphics are essential, especially when you want to convey complex concepts quickly and easily. 
Find out more about the most common mistakes to avoid when building a knowledge base.
Knowledge Base Creation Summary & Key Takeaways
Here are the actions you need to take to build a successful knowledge base: 
Make articles and how to guides easy to find (easily searchable, and integrated with AI-based chatbots, self-serve tools, and live chat features) 
A knowledge base should include an extensive, customer-centric and helpful range of articles, how to guides, videos, FAQs, troubleshooting, and other resources your customers need 
Leverage customer service teams and help desks to generate ideas for knowledge base articles 
Work with skilled content writers 
Use SEO best practices and keywords you want to rank for when creating knowledge base articles 
Avoid the most common mistakes, such as poor navigation, outdated information, not enough detail, or in some cases, too much, and numerous others.