What Is IT Operations Management (ITOM)?
IT Operations Management (ITOM) is becoming increasingly crucial for delivering ever more complex IT operations and service management across multi-national and large organizations.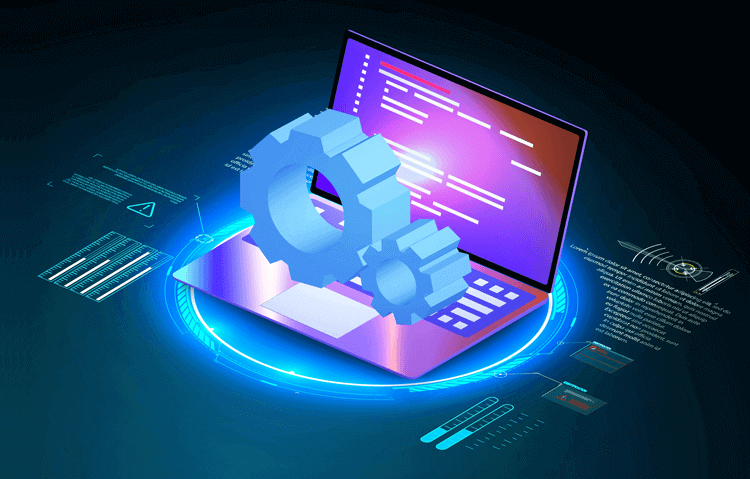 Photo Attribution: SerGRAY/Shutterstock.com
ITOM and other terms you're probably more familiar with, such as IT Service Management (ITSM), have many similarities while also having several differences. It's important to understand how they support and contrast one another, so ITOM and ITSM can more effectively enhance and drive your organization's IT operations and services forward.
In this article, we will define IT Operations Management (ITOM), explore in more depth and outline how it fits in with ITIL and ITSM. 
Definition of IT Operations Management
IT Operations Management is either an individual IT operational leader, or a team, with a specific set of IT operational responsibilities. In most cases, those responsibilities cover various mission-critical aspects of managing day-to-day digital infrastructure.
These responsibilities typically include, but aren't limited to, the following areas of the IT service management lifecycle:
Operational IT practices
ITIL change management
Software and applications (admin-level) management
Measurement of ITSM outputs and key performance indicators (KPIs)
Vendor relations management
IT process and function control
ITSM service delivery scalability management
In other words, ITOM manages the performance, methods, and applications that ITSM uses to manage and improve internal ITSM services and systems. Given the increasingly multi-layered and complex nature of IT systems and software that most organizations use, this function is more crucial now than ever.
With systems bloat, more can go wrong. Especially when it only takes one system going down to bring everything else crashing to the ground.
Now let's look into the key roles in ITOM and how these functions support and improve IT service management across organizations.
Key Roles in ITOM
One of the key roles of ITOM is making the overall IT processes and operations more standardized.
In this sense, ITOM plays a crucial role in improving efficiencies, reducing risk, and cutting costs, making it the firm basis of an organization's IT and digital services.
ITOM can improve ITSM governance, thereby enhancing and controlling the delivery of IT services by creating scalable, repeatable workflows. Standardization is essential in IT. Especially in larger organizations. There is far too much that can go wrong unless a team of IT leaders has clear working practices, guidelines, and standardized processes.
That's the role of ITOM to standardize practices, workflows, procurement and provide top-down support for ITSM.
Now that you have a better understanding of IT Operations Management, let's see how it fits into and works alongside ITIL and ITSM.
How Does ITOM Fit Into ITIL & ITSM?
The question is not ITOM vs ITSM.  The question is how does ITOM work closely and synergistically with ITIL and ITSM to achieve the most effective IT processes, protocols and goals.
Information Technology Infrastructure Library, also known as ITIL®, originated in the UK in the 1980s. It now stands as the foundational "best-practice framework or set of best practices that guide ITSM" worldwide.
ITIL best practice guidelines and training is overseen and managed by Axelos, now part of PeopleCert, the world's most respected provider of global best practice. Axelos was originally founded in 2014 through a joint venture between the UK Government and outsourcing giant, Capita, before PeopleCert acquired Axelos in 2021.
For over 20 years, ITIL, now onto version 4 (V4), has been "the framework for the management of IT-enabled services."
Best practice certification in ITIL includes four levels of training and accreditation. Some are only suitable for IT leaders, whereas others apply across any IT organization.
On the other hand, ITSM "is the professional discipline that manages IT operations as a service and has an international standard called ISO 20000."
The International Organization for Standardization (ISO) published this service management framework in 2005. Ever since, as IT and digital services have evolved, the ISO has continued to update internationally-applied standards. Not every organization gets, or needs to be, ISO certified. It's a matter of choice.
However, having that ISO certification demonstrates high levels of internal IT operational discipline, security standards, and competencies. This makes ISO certification especially useful for software vendors (Software as a Service), cloud-hosting providers, and IT/ITSM vendors and companies.
ITOM, when combined with ITSM and ITIL best practice guidelines, can create numerous benefits and advantages:
Removing silos, and improving the customer and user experience

Although ITOM monitors performance and KPIs, and ITSM is about the day-to-day service management (often while using ITIL best practice guidelines), the two are interlinked.

Combining them, where there are people with responsibilities for ITSM performance management, can improve the customer and user experience, thus creating business benefits for an organization and a clear ROI.

With a combined approach, you can remove silos, reduce costs, avoid duplication of applications and resources, and limit the downside risk of productivity gaps. It's also easier to manage IT security this way, especially with IT and data security being an area with C-Suite operational oversight.

With this approach, you can also improve the IT employee experience. Goals and outcomes will be more closely linked, making it easier for them to see how to achieve the results that IT operations leaders need. ITOM, when working closely with ITSM, will make KPIs more realistic and effective for an organization.

Creating clarity on long-term service-orientated IT goals that benefit the organization

When you integrate ITOM with ITSM, you make an IT team that's clearer on long-term, service, and business goals that make a positive impact across the organization.

With this approach, ITSM teams can more easily:

Identify and understand the root cause of incidents, fixing them more effectively for the long and short-term
Automate incident resolution
Become more efficient at handling KPIs, such as average handling time, first contact resolution, and numerous others
Put the correct escalation strategy in place
More easily prioritize responses to situations based on urgency and business impacts (have a more effective triage and response system)
Keep IT, software, and hardware spending under control
Manage the IT lifecycle of systems the company has either bought or built in-house more cost-effectively
Implement a bi/multi-directional ticketing system for IT customer support tickets
And lots more!

It depends on your organizational processes and systems, of course. With alignment and integration comes clarity, cost savings, and a simpler, more effective way for ITSM teams to work towards business and tech-centric goals.

A combined ITOM/ITSM strategy can produce a mission-critical business-focused return on investment (ROI)

At the same time, combining ITSM and ITOM can generate the following ROI for businesses and organizations:

More efficient digital transformation. Every organization needs agile, future-proof systems. Now more than ever, AI (artificial intelligence) is having more of an impact on businesses, making successful digital transformation projects essential and mission-critical for long-term operational success. And yet, too many projects like this don't go to plan. With ITSM and ITOM combined, you can be more confident that digital transformation projects will succeed.
Reduce IT spending and operational/systems bloat. In too many organizations, IT spending and systems bloat is out of control. Plus, too many staff have their own apps that haven't gone through IT procurement processes, creating a shadow IT system. IT leaders need to get all of this under control. You can when you combine ITSM and ITOM processes and systems.
Improved ITSM visibility. Make the end-to-end IT processes more visible to align IT assets with data centers, vendors, and day-to-day business decisions.
More agile. One way to avoid mission creep and systems bloat to improve the nimbleness of an IT organization is to make processes more agile. Use a combination of ITOM, ITSM, and ITIL to identify areas where you can cut back. What is your team using or doing that's inefficient, not needed, or costing too much? Spend time reviewing every area and operational practice, and then make the necessary changes.
Increased efficiency. When the above changes have been completed, IT leaders, including CIOs, should see a real, long-term benefit from aligning and integrating ITSM and ITOM tools, processes and systems. Now more than ever, increasing efficiency is a positive and necessary step for every business.
Key Takeaways 
ITOM manages the performance, methods, and applications that ITSM uses to manage and improve internal ITSM services and systems.
In many ways, and with the right operational processes, you can ensure ITOM and ITSM work together closely. After all, they're both part of the same IT value chain. Here's a recap of the different ways ITOM adds value to an IT team, organization, or vendor:
ITOM manages operational IT practices
Supports ITIL change management
Manages (admin-level) software and applications 
Measures ITSM outputs and key performance indicators (KPIs)
Manages vendor relations
Supports IT process and function control
Ensures ITSM service delivery is scalable
Get the software and systems you need to integrate ITSM with ITOM: Benefit from the Giva Difference. Giva helps teams achieve Service Management excellence.
Find Out More: Start a 30-Day Free Trial.
Founded in 1999, Giva provides a suite of HIPAA-compliant Help Desk, IT Service Management, and Customer Service applications architected for the cloud and ITIL aligned.