Complete Guide to Creating the Perfect Internal Knowledge Base
Internal knowledge bases are internal libraries for all of your organization's processes, information that employees need, and steps that front-line staff should take when helping customers.
IT Service Management (ITSM) teams use internal knowledge base systems, as these contain the daily guidelines that IT staff use to support colleagues and customers.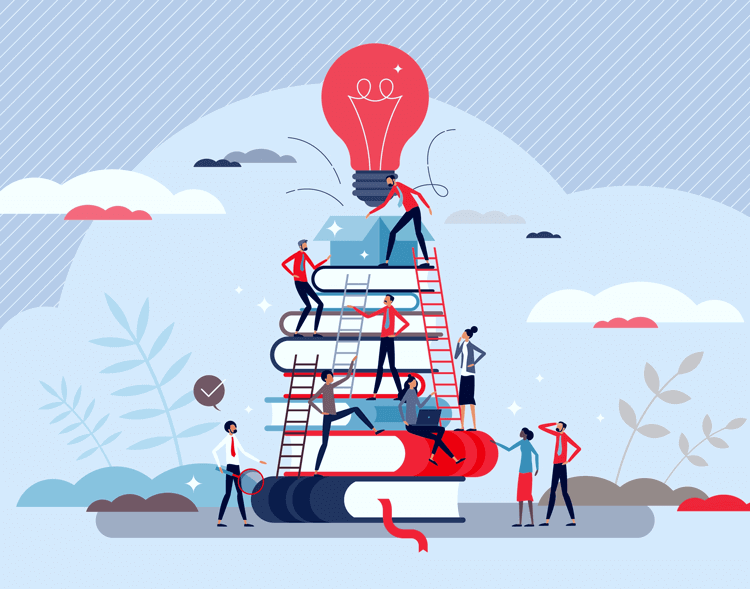 Photo Attribution: VectorMine/Shutterstock.com
Having an internal knowledge base gives organizations a competitive advantage. Instead of information, processes, and systems residing in the collective memories of team members, the knowledge is stored in a format accessible to everyone.
Expertise and knowledge never get lost this way; even if staff go elsewhere, processes, systems, procedures, and training data are retained within the company.
What is an Internal Knowledge Base?
Also known as an Internal KB, a knowledge base is created strictly for in-house use, unlike external, customer-facing knowledge bases that contain self-help articles, videos, and other helpful content. An internal knowledge base isn't created for customers. It can help front-line staff perform their jobs more effectively, and find the information they need to solve problems quickly, but it's only for internal use.
Think of an internal knowledge base as an in-house self-service help center. Use it to store everything your employees need across every department and team to do their jobs. Whether those are front-line, customer-facing jobs or jobs that serve an internal role, such as finance, accounting, IT, HR, and numerous others.
When the treasure trove of information in a knowledge base is put together the right way and easy to navigate, it should save employees time, saving organizations a lot of money.
Why Do Organizations Need an Internal Knowledge Base?
We've all been there.
You've looked online, can't find the answers you want, or the problem requires a call to a customer service contact center.
After waiting to get through, you pass security and finally get to explain the problem that needs resolving.
An agent, trying to sound helpful and friendly, asks to put you on hold.
So you wait, and wait, and wait . . .
"One moment" can turn into five, ten minutes, or more as a contact center agent tries to track down the information they need to resolve your issue. As a customer, you're frustrated and might even complain or take your business elsewhere.
For front-line staff, delays in finding information causes stress and reduces their ability to hit weekly and monthly key performance indicators (KPIs), such as Average Handling Time (AHT). This reflects poorly from management on down.
Customer satisfaction scores drop too, and churn can increase.
Information, and access to the right knowledge, processes, and systems, quickly and efficiently save everyone time and money. Efficient internal processes improve customer satisfaction, revenue, and profitability.
Hence the value of internal company knowledge bases, especially for front-line, customer-centric teams.
What Organizations or Teams Benefit from Creating and Having an Internal Knowledge Base?
Organizations of every size and across every sector benefit from creating and maintaining internal knowledge bases.
Most companies have one or include a project such as this in their operational roadmap.
Sectors where a knowledge base is an advantage include healthcare, entertainment, consumer products, hospitality, telecoms, finance, legal, IT/ITSM and software (SaaS), and dozens of others.
The advantages of an internal knowledge base include:
Improvement of employee onboarding, training, and retention
Improvement in customer service, reducing churn and increasing up-sell opportunities
Improvement in operational services and efficiencies
Creates a centralized library of quick-reference information for internal teams
Prevents operational knowledge from being lost when team members leave or retire
Ensures that every employee is aligned with company policy, procedures, processes, and regulatory requirements
Whatever your organization does, an internal knowledge base is the most effective way to manage large in-house teams, work with external providers, and keep customers happy.
What Can You Include in an Internal Knowledge Base?
An internal knowledge base can include any of the following information and resources:
Internal or customer-centric policies, procedures, and processes
Internal company policies
Informational and training videos
Regulatory and compliance training (such as health and safety)
How-to Guides and troubleshooting for internal or customer-facing teams
HR and onboarding documentation and training
Legal documents, policies, procedures, and loads more!
7 Key Elements for Building an Internal Knowledge Base
Establish team-centric goals for an internal knowledge base

Creating or updating an internal knowledge base should always start with the operational and strategic goals. Consider the following:

What are we trying to achieve with this internal knowledge base?
What do the team(s) need, and how can an internal knowledge base solve these problems?
How do we implement an effective information hierarchy aligned with operational goals and the needs of the relevant teams?

Once you've answered these questions, it will be easier to establish the goals, key performance indicators (KPIs), and success of this project.

Implement an action plan, timeline, budget, and resources to create an internal knowledge base

Every in-house project needs an action plan, timeline, budget, and resources.

As this is an information gathering, compilation, content creation, and software implementation exercise, it involves many moving parts. Ensure you give those responsible the time and resources to achieve the operational goals.

Knowing those at the start will make this process considerably easier.

How much time, resources, and the size of the budget required will depend on the scale of the project. If you're only creating an internal knowledge base for a small team, it shouldn't take too long or cost too much.

However, if you're creating a massive internal knowledge base for teams and one that thousands of employees will use, then it will take more time and money.

Ensure there is leadership sponsorship and someone responsible for the project

As with any internal project, ensure there is senior leadership sponsorship and support. Appoint someone in a management role with operational responsibility for the project.

Leadership support is essential if the person managing the development of an internal knowledge base needs cross-functional cooperation and to use external resources (e.g., software or a third-party service provider) to complete the project successfully.

Source and document the relevant information

Now, the manager for the internal knowledge base project needs to source, compile, and document all of the relevant information.

Internal information and data sources are often messy and scattered about, with data kept in silos, spreadsheets, datasets, and even employee folders and emails.

No one individual is going to have every scrap of information you're going to need for an internal knowledge base. You're going to need to pull it together and extract it from across numerous teams.

It might involve interviewing front-line staff or team leaders who've worked in the organization for several years.

For this process to be successful, you need to:

Know what you need before you go searching
Know where to find the information
Have a clear understanding of the information hierarchy before documenting, compiling it, and creating the knowledge base

Ensure articles within the knowledge base are easy to find

Once the knowledge base is ready, you need to ensure the articles are easy to find. That's why most organizations with this type of resource use software, such as Giva's Knowledge Management software.

An easy-to-navigate solution means that staff, especially those in customer-facing roles, can access information quickly, making it easier to help customers.

Road-test the internal knowledge base with the relevant teams and staff members

Before launching an internal knowledge base, you need to road-test it. Ask the staff in the relevant teams to try it out.

While they're navigating it, ask them:

Can you find what you're looking for easily enough?
Can you put in various search terms and still find what you need?
Have you noticed any bugs, errors, or design (user experience) issues we need to fix first?

Have the beta testing staff fill out surveys, make any necessary adjustments, and then get ready to launch the knowledge base.

Launch the internal knowledge base and raise awareness of this service among the relevant teams

Once an internal knowledge base is ready, make sure to announce it to everyone who's going to use it. Raise awareness. Ensure staff saves it within browsers, knows where to find it, or downloads it as desktop or app-based software.

Whenever possible, you can also integrate an internal knowledge base with other in-house software, thanks to APIs (Application Programming Interfaces) and plugins.
Key Takeaways for Building an Internal Knowledge Base
Internal knowledge bases are valuable in-house resources. When done right, and the information is easily accessible, an internal knowledge base saves organizations time and money. Streamlining everything from training to operational processes and customer support.
One of the best ways to create and maintain an internal knowledge base is to use cloud-based SaaS software, such as Giva's Knowledge Management software.
Remember, follow these 7 steps when creating an internal knowledge base:
Establish team-centric goals for an internal knowledge base
Implement an action plan, timeline, budget, and resources to create an internal knowledge base
Ensure there is leadership sponsorship and someone responsible for the project
Source and document the relevant information
Ensure articles within the knowledge base are easy to find
Road-test the internal knowledge base with the relevant teams and staff members
Launch the internal knowledge base and raise awareness of this service among the relevant teams