What is First Call Resolution (FCR) in ITSM: Why It's a Critical KPI Metric
One of the most important metrics and Key Performance Indicators (KPIs) in IT service desk and customer service contact centers worldwide is First Call Resolution (FCR).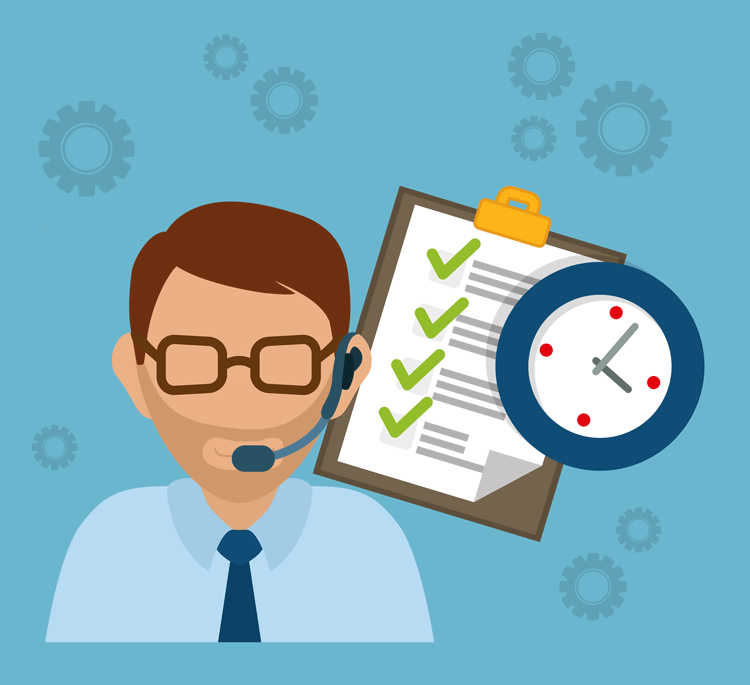 Photo Attribution: Diki johavel/Shutterstock.com
Whether you're providing broadband and phone services, or IT Service Management (ITSM), customers want quick responses and resolutions when they've encountered a problem.
Contact center and IT leaders measure this using First Contact Resolution (FCR). Of course, there are other key metrics too, such as Customer Satisfaction scores (CSAT), Customer Effort Scores (CES), and numerous others. However, FCR is a globally-recognized benchmark metric that impacts your entire customer service operation.
Let's take a closer look at what this means and how to measure and improve FCR times.
What Does First Call, First Contact Resolution (FCR), or First Touch Resolution Mean in IT?
FCR Meaning
In ITSM or any other sector or type of service, FCR, also known as First Call or First Touch Resolution, means a team's ability to meet the customer's need at the first point of contact.
An ideal FCR scenario is:
A customer has a problem
They've looked at your self-serve articles, knowledge base, FAQ's, troubleshooting, and any other resources provided
Unfortunately, an answer isn't to be found, or they don't have time to look
The customer contacts your IT or customer service team (whether via Live Chat, putting in a support ticket, email, or phone)
An agent resolves the problem at this first point of contact, quickly, and the customer is happy
When FCR goes wrong, customers need to call back to get their issues resolved. Not only is this frustrating for customers, but it also adds more work to already overworked teams. Increased workloads result in increased costs and a reduction in customer satisfaction rates.
Unhappy customers will take their business elsewhere. Costs increase, and so do churn rates, causing businesses to lose customers; and unhappy customers are also more likely to vent their frustration on social media and tell other people, causing reputational damage.
When FCR rates are high, everyone wins. Customers are happy, churn rates stay low, and there's a better chance you can upsell happy customers on other products and services.
How Do You Measure Your First Call Resolution Rate?
Every organization measures FCR in different ways. After all, there are numerous factors at play:
Does it still count as a first contact resolution if it needs to be escalated and another agent calls the customer back?
What if a customer needs to be transferred to another team or department, and they resolve the issue?
What if an agent calls through to the wrong department and needs to contact the customer back?
The beauty of this is customer service, and IT leaders get to decide what counts as "first contact resolution," so agents and the whole department aren't being unfairly monitored against a metric that's impossible to achieve. It might take some tweaking to get this right.
Once how you measure FCR rates has been decided and it's been clearly defined, consistency is crucial. 
FCR Formula
Calculate FCR this way:
Total number of successful FCR calls/tickets / Total number of calls/tickets = FCR
Agents and managers won't perform as well as you desire if KPIs keep moving around. And this KPI needs to align with other metrics, such as:
Customer Satisfaction (CSAT) and Quality Assurance (QA) scores: One of the most powerful metrics alongside FCR is Customer Satisfaction (CSAT). Send out automated surveys to ensure your customers are happy. Higher scores mean that your team is doing something right and helping to retain customers.

(Total number of positive responses / Number of responses collected) X 100 = CSAT

Customer Effort Scores (CES): A measure of how much effort customers have to make to get their problem resolved. Gartner's Customer Value Advantage report shows that 61% of customers stay with a business if it's easy for them to find a solution or get a resolution to an issue. Brands that make it hard for customers to get help will lose them, as 37% stay loyal after a "high-effort resolution."

Agent Effort Score (AES): A metric that relies on CSAT and QA surveys to understand how well agents can easily solve customer problems. It's also a useful internal metric as it shows whether managers can provide more resources to make it easier for agents to look after customers better.

The sum of survey scores / Number of agents = AES

Average Speed of Answer (ASA): How long it takes for agents to answer calls after customers have entered the queue.

Time customers are waiting (in minutes and seconds) / Total number of calls answered = ASA

Wrap-up Time: A measure of the time after a call/ticket has been resolved when an agent isn't taking new calls/tickets because they're making notes on a customer's account. It's important to do this, but it's a metric that needs to be monitored carefully.

Missed/Declined Calls: Mistakes happen, and one of those for telephony agents is missing or declining calls. Aim to keep this metric low as it pushes customers to the back of the line, or they might abandon the attempt to have their problem resolved.

Total Resolution Time (TRT): This is a way of measuring the time it takes to resolve customer queries with the correct answers.

Total time taken to resolve customer queries / Total number of tickets resolved = TRT

Transfer Rate: The percentage of calls that are transferred to another team/department. In some cases, this is a positive metric, especially if calls are going to a sales department to up-sell or cross-sell other services.

(Total number of calls transferred to another team/department / Total number of calls) X 100 = Transfer Rate %

Average Hold Time (AHT): Don't keep customers waiting. The longer they're kept on hold, the more frustrating the experience is, and the lower CSAT and QA score your team will receive.

Sum of customer wait times / Total number of calls = AHT

Call Abandonment Rate: A constant problem for customer service teams. This metric reflects the percentage of customers who abandon a call while waiting to speak to an agent. It's less of an issue when tickets are going in via a help desk SaaS platform, as every ticket should go through to an agent. But for customer service teams, the longer customers are stuck waiting (due to high call volumes), the higher your abandonment rate is going to be.
Want to improve your IT or customer service or team's first contact resolution rate? Use Giva's ITSM Service Desk or Customer Service cloud-based solutions.
What are the Benefits of FCR Strategies?
As FCR improves, the overall cost of providing IT and customer support decreases.
Industry analysts estimate the mean cost to resolve a ticket on level one to be about $32 (e.g., Level 1 IT support tickets). Based on industry averages, the mean cost to resolve an escalated ticket is about $60.
In an environment averaging 4,000 calls per month, improving FCR from 50% to 75% reduces the number of tickets requiring escalation by 1,000 per month. The total cost to support those tickets is also reduced, generating an estimated savings of $28,000 per month based on current ITSM industry averages.
Improving FCR reduces costs and churn and has a positive impact on CSAT and other scores.
Want to know what your organization's FCR rate is? Try out our First Call Resolution Calculator.
How Can You Improve Your FCR?
There are numerous ways organizations can improve first contact resolution scores.
Start by looking at the whole customer journey. Is there more you can do to support customers before they need to call or put in a ticket?
How many calls or tickets are actually second touch-points for customers after they've tried and failed to find what they need via your self-help solutions?
If the same types of calls and tickets keep reoccurring, it's time to turn those questions into self-help answers. Anything you can do to take the pressure off customer support or Level 1 IT agents is a positive step, as that will increase FCR scores for more complex queries.
Make sure your team is equipped with a robust internal knowledge base. This way, agents can more effectively and efficiently help customers at first contact, instead of having to keep them waiting, call them back, or escalate an issue to another team member. 
Another way to improve first contact rates is to avoid setting conflicting goals. Otherwise, you're forcing agents to choose between one KPI and another. For example, "Do I resolve or escalate this in 5 minutes, or do I take longer to resolve it?" (Knowing they can, if they had more time).
How Can Giva's Technology Help Organizations Improve Their FCR?
Giva's ITSM Service Desk SaaS Solution is perfectly equipped to help organizations improve FCR scores and metrics. Giva provides real-time monitoring of customer requests. Nothing is ever overlooked.
Collect and monitor all of the data your team and managers need to improve numerous KPIs, including FCR. Support front-line agents more effectively with an out-of-the-box SaaS-based solution for customer service and ITSM.
With Giva, you can target respond/resolve times, measure KPIs, and deliver excellent service consistently.
For an in-depth study of proven techniques to drive first-call resolution at the service desk and add value to your organization, read Giva's Whitepaper Service Desk Optimization: 40 to 80 in No Time Flat.
Want to improve your customer service or IT team's first contact resolution rate? Use Giva's Customer Service SaaS Solution. Since 1999, Giva has delivered a top-notch cloud-based customer service software solution.
See for yourself why our customers rate Giva's cloud solutions 4.9 out of 5 stars. Sign-up for a 30-day free trial, or talk to us for a no-pressure customer service software demo.