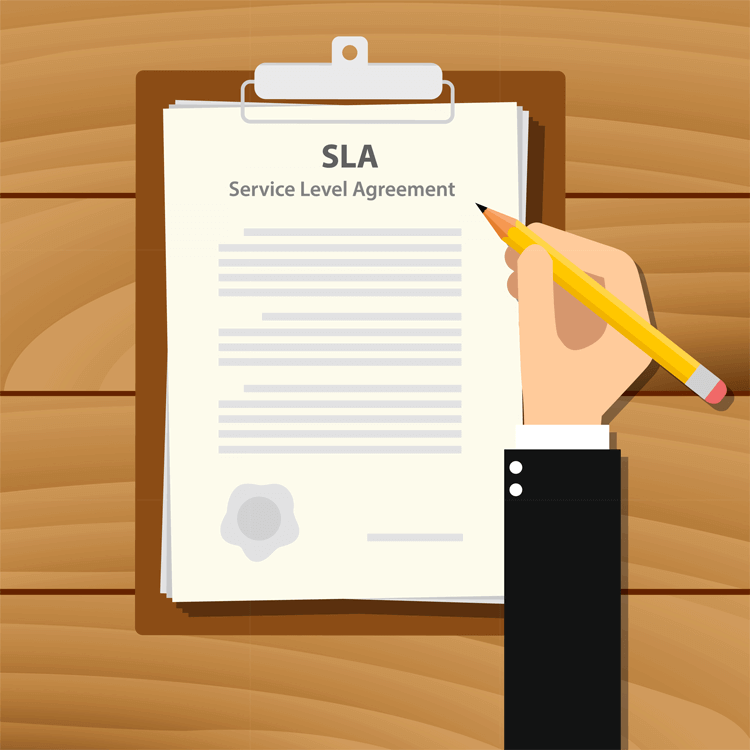 A service level agreement (SLA) usually refers to the contract between an end-user and a service provider. A completed SLA provides information on specifics, maintenance and other features pertaining to what the customer will receive as a part of the commitment with a provider.
According to a CIOReview article titled The Role of Service Level Agreements in Organizations, there are six aspects that the standard SLA aims to satisfy:
A complete and concise description of services and maintenance
Responsiveness of requests for service
The reliability of the particular product
An established problem reporting procedure
Guidelines pertaining to who will be responsible for monitoring performance and collected information
Ensure there is a clear understanding of limitations and the potential causes for termination of the SLA
A customer-based SLA is an agreement made with an individual customer group, designed to cover all of the services which a customer may use. A service-based SLA on the other hand, targets the customers using the particular service offered by the provider. There are also multi-level SLAs that address agreements at the corporate, customer, and service levels respectively.
Service level agreements act as a set of official guidelines between a user and provider. Often times, this agreement can minimize customer confusion concerning many aspects of the service for which they are enrolling. Since an SLA is time sensitive, it also benefits the provider in that the on-boarding of new clients is done in a timely manner.
The areas of warranty, speed, efficiency and quality of work are important for any consumer whether for personal or business use. A well-planned service level agreement creates for a positive relationship between a provider and a consumer, in that it provides clarity on a variety of features and solutions. When looking to implement a new service, ensuring that the provider presents a concise SLA is important for customer satisfaction as well as the longevity of use.
For more information read Giva's whitepaper called "Implementing Service Level Agreements," and for an example SLA, see Giva's whitepaper "Sample IT Help Desk Service Level Agreement (SLA)."