Solutions to 4 Critical IT Change Management Issues with Work from Home (WFH)
COVID-19 forced many organizations to quickly mobilize their teams to work from home (WFH). Ensuring the proper technology and guidelines are in place is an ever-evolving job when employees are located off-site, in different cities, regions, and countries around the world. To add perspective, according to Stanford News, 42% of the U.S. labor force was working from home as of June 2020. Although employees will most likely begin returning to workspaces in the future, a portion will remain working from home permanently. Some organizations may even opt for a hybrid scenario, where employees work days both in and out of the office. Whichever scenario plays out, all will involve IT change management procedures and systems to be used to their full potentials.
Though IT change management can seem like a difficult undertaking in a WFH environment, it can be made easier, while also promoting more effective workspaces. With the right combination of technical tools and human-centered strategies, IT change management can create effective and long-lasting results, even in a WFH environment.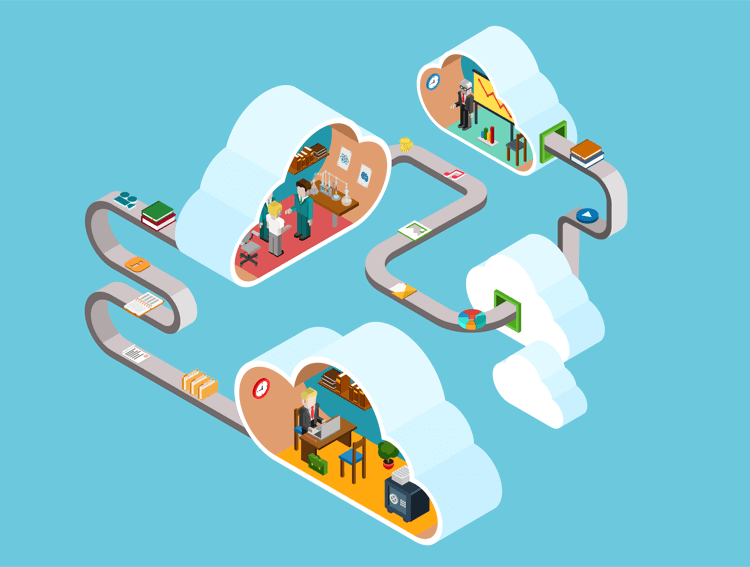 Photo Attribution: Sentavio/Shutterstock.com
What is IT Change Management?
IT Change Management is a process that should make IT infrastructure related changes easy to implement for your organization once a request is received. A solid plan includes a process to submit requests, assign priority, schedule work, and authorize individuals to execute. Overall, an IT change management plan will allow work to be completed promptly while reducing any potential downtime.
So, three of the top benefits of an IT change management process can be described as:
Implement changes rapidly


Track the progress of changes organizations make to IT infrastructure


Improve ability to estimate costs of proposed changes
The Process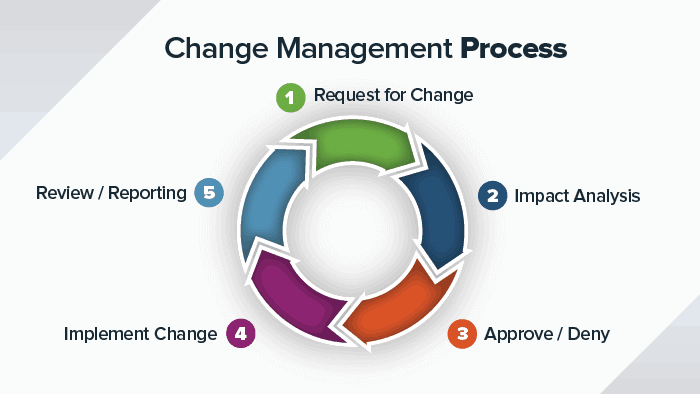 Image courtesy of smartsheet
What Makes IT Change Management in a WFH Environment Difficult?
The new reality that is a mass work from home economy means an increased need for tools, systems, and processes that make this type of work possible. Though a company may purchase and deploy plenty of equipment to allow employees to work from home, this does not guarantee the process will be smooth for IT teams or effective for employees.
The problem is that many companies believe that their job ends once they have supplied the technology and their employees have plugged it in. Unfortunately, many steps are required to ensure the infrastructure is quality and maintained on a strict schedule. Equally as important, and going beyond tech, is workplace culture, and ensuring that is also factored into any change management plan.
As mentioned above, there is a human aspect to all of this as well. Brandon Chaderton is the Pennsylvania HR Director for Organizing 2020, hired just as the COVID-19 pandemic sent everyone into lockdown. He says, "At its core, we need to be industry leaders in building a sense of belonging. Whether we are on a Zoom meeting, a conference call, or in an email, now more than ever every interaction we have must be intentional and thoughtful."
Organizations can foster this type of workplace culture, even from afar, using the tech tools provided.
4 Critical Issues IT Change Management Teams Face in a WFH setting:
Resistance by Employees

Working from home, whether part or full-time can be a shock to a routine. This is especially true if you have become accustomed to going to a physical workspace in the past. Working from home presents several challenges, including, but not limited to:

Distractions by other household members
Finding/designing the right space
Setting up and getting assistance with technology

Even with a functioning workspace, including technology, some employees may still demonstrate resistant behavior simply because they are unhappy or concerned about new work-from-home policies.

The Solution

Employers should be transparent as to "why" particular changes have occurred. Though, one of the best ways to avoid initial and recurring tech issues is by providing ample training to employees. Cover areas from tech set-up, maintenance, and data security to protect against some of the most common problems.

Did you know? In a recent study conducted by The Conversation, they surveyed 6,000 Australian public servants (including 1,400 managers). They found that only 8.4% of managers rated their teams as less productive when working from home, while 57% thought productivity the same, and 34.6% believed it to be higher.

Managing Multiple Teams

Businesses of all sizes now have teams in different cities, regions, and countries. Tools such as Microsoft Teams, Slack, and Zoom have made digital borders some of the easiest to cross.

Having employees and teams in different places can pose a variety of issues for IT leaders. Logistically, sending or receiving damaged equipment for diagnosis or new equipment for an upgrade can be time-consuming and create lengthy downtime.

The Solution

IT leaders should become familiar with the regions in which employees work. Some questions to consider asking when developing a plan include:

What is the cost of shipping replacement technology to this location?


Are there local repair shops that can be contracted to assist with change management requests?


Are there different privacy laws in the employee's particular region? Should there be tailored training programs for employees in different jurisdictions?

Though some of these measures seem time-consuming upfront, they can save an IT leader plenty of time (and stress) if a situation arises and a quick reaction is required.

New Technology Rollouts

The technology that an employee used in the office may not be sufficient when working from home. Whether it be a laptop, or a VPN provider, physical or digital, some things are likely to have to change. This change can cause confusion and frustration for both employees and IT leaders alike.

When leading the deployment of a mass work from home campaign, IT leaders must have a well thought out plan. Sometimes a desire to roll out new technologies and plans quickly can backfire, so there's no better time to plan for future possibilities than in the beginning of these processes.

The Solution

The Harvard Business Review notes that rolling out new tech in phases can help to avoid the roughly 70% failure rate of change management initiatives that are done more quickly. Allowing for extra time also means that IT leaders can deal with a smaller number of potential issues, rather than all at once.

Tracking Changes

Where WFH has become more ubiquitous in an organization, gone are the days of discussing IT changes in the hall or by the water cooler, or writing details down on a notepad next to your phone. This type of information can much more easily be lost in the shuffle, and tracking issues in a more centralized and structured environment becomes more critical.

The Solution

Implementing a secure, cloud-based IT change management software system, such as Giva's change management software, can offer the following benefits:

A sharp focus on aligning IT services with the needs of business.
Speed up of approvals and document management when undertaking larger releases
Visibility into code and configuration changes throughout the organization by creating a central system of record of planning and implementation results of all IT changes

Moreover, IT professionals can say "goodbye" to these issues:

No way to plan and monitor changes in a single place
Changes being approved by those without the authority to do so
Little or no documentation of changes for compliance audits
The Bottom Line: Take Measures Now to Avoid Stress Later
Work from home policies can be tough for both IT leaders and employees alike. Adapting to a change of scenery and technology can require a different approach from IT leaders each time a request is received. Complicating matters further, employees can be located almost anywhere around the world.
What's the best way for IT leaders to prepare for such a scenario? Extensive, personal, and recurring training for employees, coupled with an IT change management tracking software and a process plan that flows like this:
Request for change is received
Analyze the impact of requested change on the business and its assets/security
Approve or deny the request
Implement the change (if approved)
Post-implementation wrap-up