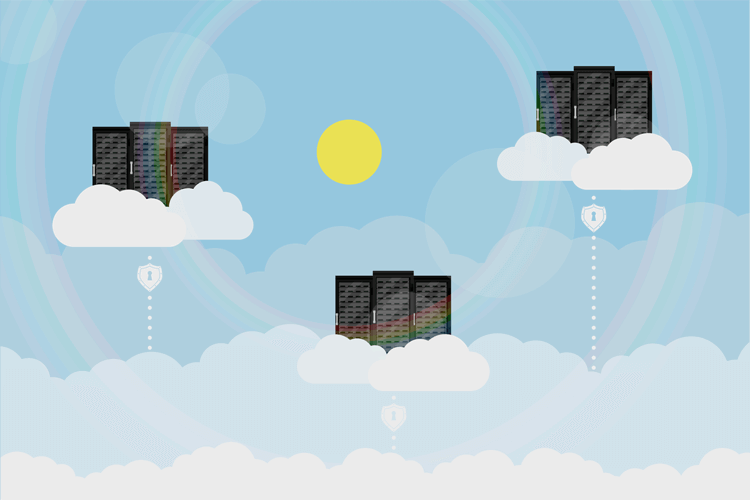 Photo Attribution: Dzianis_Rakhuba/Shutterstock.com
For organizations of all sizes, physical equipment can present several challenges. From space constraints to the additional overhead of repairing and maintaining equipment, the liability this technology presents is no longer worth the additional strain it places on IT leaders and their budgets.
Demand for cloud-based solutions, whether for personal or business use, has grown exponentially in recent years. According to data presented through PR Newswire, the global public cloud computing market is set to reach highs of USD 287.03 billion between 2021 and 2025.
Cloud software has not only provided users with a new way to store data, but it has improved security and eliminated the need for physical equipment on site. Despite its many benefits, there are also drawbacks to cloud computing. With such growth in the field now imminent, it is best to weigh the pros and cons of cloud computing in order to determine whether its implementation is right for your organization or not.
Advantages and Disadvantages of Cloud Computing
What are the main benefits of cloud computing?
There are many benefits of cloud computing. There is no doubt that cloud computing is the modern solution for data storage in today's economy. Let's examine the top benefits of this service:
On-demand and scalable resources: Pay for what you need. Enjoy the flexibility of adding or scaling back services as your business needs change.
Fast implementation: Unlike physical equipment that may require technicians, a cloud solution can be deployed almost immediately.
Easy upgrades and maintenance: No need to worry about setting reminders to update software. In most cases, this will be taken care of remotely, by the provider.
No infrastructure or staff costs: Organizations will no longer have to pay for on-site hardware or software. There is also less of a requirement for on-site IT staff. Smaller organizations may be able to manage this type of cloud system with existing headcount.
Security: Perhaps one of the best reasons to move data to the cloud is its security benefits. Backups are automatic, and your data can be handled from different devices. If trouble strikes, data is easily recovered remotely.
What are some risks of cloud computing?
Although cloud computing presents some fantastic benefits to organizations of all sizes, it is not perfect. There are a few disadvantages of cloud-computing to be aware of. Thankfully, many of these issues are rare and even avoidable if planned for in advance:
Potential downtime: Since cloud services are tied to an internet connection, it is possible that you may occasionally experience slow upload/download speeds, and even outages. So, if your internet connection is offline, then your data may be unavailable.

Solution: The best way to avoid this issue is to pair your cloud software with the most reliable internet provider in your area. Purchasing a package with a greater amount of bandwidth is also recommended.

Platform transfer: Is it time for a change? As an IT leader, you want any transfer from one platform to another to be seamless. You want to ensure that all data is transferred and nothing is left behind. Sadly, this is not always the case. Platform transfer issues are often caused by providers who attempt to "lock-in" their clients by using proprietary software/hardware. This makes it nearly impossible or very expensive to switch between cloud providers.

Solution: When signing a contract for service, ensure that your cloud provider makes clear that you, as the organization, retain ownership of your data.

Customer support: Need a reply "after-hours" or on a weekend? The service a client receives after installation is important, but sometimes lacking when it comes to cloud providers. Since organizations store plenty of data in the cloud, receiving answers to even the simplest of inquiries can be critical.

Solution: Ensure that the cloud provider you choose offers plenty of ways to get in touch, even after standard business hours and on weekends. Look for technical support via email, phone, live chat, knowledge bases, and user forums.
Ready to Proceed? SaaS or Hybrid Cloud?
SaaS
SaaS is an on-demand, cloud-based software delivery model that enables organizations to subscribe to the applications they need without having to host them on site. Invoking peace of mind, SaaS does not require organizations to purchase infrastructure like servers or to hire support staff. A SaaS provider takes care of hosting and provides security and maintenance for their software.
According to Market Research Future, the global SaaS market is expected to grow 17.3% annually for the next few years, reaching $381.21 billion by the end of 2030. What's the reason behind this exponential growth? Perhaps it has something to do with the benefits associated with running a SaaS-based cloud solution, as noted above.
Hybrid
When you need to change direction quickly but fear the change may be too sudden for your teams to handle, a hybrid cloud solution may be right for you.
A hybrid cloud system meshes on-site infrastructure, private cloud services, and the public cloud to work as one. The top benefit of this solution is its agility. When a digital business needs to make a change, it needs to be quick. A hybrid cloud solution allows for the switch-over to be gradual yet effective. It provides IT, teams and staff the necessary time required to learn the benefits of the cloud while still using other systems that they are more accustomed to. Although hybrid cloud systems are transitional, they may be considered a long-term solution by some organizations.
Giva's Cloud Offering for Business and Other Organizations
Today, modern organizations are becoming more willing to embrace and trust cloud services with their data. Many have also recognized that it has become an important tool to foster intelligence and innovation.
Giva is proud to offer products that accentuate the benefits of cloud computing. They come in the form of Cloud Help Desk, Customer Service, Change Management, Asset Management, and Knowledge Management Software. When it comes to efficiently modernizing your organization's tech, it starts with a reliable suite of cloud products, and we have you covered. With Giva, we can help organizations:
Safely encrypt data, including backups 
Business Associate Agreements (BAA) required by HIPAA
Streamline the collection, analysis, reporting, and sharing of data
So much more...
Learn more about our complete suite of cloud solutions, and obtain a free 30-day trial today.