What Is an ITIL Framework?
ITIL® is an acronym that stands for Information Technology Infrastructure Library. ITIL is a best-practice framework that guides the actions, operations, and measurable outputs from IT Service Management (ITSM) teams. 
ITIL is not the only framework in town. However, ITIL is well-known, respected, and widely implemented as a service framework for ITSM operations and service teams, also known as IT departments, help desks, and IT vendors.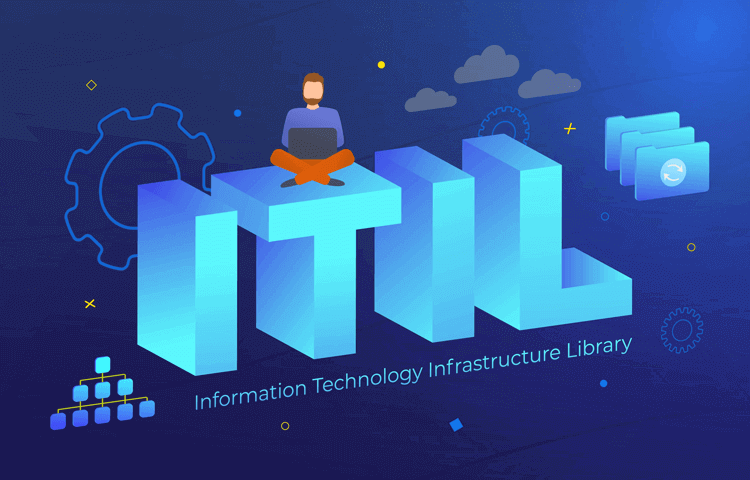 Photo Attribution: BestForBest/Shutterstock.com
ITIL and ITSM even have an internationally recognized standard for excellence, known as ISO 20000. The International Organization for Standardization (ISO) first published this standard for ITIL and ITSM in 2005, and have been steadily updating it ever since as the sector and discipline have evolved.
We cover ITIL in more detail in this article: Information Technology Infrastructure Library (ITIL 4) Overview.
In this post, we will provide more detail on the dimensions of the ITIL 4 framework standard (compared to previous versions), what an ITIL governance model is, and how ITIL compares to other IT and digital management frameworks. 
ITIL was first created in the 1980s, as part of the UK government and civil services modernization program, designed to cope with the increasing use of computers across government departments. ITIL was a framework designed by a UK government agency, known as the Central Computer and Telecommunications Agency (CCTA).
Since then, ITIL has evolved considerably, to keep pace with the ongoing digital transformation taking place worldwide. As a formal framework and training program for IT professionals and managers, ITIL — now onto version 4 (ITIL 4, or ITIL V4) — is now owned by PeopleCert, a global testing and certification corporation.
PeopleCert acquired the ITIL framework, certification and training process in 2021 (alongside PRINCE2) when they bought Axelos, a joint venture between the UK government and the outsourcing giant Capita, founded in 2014.
ITIL (V4) is described as "the framework for the management of IT-enabled services."
In more detail, Axelos describes ITIL 4 as a "certification scheme [that] can be adapted to the learning requirements of the individual and the organization. It uses a modular, tiered approach to allow you to develop a comprehensive view of service management or to focus on specific areas of knowledge."
What Are The 4 Dimensions of ITIL V4?
Now let's dive into the four dimensions of the ITIL V4 framework:
Organizations and People: This dimension focuses on governance, training, talent recruitment and retention of IT teams and how IT teams function across an organization and with external providers and vendors. Organizations need to account for the way ITSM and IT teams and external providers deliver the service and interact with other teams and divisions within a company.  Organizational culture and governance all factor into this dimension. 
Information and Technology: Within this dimension is everything that an ITSM team needs to deliver the service, such as the technology, tools, suppliers, and information systems. IT leaders need to include the capacity and quality of the support service being delivered (e.g. IT Help Desks), and the way this interacts with other teams in the organization, and the governance structure. 
Partners and Suppliers already play an integral role in ITIL service delivery, including ITSM. This dimension focuses on the role of external providers and how they impact ITSM service delivery, including Help Desk and Customer Support software vendors (e.g. SaaS products that companies use). Making a comparison of in-house vs. external, or in some cases, having custom-built software developed instead of buying off-shelf solutions are often conducted when reviewing ITIL and ITSM processes.
Value Streams and Processes: This dimension is about weighing how ITSM services and products are delivered across an organization. ITIL 4 introduced the concept of the Service Value Chain, and the operating model for IT services.
How Does ITIL V4 Compare to Previous ITIL Framework Models?
The previous ITIL certification scheme, V3 (ITIL 3) was discontinued at the end of 2021.
Within that scheme were five levels, from Foundation to Master. ITIL 4 simplifies this, with only two levels, as such, from IT professional to IT leader.
The ITIL 4 certification scheme also rolled five stages — now called dimensions — into four. The five stages of version 3 were:
Service Strategy
Service Design
Service Transition
Service Operation
Continual Service Improvement
It was decided, to ensure ITIL aligns closely with the evolutions and iterations within the IT sector, to roll two of those linear stages into the fourth dimension of ITIL 4: Value Streams and Processes. This way, the ITIL framework and best practices are more flexible, in-keeping with the demands and service delivery practices of ITSM teams and the operational needs of IT leaders.
What's Included in the ITIL V4 Certification Scheme?
The ITIL V4 certification scheme, managed and monitored by Axelos, and delivered by thousands of independent trainers and training companies worldwide, contains several units at levels.
There's an ITIL Foundation level, one that everyone wanting to attain ITIL certification needs to pass before moving on to higher levels. And then, there are levels for ITIL Managing Professionals:
Create, Deliver & Support
Drive Stakeholder Value
High Velocity IT
You can also sit two extension modules on Sustainability in Digital IT, and Acquiring & Managing Cloud Services.
For IT Strategic Leaders, there are additional modules:
Direct, Plan & Improve (IT professionals can also take this module)
Digital & IT Strategy
Now let's take a closer look at an ITIL governance framework and how this compares to other ITSM and IT/digital frameworks.
What is an ITIL Governance Framework?
When we think about IT, ITIL, ITSM and operations management in business communications and internal processes, it's different from "governance" in a democratic political system.
Governance in IT operations means the "processes that ensure the effective and efficient use of IT in enabling an organization to achieve its goals."
Gartner goes on to describe, "IT demand governance (ITDG--what IT should work on) is the process by which organizations ensure the effective evaluation, selection, prioritization, and funding of competing IT investments; oversee their implementation; and extract (measurable) business benefits."
IT governance is a decision-making and business management process and responsibility. In practice, this means that senior business leaders set operational visions and targets, and then different departmental leaders, such as IT leaders, implement them.
IT leaders implement IT governance through frameworks, such as ITIL 4, RACI, and others, including Six Sigma, Lean, and Agile. In some cases, these frameworks are used in partnership and alongside one another, depending on the operational and ITSM needs of the organization.
In the next section, we compare ITIL (version 4) to other popular ITIL service management frameworks.
ITIL Compared to Other IT/Digital Frameworks
ITIL is one of several popular IT service management, IT and digital frameworks. None of them are mutually exclusive and need to be followed to the letter without consideration or including aspects of other frameworks.
As an IT leader or IT professional, it makes sense for you to include many frameworks, or aspects of them, into IT strategic planning and day-to-day IT operations.
In this section, we will briefly cover several of these and compare them to ITIL 4:
RACI (Responsibility Matrix): An organizational operational model for the roles in completing tasks or deliverables for a project, business, or operational function, such as ITIL and ITSM. For more information and a framework you can use, we have a series of downloadable actionable incident management templates, including a RACI Incident Management template.

Six Sigma: "A set of techniques and tools for process improvement." IT professionals and managers can be trained in Six Sigma techniques, and apply those to ITIL and ITSM processes.

 Six Sigma started life in the engineering and manufacturing sectors, originally created by Bill Smith, an engineer at Motorola, in 1986. Motorola later registered Six Sigma as a trademark in 1993, and in 2005 said that this approach had generated over $17 billion in savings for the company. Other large manufacturers, such as Honeywell, General Electric, and most of the Fortune 500 started to use Six Sigma to generate billions in quality and efficiency savings.

Lean is: "A way of thinking about creating needed value with fewer resources and less waste. Lean is also a practice consisting of continuous experimentation to achieve perfect value with zero waste. Lean thinking and practice occur together", according to the Lean Enterprise Institute.

Lean approaches to software development (known as a Lean Methodology) became popular in the 1990s and early 2000s. Although it first originated in Japan, at the car manufacturer, Toyota, in the 1950s. Lean is a methodology that accelerates software development timescales, reduces waste, and improves productivity.

Agile lets organizations offer value to their clients more quickly and with fewer difficulties through an iterative approach to project management and software development. An Agile team produces work in manageable, small-scale increments rather than staking all on a larger, single launch.

The original "Agile Manifesto" was published in 2001, and there have been numerous iterations and improvements on that IT framework ever since.
As you can see, every ITIL service management framework or framework that can be applied to ITIL and ITSM can be used creatively, for different organizations, and in different ways. IT leaders can pick and choose how to apply these various frameworks. ITIL 4 certainly has its advantages and is a recommended approach for IT service management and operations teams wanting to improve efficiencies, customer satisfaction, productivity, and value generated for the organization.