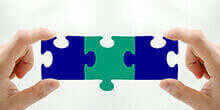 Context-focused giving is a method through which corporate philanthropy and strategy are combined to achieve both social and economic gains. The basic idea behind context-focused giving is giving that benefits the environment in which a company operates and, thus, that company's competitive advantage. More specifically, context-focused giving considers the contextual conditions most important to a company's strategies and industry, and targets their philanthropy toward improving one of these contexts so that the community and the company both reap rewards from the efforts. When companies are able to clearly identify how their philanthropic initiatives are not only creating good for society, but also for the company, charitable expenditures will not suffer from lack of justification in terms of bottom-line benefit.
In their Harvard Business Review publication, "The Competitive Advantage of Corporate Philanthropy," Michael E. Porter and Mark R. Kramer dispel the "myth of strategic philanthropy" in cause-related marketing efforts. Cause-related marketing, or corporate giving campaigns that often include a vague link between a corporation and a non-profit campaign, are largely intended to benefit the corporation's public image, acting as forms of publicity and marketing to generate goodwill. They argue that most corporate giving programs lack any solid connection to a company's strategy, and that "the acid test of good corporate philanthropy is whether the desired social change is so beneficial to the company that the organization would pursue the change even if no one ever knew about it" (Porter and Kramer 8).
Context-focused giving involves careful research and analysis as to how Corporate Social Responsibility initiatives dually create social benefits and benefits to one or more areas of their competitive context: factor conditions, demand conditions, context for strategy and rivalry, and related and supporting industries. Company's can engage in successful context-focused giving by identifying contextual conditions most important to their strategy and the health of their industry, and developing a giving program that improves the nature of this context, creating social and economic benefits. Just as individuals are impacted and shaped by their environment, the same is true for corporations. Context-focused giving provides an avenue for which to benefit both the individual and the company.
Factor Conditions refers to the size, quality and nature of the specialized inputs necessary for a company to operate. This includes a company's capital resources, its physical, administrative, information, scientific and technological infrastructure, and the availability of adequately trained employees along with natural resources. DreamWorks SKG implemented a successful context-focused giving strategy geared toward improving education and training for low-income students in Los Angeles. Partnering with Los Angeles Community College District and local schools, DreamWorks created a multifaceted program that combined classroom learning, mentoring and internships to provide low-income students in the area with the knowledge and skills necessary to work in the entertainment industry. The program had the social benefit of improved education and better employment opportunities in the community (context), as well as the economic benefit of expanding DreamWorks' availability of specially trained workers. Even for the specially trained graduates who did not go on to work for DreamWorks and instead worked for other companies, including competitors, DreamWorks could still count on the benefit of their project in improving the entertainment industry as a whole. DreamWorks is a part of an entertainment cluster, or "a geographic concentration of interconnected companies, suppliers, related industries, and specialized institutions in a particular field..." (Porter and Kramer, 4).
Corporations may choose to focus on the context of demand conditions when developing corporate strategic philanthropy, or conditions related to the size of the local market, customer sophistication, and potential areas of growth and change in regard to customer demands and needs, both locally and globally. One area that corporations have targeted is improving the sophistication of customers, and thus their demand for more sophisticated products and services. Apple Computer has targeted customer sophistication as a part of a long-standing context-focused corporate giving program that provides schools with Apple products. This creates social benefit of improved education and access to learning products in low-income areas while also expanding Apple's customer base.
Stay tuned for part 2!