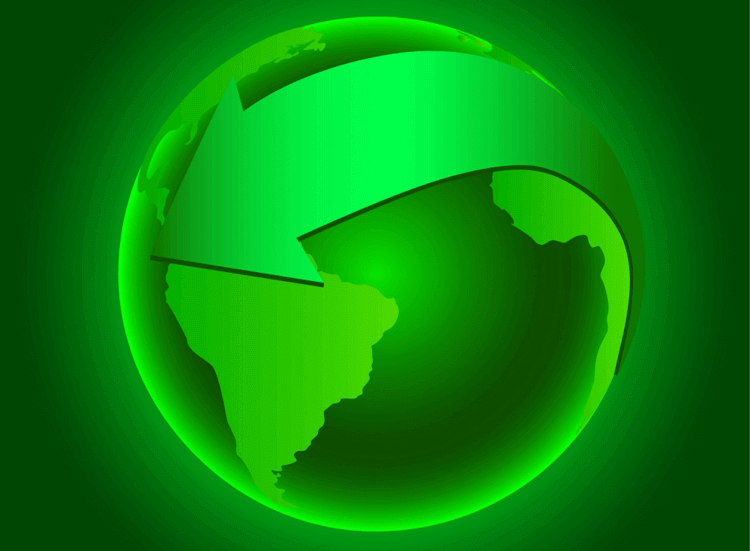 Take a look at any of the top trends for Corporate Social Responsibility (CSR) in 2015, and it is guaranteed that becoming more environmentally friendly, or "going green," is one of them. Now more than ever, companies are implementing "green" measures not only because the believe it is the right thing to do, but also because they are finding it helps them stay competitive. The following are some simple steps you and your company can take today to decrease its impact on the environment while also saving some money in the process.
Going Green in the Office
Use Compact-Fluorescent (CFL) OR LED lights

Although CFL and LED lights are slightly more expensive than standard incandescent bulbs, they last significantly longer and use much less energy. See this LED calculator or CFL calculator to see exactly how much your company's office could save by making the switch.

Use natural light wherever possible

Artificial lighting represents a whopping 40% of electricity consumption in a typical office building, and almost a quarter of all electricity in the United States. Open up those blinds every once in a while and let the natural light shine in. Your company's electric bill will see a difference slowly but surely.

Go paperless

According to a report by the Natural Resources Defense Council, a typical office disposes of about 350 pounds of waste paper per employee, per year. Reduce paper waste by going paperless. Here are some ideas to get you started.

Use Post-Consumer Waste (PCW) paper, paper products, and packaging

If your company must have paper, you can make sure it is paper with a high percentage of post-consumer waste (PCW). Also be sure to print on both sides of the paper, think before you print, and, of course, recycle, reduce, and reuse paper whenever possible. While you are at it, reduce the font size in documents and make sure your mailing lists are up to date in order to avoid sending out unnecessary letters.

Power down

Believe it or not, machines that are turned off yet still plugged into a live outlet consume the majority of office power. There are products available which automatically power down company computers at night. You can also save power by setting a company policy that disallows the use of screen savers; and instead, set monitors to power off after everyone has left the office.
Going Green with Policies
Telecommute

Allow employees to work from home occasionally. Not only does this reduce the environmental effects of commuting, but it also saves employees the expense and time of getting to the office.

Eco-friendly transportation

Encourage employees to participate in a carpool program, use public transportation, drive an alternative fuel vehicle, or ride a bike to work. Any of these eco-friendly methods of transportation will reduce the environmental effect of your company and highlight your environmental commitment while also saving you money in the process.

Go casual

If your company's industry permits it, set a business casual policy for the office. Not wearing a suit everyday means much less dry cleaning, which is better for both the overall environment and everyone's health. It will also save your employees personal expenses.
Going Green in Advertising
Use digital advertising

Not only is digital advertising much cheaper than print advertising, but it also yields valuable data that allows a company to track its marketing campaigns, understand its audience better, and experiment with advertising more freely. And, of course, it is far more eco-friendly than print advertising.
Just Going Green
Be committed

t is relatively easy to enact green standards into your company. The hard part is to keep them up and keep everyone on board. Set your goals, encourage employee participation, and stay committed. Be sure to ask for suggestions and keep the dialogue open. When everyone is involved and in the loop about what is happening, it is easier to stay on track.