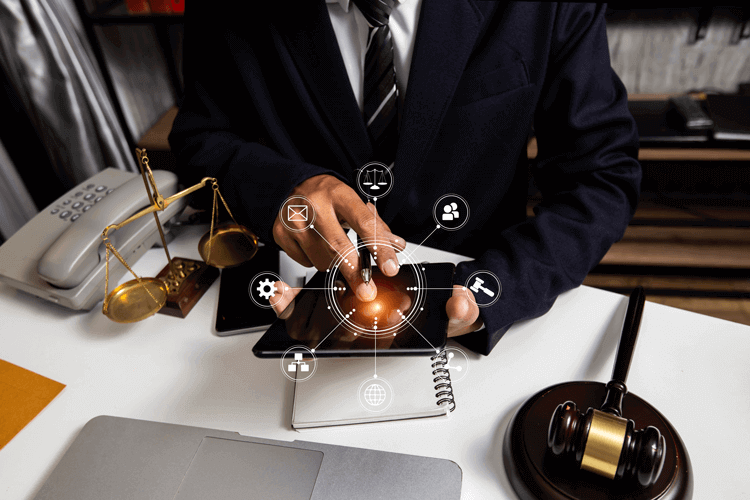 Photo Attribution: SOMKID THONGDEE/Shutterstock.com
Cloud computing is best understood as software or service that can be accessed and utilized over an internet connection, and mobile apps where available. Cloud software is now in use across a wide spectrum of industries. Whether it be for security, productivity, cost-efficiency, or something else, the cloud has a lot to offer organizations, with little downside in return.
The field of law is essential. Firms are housing or sending documents with personal data that is both time-sensitive and crucial to the outcome of a case. One of the last things a lawyer needs to think about during trial preparation is data security. They need to focus on serving their clients while other systems, namely those guarding sensitive data, run seamlessly in the background.
When it comes to file storage for law firms, saving data on local computers or hard drives is risky and means that it is time to look at a more modern solution. Based on current trends, law firm cloud adoption across the United States has slowly gathered momentum, becoming the go-to solution for data storage and collaboration. If you need some more convincing, continue reading to evaluate the benefits of cloud computing in your law firm.
What is the current usage rate of cloud services in the field of law?
Law firm cloud adoption is best described as 'slow and steady'. The most recent cloud computing report conducted by the American Bar Association found that the uptake that was expected in 2020 is finally taking hold, especially by independent lawyers. Although, the legal sector has been much slower to adopt cloud computing than the business world in general. The report found that from 2021 to 2022, cloud computing increased from 60% to 70% among respondents, and among independent legal practices, the increase went from 52% to 84% in the same timeframe.
What is making cloud computing for lawyers so attractive in recent times?
They love the ability to have a fast and scalable technological solution without the need for upfront investment in hardware, support services, and more. Lawyers are also on the go. They enjoy 'anytime' access and robust data backup options. For these reasons, cloud adoption is bound to continue growing amongst law firms across the United States in the years to come.
In what ways can law firms work with clients in the cloud?
By now we have determined that when law firms move their data to the cloud they get benefits that include secure, remote accessibility, as well as reliable, efficient, and collaborative workflows. So besides the benefits of secure data storage, how can lawyers work with clients in the cloud? Below are just a few examples.
Tracking time and billing accordingly
Centralized case management
Creating, managing and sharing schedules
Document management including secure sharing
Conflict checking/contact management
Rather than trying to find several programs to do different tasks, find one cloud based law firm software to address each of your needs.
What security benefits of the cloud are important to law firms?
Law firms can be attractive targets for cyber criminals. One legal case can require thousands upon thousands of documents filled with highly sensitive data that can be damaging to individuals if leaked. Law firms moving to the cloud can avoid many potential issues while maintaining integrity from consultation to trial/settlement.
If a cyber criminal gets hold of data at your law firm, consequences can include:
Compromised communications
Inability to access information (ransomware)
Public leaks of personal information
Loss of current or future client trust
Lawsuits and other penalties as stipulated by region
Law firm cloud adoption, when done correctly, can yield several benefits to security and reduce or eliminate potential cloud storage ethical and legal issues. Ensure the following features to maximize security benefits:
End to end data encryption - in transit and resting
Automatic backups - lawyers are busy, and remembering to conduct regular backups can sometimes be an afterthought
Uptime guarantee - downtime can be damaging in a time-sensitive field like law. Check to see if the provider you choose offers an uptime guarantee
Evaluating cost and reliability of the cloud
Law firms moving to the cloud often cite two factors for their decision: reliability & cost. When evaluating whether or not cloud computing software is right for your law firm, it is important to look at key points from each area.
Reliability: Cloud servers offer redundancy, something that internal servers cannot. According to ITPro, the term redundancy refers to "duplication of essential functions or components of a system that tries to increase the reliability of this system." In other words, the cloud can utilize a secondary server if the primary system fails. This aids in reducing downtime, meaning you can continue working even in the unfortunate situation of a system failure.
Cloud systems also continuously update and sync data to create local server backups. No need to add that task to your list, cloud systems have your back by working behind the scenes to ensure that your data is safe and accessible in case of a total system failure or breach.
Cost: Cloud technology saves law firms money by eliminating the need for local data storage and maintenance. Not to mention that its automated functions also increase efficiency. Cloud systems are also more predictable as they usually come with a set cost for the services required. Physical hardware can often create unexpected costs due to aging that would require repair or replacement.
The biggest cost-saving mechanism of cloud services is its scalability. Cloud computing gives law firms the option to either increase or decrease data storage needs or other features to reflect current caseloads. This allows them to adapt to peak seasons, such as slip & falls in the winter while saving money during slower times. This can be particularly helpful for small to medium-sized organizations that are operating on a budget.
The bottom line: Cloud software for the legal sector - why it's time your law firm migrates to the cloud
File storage for law firms is an important component that lawyers often do not have time to think about. This is especially true when managing several high-profile cases at one time. Cloud computing can work behind the scenes to automate file storage and other essential business in a secure, cost-effective, and reliable manner.
If your law firm is still using physical infrastructures, like hard drives or personal computers, to save and share data, then it is time to go modern and make the switch to cloud computing with legal cloud solutions. The benefits include but are not limited to, reduced downtime, up-front pricing, eliminate costs involved with repairing physical infrastructure, and provide world-class security that can work seamlessly across desktop, mobile or tablet devices. Although the uptake of cloud technology in the field of law has slowed, firms are encouraged to make the switch, as cyber criminals look towards them as prime targets.