Service Level Agreements: What Are SLA Compliance Reports and How to Measure Success
In the software and IT sector, software companies and IT help desks and service centers manage customer relationships and expectations using Service Level Agreements (SLAs).
Service Level Agreements are integral to the smooth running of relationships between IT help desks and Software as a Service (SaaS) companies, cloud-providers, other technology vendors, and customers.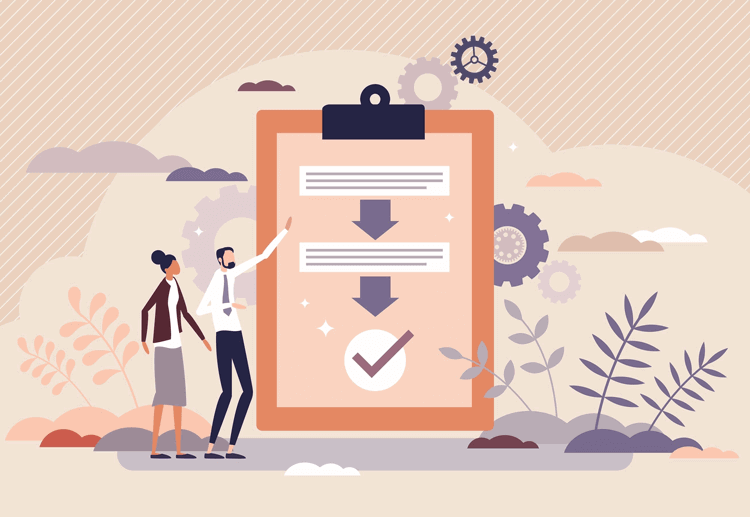 Photo Attribution: VectorMine/Shutterstock.com
Customers, whether they are businesses or individuals, need to know what they can expect if a problem arises. In this article, we provide the following information:
Service Level Agreement definition
How to measure SLA compliance
Key elements of SLA compliance reports
Tips on SLA compliance goals 
SLA compliance report template (example)
What is a Service Level Agreement and Why is it Important?
A Service Level Agreement (SLA) usually refers to the contract between an end-user and a service provider, which provides information on contract specifics, maintenance, delivery times, and other features regarding what the customer will receive as a part of the commitment with a provider.
The SLA meaning in software and the IT sector is just that — setting the level of service to be provided and clearly stating expectations between two parties. Before any money changes hands, contracts and SLAs are usually reviewed and signed. Expectations are made clear from the establishment of the relationship. This is critically important in creating a foundation of trust between the parties, hopefully reducing or eliminating future confusion or misunderstandings.
Learn more about the basics of Service Level Agreements.
In another article, we outline the 6 key components that every vendor should include in a Service Level Agreement. Of course, you might find your organization has signed more detailed SLAs, or provides SLAs with more in-depth provisions than this outline. We merely suggest a 6-point checklist as a useful starting point.
Service Level Agreements also outline security measures IT vendors put in place, and the uptime customers can expect (almost always, 99.999% is set as the industry standard).
For a more specific example of an SLA, see Giva's Sample IT Help Desk Service Level Agreement.
We also have an in-depth Whitepaper on Implementing Service Level Agreements.
How to Measure SLA Compliance
Measuring SLA compliance is a numbers game; it comes down to whether the team providing the service is meeting Key Performance Indicators (KPIs) set out in the SLA.
Service Level Agreements usually establish a severity scale. For example, a ticket logged at Level 1 could be the highest priority. Tickets logged at levels 2 through 5 might be lower priority. How important/urgent a customer request is and how quickly it is resolved are the most effective measures for SLA compliance.
KPIs, in order to align with Service Level Agreement goals, are often based on the following measures of success:
What is agreed upon in the SLA and contracts between provider and customer (including internal customers, for IT Help Desks)
The exceptions a customer has for service and the level of importance to resolve service issues and problems quickly
An established priority rating for inbound support tickets, messages, emails, and calls
How quickly those tickets are resolved 
Agreed upon timescales for resolving tickets according to the severity level/priority
The length of time customers must wait for a resolution or for a ticket to be logged
The reason for this is, it's absolutely critical to resolve high severity level cases consistently within the SLA. However, sometimes lower severity level cases can fall outside the KPIs set for the team handling cases.
In other words, most software and IT companies like to say that they resolve 100% of all Severity Level 1 cases and 90% of Severity Level 4 cases within the times stated in the SLA. Customers will appreciate the process more when they know that if they are really in trouble, there will be resources there to help them.
Key Elements of SLA Compliance Reports
A good SLA compliance report should contain the following elements in order to effectively track and monitor the performance of the vendor in accordance with the agreed upon SLA parameters:
General Information
Severity Level: The priority level assigned to each ticket according to the urgent nature of the request
Tickets Inside SLA:  The number of tickets that have been resolved within the parameters of the SLA agreement
Tickets Outside SLA:  The number of tickets that have NOT been resolved within the specified SLA timeframe
Total Tickets: All tickets within designated parameters of the SLA Compliance Report (for example: all tickets logged within a certain severity level, date range or by category, customer, etc.)
% Within SLA: A breakdown of the percentage of the total tickets that were resolved within the SLA parameters
From here an SLA compliance report may drill down to more specific information, including:
Ticket # Listing
Customer Name
Nature of Request (or Category)
Ticket Assignee
Business Days over SLA
Under each ticket listed, one should be able to drill down further to specific ticket information, such as:
Customer ID and information
General ticket notes and pertinent information 
The timeline and history of the ticket detail
Resolution detail
SLA Compliance Goals
As outlined above, SLA compliance needs to include everything from response times to severity levels to cover the minimum Key Performance Indicators.
However, from a manager's perspective, an SLA and the associated KPIs are a chance to measure, learn, and iterate. For example, say one month response times are slower and ticket resolution is falling outside of the SLA: What can you learn from this?
And more importantly, how can you improve so that tickets fall back in-line with SLA compliance?
The key to setting SLA compliance goals is using them as a tool for continuous feedback and improvement. With the right IT, Help Desk and Customer Support software, you can monitor and measure everything with speed, accuracy, and the ability to make real-time improvements to team performance.
Setting SLA compliance goals is essential for customer relations and customer support performance and monitoring.
Example Service Level Agreement Compliance Report
Below is an example of a Giva Service Level Agreement Compliance Report. It provides a high-level overview of what customer support and help desk managers can see 24/7, in real-time, when using Giva as an integrated part of their organization's IT Help Desk and Customer Service software management solutions.
As you can see, it shows the number of tickets in progress, the respective severity levels, response times (inside or outside of SLA targets), close times, and specific tickets being handled outside of an SLA. Too many tickets outside of SLA targets could easily impact compliance and customer satisfaction scores, so it's important to keep this number as low as possible.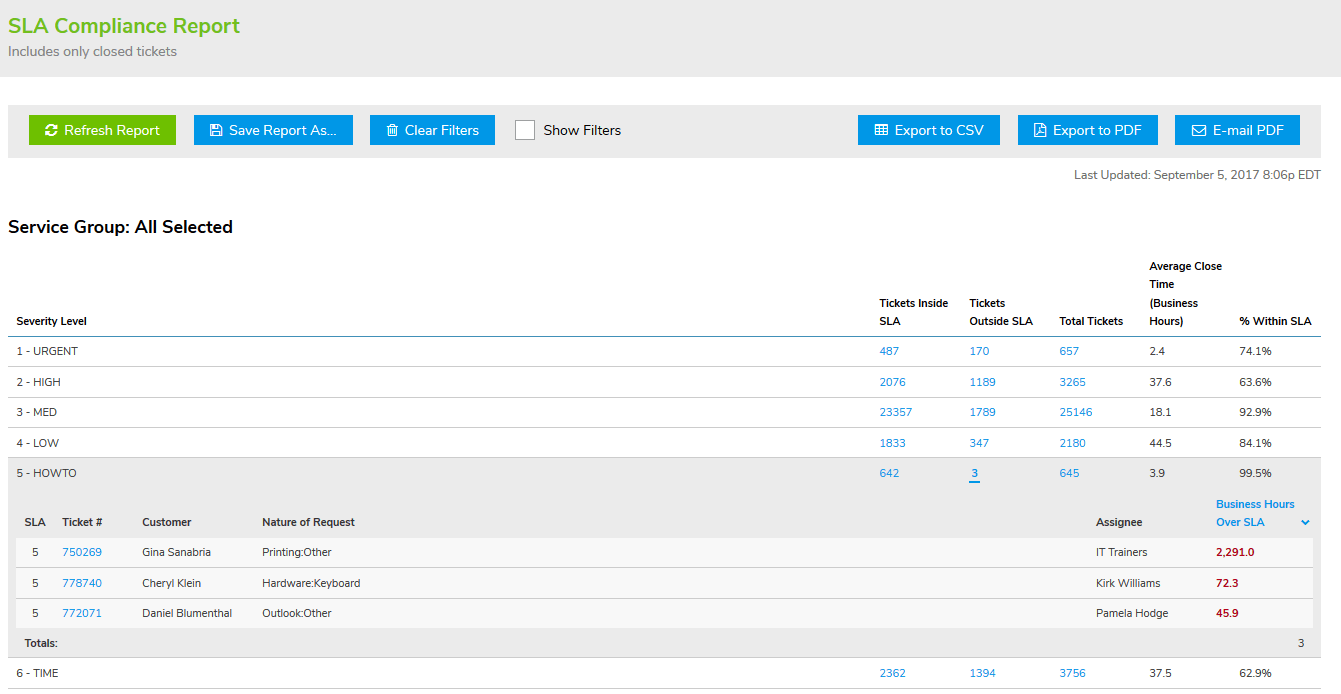 See how Giva implements a 360 degree real-time reporting overview for clients on our Reporting Analytics page.