Top 7 KPIs for Measuring Change in ITIL
Change Management, now known as Change Enablement in the Information Technology Infrastructure Library (ITIL®), is a way of managing change requests and implementing updates and changes in software, applications, and IT systems.
As IT leaders and professionals know, ITIL is a best-practice framework or set of best practices that guide IT Service Management (ITSM).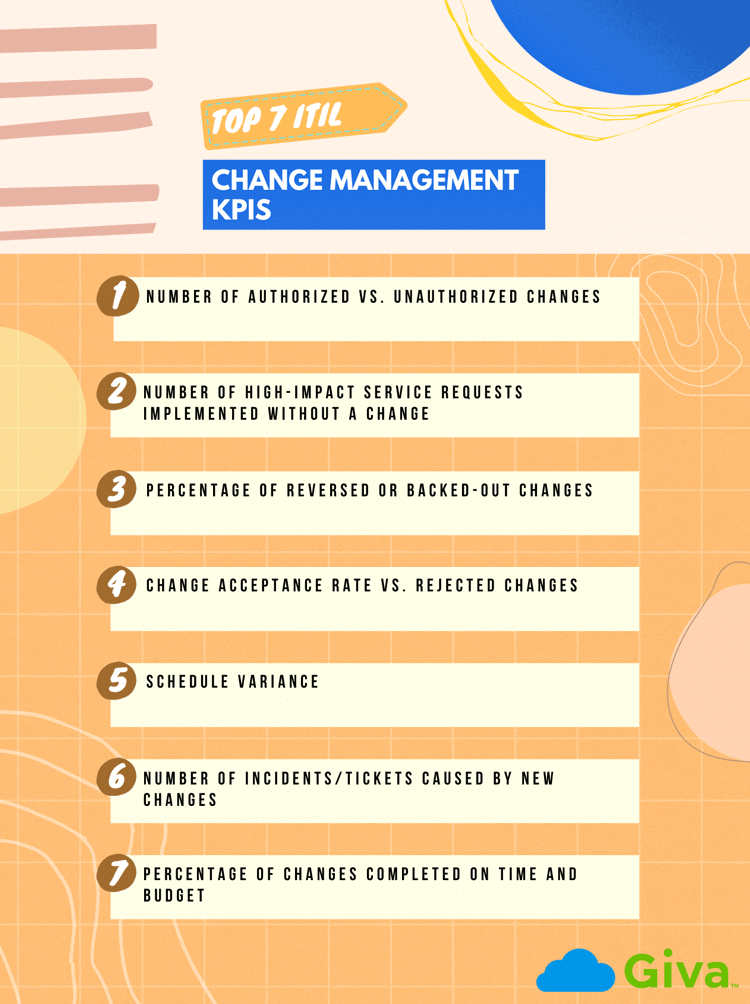 When ITIL version 4 launched in November 2018, Change Management became Change Enablement. Enabling, managing and tracking Change Management in ITSM requires a smooth operational process and one of the most effective ways to ensure this is by monitoring these using key performance indicators (KPIs).
In this article, we will give you more information on the KPIs you can use to measure and monitor changes in ITSM, using ITIL best practice guidelines and frameworks.
What is Change Enablement in ITIL?
Anything change-related in ITIL and ITSM is "the addition, modification, or removal of anything that could have a direct or indirect effect on services."
Change Management (Change Enablement) effectiveness is only as good as how well it is implemented.  It's important to ensure that everyone on an IT team, and those who will be affected by software or hardware changes, is aware of the potential impact, such as scheduled or unscheduled downtime.
The goal of ITIL Change Enablement is:
"To maximize the number of successful IT changes by ensuring that risks have been appropriately assessed, authorizing changes to proceed, and managing the Change Schedule."
Hence the need to follow Change Enablement best practice guidelines and, within that framework, adhere to KPIs so that the ITSM team and stakeholders can monitor outputs, performance, and changes being made.
There are three types of changes that can be made by ITSM teams:
Standard Change: Low-risk, pre-authorized, and easy to understand and implement. A change manager is responsible for overseeing these once a Request for Change (RFC) is submitted.
Normal Change: Higher-risk, usually larger in scope or impact, and this involves planning and oversight from the Change Advisory Board (CAB).
Emergency Change: Unexpected changes required following an incident, usually a serious one, and these often involve an emergency Change Advisory Board to approve.
For most changes, an RFC is an essential component of the process, as without this, there's no way of knowing what's being done or monitoring the outputs.
For more information, here is Giva's Free Template: Request For Change (RFC) ITIL Checklist.
Now let's look at the 7 KPIs ITSM teams can use to monitor Change Enablement outputs and performance.
7 KPIs to Measure Change Enablement in ITIL
Number of Authorized vs. Unauthorized changes

The aim is to keep the number of unauthorized changes low compared to authorized changes.

A low number of unauthorized changes over a fixed timescale (e.g., every month, quarter, year), shows that you have a robust and responsive approval process and can handle changes effectively.

Number of high-impact service requests implemented without a change

High-impact service requests are another type of change that's been implemented without an RFC.

This can happen for numerous reasons, such as vendor software updates that are rolled out without going through an ITSM team's Change Enablement process.

You can track these changes and monitor their impact using a configuration management database (CMDB). However, a high number over a fixed period suggests that your IT infrastructure is vulnerable, and you need to take a strategic approach to reduce the number of high-impact service requests implemented without a change.

Percentage of reversed or backed-out changes

Every change being implemented needs a back-out or rollback plan. You must be able to restore systems to how they were prior to changes being made in case anything goes wrong during implementation.

Track this metric with a Change Enablement software suite, such as Giva's SaaS Change Enablement Software, including its intuitive, customizable Change Management metrics dashboard.

A high percentage of reversed or backed-out changes suggests there are too many poorly planned or executed changes going through the RFC process.

Change acceptance rate vs. Rejected changes

A high change acceptance rate is a way of monitoring the number of change requests being approved by the CAB.

This KPI shows that your organization's Change Enablement process is robust, operational, and effective.

Schedule variance

Schedule variance is the difference between the amount of time a change implementation is expected to take vs. the amount of time it actually takes.

For example, implementing a fairly standard change request should take two hours. Instead, it takes five in practice, creating a schedule variance of three hours.

It's a useful KPI for assessing whether your change plans are being implemented efficiently. A high cumulative number shows that changes need to be communicated and implemented more efficiently.

Number of incidents/tickets caused by new changes

As IT professionals know, not every change goes to plan. Unfortunately, some changes cause a cascade effect of incidents and support tickets as a result of a change being implemented.

A high number of incidents/tickets as a result of changes shows that they need to be communicated better. Especially if these changes are going to affect other operational and service areas within the wider organization.

Percentage of changes completed on time and budget

And finally, IT leaders and stakeholders need to know how many changes have been completed on time and within budget. Especially if third-party vendors and suppliers are involved.

Even if that is not the case, budget holders need to know: How much did this particular change project cost internally? E.g. how many hours of internal time did it take to implement?

A higher percentage of changes completed on time and within budget shows that you have an effective Change Enablement process in place.

Here's an example of a Change Volume Report in Giva's RFC Change Management Platform.

How to measure Change Enablement KPIs in ITIL/ITSM

One of the most effective ways to measure and monitor Change Enablement KPIs in ITIL/ITSM is with Change Management software. Giva's ITIL Change Enablement tool defines processes to speed up approvals and manage the documentation needed to support high-velocity releases.

This way, your processes and systems can be aligned with ITIL's best practices. At the same time, you can even integrate this software with your organization's Configuration Management Database (CMDB).

Ensure RFCs and templates for these are ready to use so that there's a smooth workflow for the entire process.

Change Enablement software allows for complete change visibility, fast implementation, cross-team collaboration, and agile change control.

Key Takeaway

As a reminder, here are the 7 top KPIs to measuring Change Management in ITIL:

Number of Authorized vs. Unauthorized changes
Number of high-impact service requests implemented without a change
Percentage of reversed or backed-out changes
Change acceptance rate vs. Rejected changes
Schedule variance
Number of incidents/tickets caused by new changes
Percentage of changes completed on time and budget

Want a powerful, feature-rich, ITIL-enabled Change Management software solution?

Measure Change Management and Enablement KPIs with Giva's SaaS Change Enablement Software.