What Does Business Relationship Management (BRM) Mean in ITIL?
In any IT-based service operation, such as IT Service Management (ITSM), especially when they operate on ITIL principles, a Business Relationship Manager (BRM) is the go-between with the rest of the organization.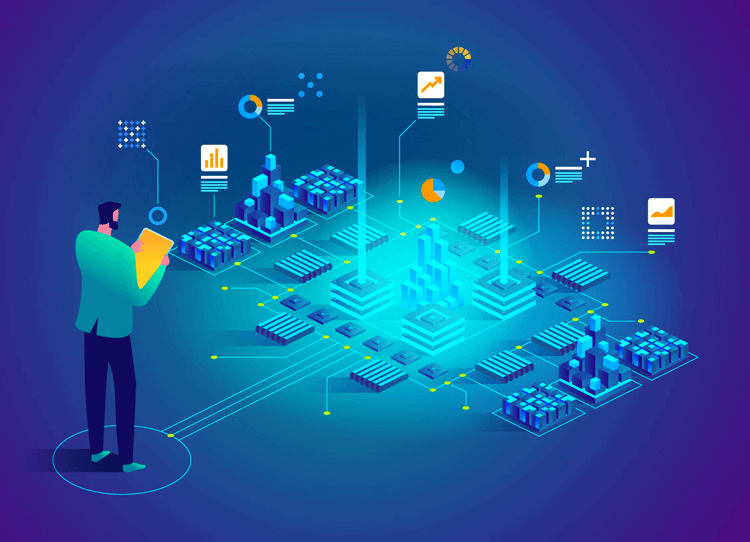 Photo Attribution: Ico Maker/Shutterstock.com
BRM Meaning
Business Relationship Management (BRM) is an ITIL® (IT Information Library) discipline that coordinates the work of IT teams with senior leaders, managers, and operational stakeholders in large organizations.
One of the reasons BRM plays a valuable role is that business objectives don't always translate into technical realities. And on the other hand, technical realities can't always meet business and operational objectives.
In many ways, an IT professional in a Business Relationship Management role acts as a translator. BRMs identify solutions to problems and make the business case for IT projects that need implementing, such as process, system, and service overhauls, updates, and new software to have developed or integrated into the company.
In this article, we will take a closer look at Business Relationship Management and the role of a BRM. 
What is BRM in Today's Business Climate?
Over the years, Business Relationship Management has gone from being an informal role to a structured profession. IT systems have evolved considerably, and one of the many challenges organizations face are bloated technology stacks and systems.
Not to mention shadow IT systems being used by employees and an increasingly extensive range of cyber threats and security risks.
It's more important than ever for IT functionality to deliver efficient business and operational value. Software, systems, hardware, apps, and cloud services are integral to the success and growth of any business. Especially with the emergence and hyper-growth of new innovations, such as artificial intelligence (AI).
With all of that in mind, the role of Business Relationship Management is clearly mission-critical. Businesses need a strong and established way of communicating goals, objectives, tasks, and even complaints to IT teams and functions.
At the same time, ITSM teams need a clear way to ask and lobby for resources, budgets, and senior leadership support. Hence the value of having a person responsible for Business Relationship Management in ITIL.
It's worth comparing Business Relationship Management to Customer Relationship Management. The roles and functions are similar, but there are some key differences.
Business Relationship Management (BRM) vs. Customer Relationship Management (CRM)
BRM and CRM Practices
Business Relationship Management is a cross-organizational role that handles the relationship between ITSM and other teams and leaders. Acting as a go-between, a BRM plays a vital role in communicating business objectives to the IT team and coordinating resources to deliver services and projects.
Customer Relationship Management is an external-facing role. Almost every organization with customers (especially B2B companies) has one or more CRMs, alongside account managers and customer success leaders.
Customer relationship managers usually sit within sales or customer service functions, depending on the organization chart and business model. Managers and their teams often rely on Customer Relationship Management (CRM) software to perform their roles.
CRM software suites are powerful tools that make it easier for teams to collaboratively manage hundreds, even thousands of customers with a few clicks. With this software, anyone from C-Suite leaders to front-line customer service agents can see everything from the customer lifetime value (CLTV) on a granular level through to the individual messages and call logs from customer interactions.
As you can see, the roles are quite different. But it's understandable that they can get mixed up. Business relationship managers use other software tools, such as ITSM software and change management suites, to keep leaders and teams up-to-date on progress and projects.
How to Implement BRM in ITIL
Depending on the size and scale of your organization, a BRM might be embedded in service delivery or ITSM teams. In other cases, the Business Relationship Management role will operate alongside other middle managers and report to IT Service Management.
However, when the BRM function is more evolved, then they could report to C-Suite IT leaders such as the CTO or CISO. At this level, the BRM will have more influence over service delivery and product roadmaps.
BRMs shape strategy, and although it's a role whereby an IT/engineering background is useful, it's not essential. You could be promoted or recruited into such a role after an IT career or come in through a different route, including operations and other managerial backgrounds.
Here are 6 ways to implement Business Relationship Management in your company and IT team:
Manage Internal Customer Relationships

Internal Customer Relationship Management is a key area for BRMs.

ITSM is a service, and its core function is to support the rest of the organization. When internal customers are happy, key performance indicators (KPIs) are being hit, and service standards are being maintained, then ITSM is delivering value.

Of course, delivering continuous value isn't easy to maintain. A BRM needs to keep a close watch over the following:

Customer satisfaction KPIs
Guaranteed service uptime
ITSM support ticket response times, especially level 2 and 3 resolutions
Any disruptions to service delivery, including unscheduled downtime and major incidents
Number of successful self-serve resolutions vs. Number of overall support tickets
Number of tickets resolved ideally within SLA
Tickets resolved within SLA timescales vs. outside SLA timescales
Ticket escalation levels

Maintain ITSM Service Standards

Making sure the IT team is hitting KPIs is part of the role of Business Relationship Management. Even if the IT team is managed on a day-to-day basis by an IT Service Manager, it is normally the responsibility of the BRM to report service delivery standards to senior leadership.

At the same time, the quality of the service is crucial. Support tickets need to be resolved quickly, ideally within SLA guidelines. But these need to be handled well so that internal customers don't need to reopen new tickets for the same problem.

It's also helpful to ensure that self-serve tools are being maintained. This way, if the same tickets keep coming in, ITSM has the resources and processes to update internal knowledge bases and self-serve content.

Any actions that can be taken to improve the above functions will result in improved response and resolution times and the demand upon help desks.

Ensure ITSM KPIs are Being Achieved

As above, it's crucial for the success of the ITSM team and wider organization that ITSM key performance indicators are being achieved.

With an ITSM manager and BRM monitoring these, if there are any reductions in service quality or speed, the root cause can be identified and resources deployed to fix the problem.

Handle Internal Customer Complaints

ITSM team members can't get it right every time. Unfortunately, some internal customers aren't going to be happy, and this might result in an issue being raised as a complaint.

When this happens, a business relationship manager can step in and find a resolution for the complaint. Once a resolution has been found, service improvements can be reported to the IT team to avoid similar incidents in the future.

Support ITSM Change Management

ITSM Change Management is when an IT team is responsible for implementing a new change. It could be commissioning software that will be integrated into internal processes and workflows or upgrading systems that are outdated.

In most cases in ITIL and ITSM, any new changes go through a "Request for Change" process.

At this stage, business relationship managers need to coordinate with business leaders to understand the goals and objectives behind significant IT investments. It is crucial to understand and clarify the following:

What does the company want to achieve?
What are the timescales for project implementation?
What resources are being invested in this project?
How will success be measured?

Business relationship managers can then work with ITSM managers and external vendors to create a scope of work (SOW) for the project before it starts. This way, everyone from the CEO down is clear on what's being done, why, and how success is measured for the project.

Work to Improve ITSM Services

ITSM and any tech-based service areas are in a state of continuous improvement, especially if your organization applies Agile or similar methodologies. Part of a business relationship manager's job is to identify where service improvements can be made and then create a plan to implement them.
Summary and Key BRM Takeaways
Business Relationship Management coordinates the work of IT teams (ITSM and ITIL) with senior leaders, managers, and operational stakeholders in large organizations.
BRM has evolved from an informal role into a structured discipline and operational function. As IT services have evolved, so has the need for someone to act as a go-between so that business objectives are being delivered effectively by ITSM.