Here at Giva we search for organizations, large and small, that are doing a great job of changing the world around them for the better; and we are pleased to salute them here.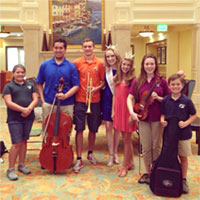 World Changers: Giva Salutes S.M.I.L.E.S.
S.M.I.L.E.S. (Sharing Music and Improving Lives with Every Song) was founded by Arianna Beyer on the premise that music can connect individuals in profound ways. Given the success of her initiative, it appears this is indeed true. S.M.I.L.E.S. arranges for musically-inclined youth from middle school to college to display their talents in assisted living centers, nursing homes, memory care facilities and hospitals. The stories that emerge from these encounters are exemplary of the various ways music can resonate with different people. Some of the performances raise the energy level of the audience by galvanizing the room with an up-beat sing-along. Other performances are sentimental, reminding the elderly of fond memories from a previous era. Each performance touches the heart and is a reminder of the power of a simple act of kindness.
Arianna's organization is not the largest but is a reminder that an individual initiative can be successful with limited financial resources as long as one is armed with a desire to help. Successful charity is often about finding a way to apply one's talents in the local community. S.M.I.L.E.S. volunteers remind us of the positive effects that emerge from sharing our gifts with those around us. Their efforts are sincerely appreciated.
To learn more about S.M.I.L.E.S. and how to get involved visit: https://ariannabeyer.com/#!/s-m-i-l-e-s