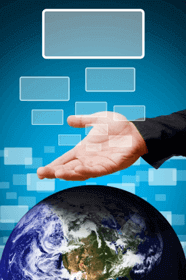 Social enterprises are, to put it quite simply, about people. These are organizations that, rather than placing their main focus on making a profit, seek to partner their revenue with something that benefits people in communities, the environment, etc. They are not required to be a strictly profit or nonprofit organization, as they could be either. In some cases they may make a profit and then re-direct it back to make a change in the surrounding communities.
Why might they be considered to be important? In a world where commercials and advertising dominate most any medium for the sake of profit, these organizations' main focus is to create and enable change for something better. Rather than wanting to make a profit or keep all profit for themselves, these businesses purpose to use the revenue from a product or service in order to make the world a better place.
People of action say that if you want to see a difference in your life you need to make a change, small or large. Social enterprises go that one step farther than normal and put all of their energies into parlaying their business concepts into benefiting the world around them in some way.
One such example is D-Rev out of Palo Alto, California, a nonprofit product development company that designs and delivers products to low-income people around the world living on less than $4 a day. They own the research, design, and development of their products and then partner with industry leaders to manufacture and scale for maximum impact. Their mission is to "to create world class products at an affordable price." One sector of their company provides equipment they have developed to treat newborn jaundice conditions. According to their website, to date, 51,925 babies have been treated with their equipment, 43,554 of which would not otherwise have received effective treatment, resulting in 676 newborn deaths and disabilities averted.
Another example is TROSA, (Triangle Residential Options For Substance Abusers, Inc.) out of Durham, North Carolina. "TROSA is an innovative, multi-year residential program that enables substance abusers to be productive, recovering individuals by providing comprehensive treatment, work-based vocational training, education, and continuing care." There is no cost to the individual receiving treatment at TROSA. Their funding comes from three primary sources: revenue generating businesses which provide vocational training for residents; donations from individuals, companies, and foundations; and modest government support. TROSA is a nonprofit organization with 501(c)(3) status and is governed by a board of directors.
These are just two of many social enterprises realizing their goal of bettering the world and changing lives, creating long-lasting ripple effects, now and into the future.