The Ultimate List of HIPAA-Compliant Software Platforms for Hospitals, Clinics & Healthcare Entities
With the development of many software applications and web-based platforms, it is now easy to access healthcare facilities and information electronically. Gone are the days where patients had to wait for a long time to even get an appointment. Now it is a matter of minutes to get an appointment, purchase insurance, get access to health reports and other data online.
But with the development of new and sophisticated technology, these software apps and web-based platforms face security threats along the way. Because of these security threats, there is a need to implement rules and regulations to make sure that the technology is not misused. The Health Insurance Portability and Accountability Act (HIPAA) introduced in 1996 is a standard created to ensure that the privacy and health details of the patient are safe at all times and would not be disclosed to anyone without the consent of the patient.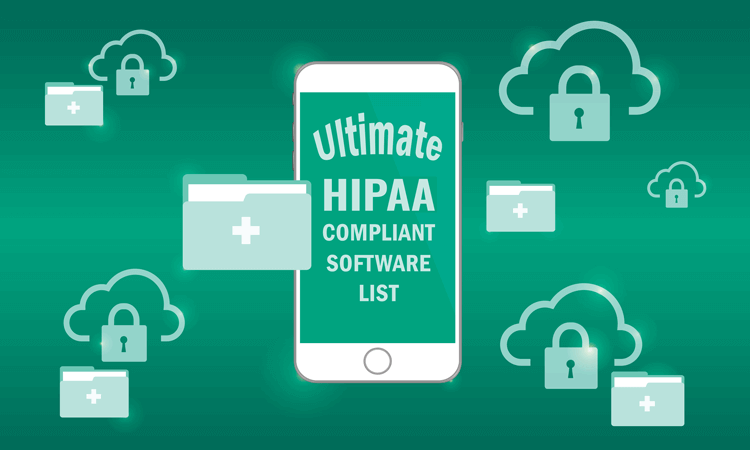 Photo Attribution: Jaiz Anuar/Shutterstock.com
The HIPAA act sets guidelines for health insurers, healthcare providers, business associates, and individuals who are involved directly or indirectly in the wellbeing of the patients. As per the HIPAA rules, the health information of the patient known as Protected Health Information (PHI) when stored in physical or electronic form (ePHI, in software also known as HIPAA-compliant teletherapy platforms) shall comply with the HIPAA Privacy Rule. Some of the HIPAA compliance software requirements and guidelines are:
An adequate plan to protect the patients' electronic Protected Health Information (ePHI) from improper use and disclosure
Assurances that the ePHI will not be used or disclosed to any other person or entity other than as permitted by the data user agreement or as otherwise required by law
The HIPAA compliance software requirements to ensure that the ePHI is safeguarded from security threats include:
Data leaks
Phishing scams
Spyware or Malware attacks
Security hacks
Selling patient information to 3rd party entities without the permission of the patient
Disclosing information to an unauthorized person
Lack of updated antivirus software
Lack of training to handle sensitive information.
Although all of the software that is available from start to finish, which includes scheduling an appointment to provide health reports and everything in between, needs to be HIPAA compliant, some organizations only fulfill the minimum required criteria, which can leave the rest of the areas vulnerable to security attacks. In case of such an attack, personal information of the patient can be accessed and sold in the black market, which may lead to huge financial and reputational losses for patients and healthcare organizations. HIPAA penalizes healthcare entities or organizations for non-compliance, which includes monetary penalties, or imprisonment up to 10 years.
The following is a list of HIPAA-Compliant software types and how they can be HIPAA compliant and thus used in healthcare, by hospitals and clinics alike:
(Select to quickly scroll to a software application type)
HIPAA-Compliant Scheduling Software
This software automates online appointments by creating and managing schedules for patients and healthcare professionals.
Features of a HIPAA-Compliant Scheduling Tool
A HIPAA-compliant scheduling tool must be efficient enough to even protect the name of the patient, and it comes with an automated reminding system that notifies the patient before their scheduled appointment via text message or phone call 
HIPAA-compliant online scheduling software should be end-to-end encrypted to protect the patients' privacy in case there is a data leak or security threat, and it also gives the option to patients to select the healthcare personnel they want to consult
A HIPAA-compliant scheduling app helps in reducing the time taken to book appointments for both patients and the hospital staff, and it is also available on mobile devices and appointments can be booked from anywhere at any time
Software Scheduling Compared to Traditional Scheduling
Online scheduling minimizes errors while entering patient information since the patients themselves fill in the details, whereas in calling and scheduling, there is a possibility of errors as the operator on the other side may not be able to hear the patient properly, which can result in entering wrong information
Online scheduling only works when there is a strong internet connection. In remote areas, the internet may be slow, which will cause difficulty in making an online appointment
Scheduling software may not work if the server is down or if there is scheduled maintenance of the website
Scheduling software sometimes requires too much information, which the patient may not be comfortable providing
5 Best-Available HIPAA-Compliant Scheduling Apps or Web-Based Platforms
NexHealth
Acuity Scheduling
Simply Book
10 to 8
Setmore
HIPAA-Compliant Calendar Software
HIPAA-compliant calendar software schedules appointments with patients and sends them reminder emails or messages which are encrypted and can be accessed only by the patient
The reminders sent to patients are automatic, encrypted, and do not require the help of additional software, although if not implemented properly may compromise the security or privacy of patients
HIPAA-compliant calendar software saves time and increases the productivity of businesses while safeguarding protected health information (ePHI) at the same time
For calendar software to be HIPAA compliant, the organization or business has to sign BAA - Business Associate Agreement, which is a contract between two parties when there are electronic Protected Health Information (ePHI) exchanges
5 Best HIPAA-Compliant Calendar Software Applications
HIPAA Vault
Paubox
NeoCertified
Aspida
MailHippo
HIPAA-Compliant Accounting Software
What is HIPAA-Compliant Accounting Software?
HIPAA-compliant accounting software can streamline accounting processes and reduce errors associated with manual data entry
It provides solutions that can be successfully implemented into the medical institutions that reassure their ability to handle electronic Protected Health Information (ePHI) in a HIPAA-compliant manner
How Does HIPAA-Compliant Accounting Software Work?
HIPAA-compliant accounting software helps to audit accounts, set user permissions to secure ePHI, and includes Business Associate Agreements (BAA) between users that guarantee compliance with HIPAA standards
HIPAA-compliant accounting software for the healthcare sector includes several features that support the management of daily accounting and business practices
It processes invoice payables approvals and executes payments made by the organization towards medical supplies, office supplies, or other expenses
It also manages customer debt information, invoice creation, late fee application, and more
It also reports on the organization's assets, expenses and liabilities
5 Best HIPAA- Compliant Accounting Software Applications
Sageintacct
Cargas
Lytec
NueMD
Invoiced
HIPAA-Compliant Patient Database Software / EMR Software
What is HIPAA-Compliant Database Software / EMR Software?
HIPAA-compliant Electronic Medical Record (EMR) software is a secure platform for healthcare organizations, healthcare professionals, and patients to access electronic Protected Health Information (ePHI) and prevent data leaks or security threats from malicious software
How Does HIPAA-Compliant Patient Database Software / EMR Software Work?
HIPAA-compliant EMR software collects physical information of patients such as names, dates of birth, phone numbers, insurance information, and medical information such as allergies, doctor notes, prescriptions, other sensitive patient data, and much more, all of which comes under ePHI and stores it in a highly secure and encrypted platform which can be accessed only by patients and healthcare professionals
It helps in easier and faster data transmission, which is beneficial in a time of health emergency or if the patient is staying in a different country, where the health official can access the patients' EMR information and administer treatment quickly and effectively
Law requires that a HIPAA-compliant EMR software company must protect patients' rights when handling their ePHI, and it also requires entering into a Business Associate Agreement (BAA) with organizations or any entity that will have access to ePHI
How to Ensure Patient Database Software / EMR Software is HIPAA Compliant?
HIPAA compliant EMR software should be accessed by authorized personnel only
Access should be limited to the minimum number of personnel possible to avoid authorization mismanagement
An electronic monitoring program of users accessing the ePHI should be in place
Training personnel to handle ePHI properly and accurately
In case of data loss, HIPAA-compliant EMR software should have a data backup plan.
In the event of a data breach, there is a plan to remedy the situation
ePHI data should be encrypted so that in case of a security attack, the data should not be readable
5 Top HIPAA-Compliant Database Software / EMR Software Solutions
WebPT
ChartLogic EHR
RXNT
TherapyNotes
Fusion
HIPAA-Compliant Document Management Software
The electronic Protected Health Information (ePHI) of a patient which is stored in secure servers can be accessed by HIPAA-compliant document management software, which provides a streamlined user interface that manages and access records smoothly and quickly and reduces the time taken to access sensitive data which is helpful during medical emergencies
HIPAA-compliant document management software not just provides ease of access to patient records but also includes strong encryption to documents stored in servers, which prevent readability in case of security hacks
It comes with an audit trail that keeps records of people accessing, modifying ePHI
It provides data backup in case of system failure or natural disaster and restores the system data to original conditions
5 Best Document Management Software Applications with HIPAA Compliance
FileHold
Dokmee DMS
Citrix ShareFile
Zoho WorkDrive
Intellect
HIPAA-Compliant Antivirus Software
HIPAA compliant antivirus software is essential to secure your network and safeguard electronic Protected Health Information (ePHI) data against malicious viruses, spyware, and malware attacks.
How Does HIPAA-Compliant Antivirus Software Work?
HIPAA-compliant antivirus software prevents security attacks, causing viruses and malware from being installed on an ePHI platform
It works in the background of a computer and scans every file that is being accessed by the user
It prevents viruses from being downloaded onto a system and alerts the users in case of a breach or security attack so that timely action is taken to prevent data leak or theft
It should be updated regularly in order to ensure the protection of the system from new and malicious virus attacks and security threats
5 Best Software That Fulfills HIPAA Compliance Software Requirements
GoodAccess
mdsGUARD Antivirus
WebTitan
Perch Security
Endpoint Protector
HIPAA-Compliant Teletherapy Platforms
Seeking therapy or treatment might be difficult because of persistent social stigma related to health problems, inaccessibility due to remote location, pandemic-like situations, or patients' busy schedules. Teletherapy is digital therapy where patients can connect through video apps and get the required treatment from professional and qualified therapists online.
Video platforms need to be HIPAA compliant because online teletherapy connects patients with healthcare officials directly via video platforms, and this results in a lot of information exchange between them, which falls under the ambit of electronic Protected Health Information (ePHI)
HIPAA-compliant teletherapy platforms are helpful for patients living in remote locations or elderly and disabled people for whom regular visitation is difficult
They can reduce the time taken to administer treatment to patients, which is also useful during emergency situations
They need to be end-to-end encrypted with 256-bit encryption to protect the data from hackers, ransomware, spyware, or other malicious viruses
Drawbacks of Teletherapy Platforms
A strong, fast and secure internet is required so that the therapy session goes smoothly without lagging
Teletherapy sessions are vulnerable to attacks
Potential misdiagnosis, as some diseases require physical presence
5 Best HIPAA-Compliant Video Conferencing Platforms
TheraNest
me
Chiron Health
VTConnect
Zoom for Healthcare
HIPAA-Compliant Chat Software
What is HIPAA-Compliant Chat Software?
HIPAA-compliant chat software provides end-to-end encryption to the messages or queries between the patient and the healthcare service provider
It can be used to share notes and test results with players involved, thus helping in faster communication and reducing human interaction while safeguarding patient health details
How Does HIPAA-Compliant Chat Software Work?
Chat software is considered HIPAA compliant when the API provider enters into a Business Associate Agreement (BAA) with the healthcare entity
HIPAA-compliant chat software deploys an enterprise-grade 256-bit SSL encryption technology, both while in transit and at rest
To access electronic Protected Health Information (ePHI), the user has to verify their credentials through a multi-step verification process such as providing a unique user ID and a strong password (which it is recommended at a minimum contains an upper and lower case alphabet, a number, and a special character, and should be at least 8 characters long) along with OTP verification. This helps in establishing a secure connection between users that prevents data leakage
HIPAA-compliant chat software should save all the chat transcripts, create data backup in case of security attacks or damage to the system
It should keep an activity log of user actions in the chat service to track who accessed which chat, along with timestamps
5 Best Chat Software Applications That Fulfill HIPAA Compliance Software Requirements
OhMD
Spok
Providertech
Halo Health
TigerConnect
HIPAA-Compliant eCommerce Platforms
HIPAA-compliant eCommerce platforms can make it easier to build great-looking websites with user-friendly interfaces and maintain them, all while keeping electronic Protected Health Information (ePHI) secure
User-friendly interface includes easy readability, streamlined menu, self-explanatory titles, crisp images, and faster loading time
HIPAA-compliant eCommerce platforms should design a website where it provides clear and complete information regarding the healthcare organization and healthcare practitioners
They should provide the best security as most of the information provided by the patient is entered in the website
Best HIPAA-Compliant eCommerce Platforms for Healthcare Agencies
WooCommerce
Volusion
Infusionsoft
Vytal
Amazon AWS
HIPAA-Compliant Marketing Automation Programs
Medical marketing automation helps in contacting or approaching more patients with less effort so that you can focus more on treating patients than on managing marketing.
How to Integrate HIPAA-Compliant Marketing Automation?
HIPAA-compliant marketing automation ensures that the healthcare organization has a top-notch presence in these popular search engines without compromising the security of electronic Protected Health Information (ePHI)
The healthcare provider must be listed in all the search engines, verified on popular map applications, and have received good online reviews
HIPAA-compliant marketing programs can use ePHI of patients only after securing authorization from the patients for marketing purposes
Provide adequate training to marketing personnel and make sure that patients can easily opt-in and out of receiving marketing messages
5 Top HIPAA-Compliant Marketing Automation Tools
PatientGain
Paubox
Enquire
ActiveCampaign
PatientPop
HIPAA-Compliant Billing Software
What is HIPAA-Compliant Billing Software?
A HIPAA-compliant billing software system ensures that the medical bill generated by the billing software is protected as it contains patient details which fall under electronic Protected Health Information (ePHI)
How Does HIPAA-Compliant Billing Software Work?
HIPAA-compliant billing software securely generates a medical bill and sends it straight to the respective patients or their respective insurance companies from the system
It generates medical bills safely and automatically by accessing patients' ePHI and thus reducing time and errors, which in turn increases productivity and eases the procedure of making claims from the insurance companies
Healthcare organizations and patients get access to medical billing that includes features like payment history, reimbursement, and tracking outstanding payments
The medical bill generated by HIPAA-compliant billing software is end-to-end encrypted, and it converts the billing details into a format that end-users can only access
Usage of a multi-step verification process further secures the billing information
It enables healthcare organizations to track and maintain daily logs and activity of ePHI that is being accessed through the platform
It can also help healthcare organizations keep track of invoices and pending payments and auto-generate tax invoices
5 Best Billing Software That Fulfills HIPAA Compliance Requirements
Kareo Billing
Centricity EMR
NextGen Office
CureMD
NueMD
HIPAA-Compliant Patient Satisfaction Survey Software
What is HIPAA-Compliant Patient Satisfaction Survey Software?
HIPAA-compliant patient satisfaction survey software creates surveys while providing an additional way to safeguard electronic Protected Health Information (ePHI) it collects through online surveys
Medical survey software needs to be HIPAA compliant as it collects personal information of the patients at the time of conducting the survey.
Features of HIPAA-Compliant Patient Satisfaction Survey Software
HIPAA-compliant patient survey software is customer-centric while also maintaining the integrity and security of ePHI
It takes feedback from the patients and then analyzes it and designs a program that is suited for patient needs
By entering into a Business Associate Agreement (BAA), survey software becomes liable to secure the ePHI
It uses end-to-end encryption to protect its customers' data from possible risks and threats
During the Covid-19 pandemic, contact tracing has become easy with the help of HIPAA-compliant survey software without risking data leakage
It helps with inventory management and makes it easier to collect information related to the performance and behavior of healthcare professionals
4 Best Available HIPAA-Compliant Patient Satisfaction Survey Software Applications
SurveyMonkey
SurveySparrow
Qualtric
Alchemer
HIPAA-Compliant Email Platforms
What are HIPAA-Compliant Email Platforms?
HIPAA-compliant email platforms use an end-to-end encryption process to secure the emails sent to patients that contain appointment reminders, billing information, health reports, and much more
Features of HIPAA-Compliant Email Platforms
HIPAA-compliant email platforms must ensure electronic Protected Health Information (PHI) communicated via email is secured to prevent unauthorized interception of messages, and also appropriate controls apply to ensure the security and availability of ePHI
Emails sent are encrypted when stored on the server or in motion
Non-compliant email platforms are the biggest security threat to ePHI as they are created with the priority to deliver messages only and do not include security encryption
5 Best HIPAA-Compliant Email Platforms
Barracuda
Hushmail
LuxSci
Egress
RMail
Conclusion
The security and protection provided by HIPAA-compliant software depend on the entity or the organization that is using these software systems. They need to keep their software and hardware updated to face regular security threats. But small-scale organizations may not match with the HIPAA requirements since it is an enormous investment in terms of hardware, software, and the workforce required. Even though the initial investment is high the future gains are much higher, as HIPAA-compliant software secures the ePHI from network attacks and protects the privacy of patients thus preventing lawsuits or penalties.